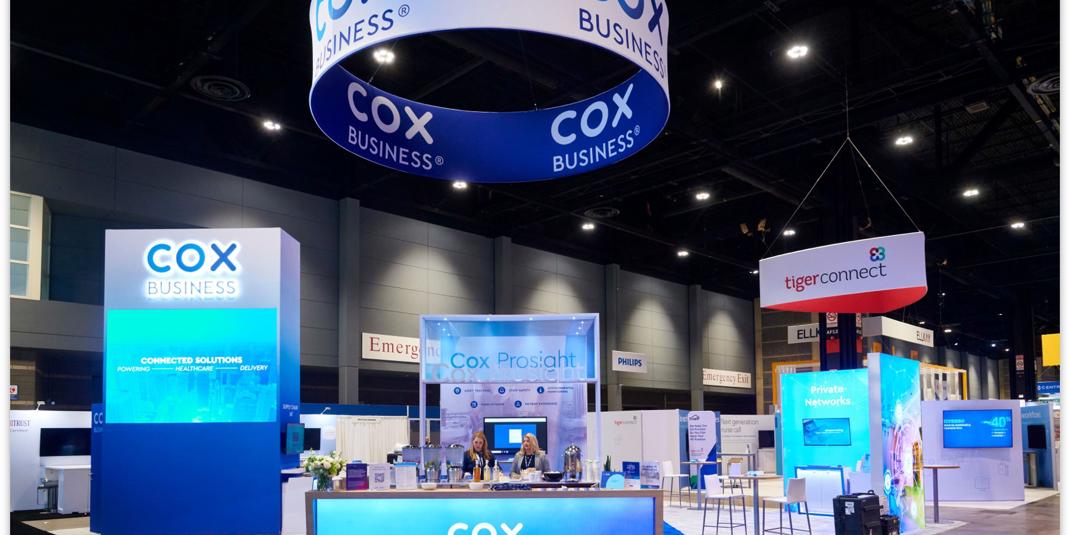 When you think of Cox Communications, do you think of healthcare? Well, maybe you should.
In April, several Cox teams traveled to Chicago for the Healthcare Information and Management Systems Society Global Health Conference and Exhibition – better known as HIMSS – to showcase Cox's impact in the healthcare space at the most influential health information technology event of the year.
Every year, more than 35,000 global health professionals gather at HIMSS to build relationships, learn from experts in hot topic education sessions and discover innovative health tech products to solve their greatest challenges. Cox, which has supported the conference for 10 years, can provide the innovative solutions that healthcare is looking for.
"Historically, the healthcare industry hasn't realized the full power that Cox brings to the healthcare space which is why HIMSS is a great opportunity for Cox to showcase our solutions," said Meredith Strachan, who oversees marketing for Cox Business' healthcare portfolio. "This year in Chicago, we were able to do just that!"
In a 40x40 booth space, we demonstrated Cox's ability to power optimized healthcare delivery with cloud networking and Internet of Things (IoT) solutions:
Cox Business' core products power connectivity and provide the foundation for hospital technology operations.
Cox Prosight streamlines hospital operations and patient experiences through real-time location services (RTLS) to help hospitals find medical equipment, create safer spaces and guide visitors through complex hospital campuses.
Cox Private Networks enables hospitals to prioritize connectivity for doctors and staff, addressing latency, security and stability.
RapidScale protects patient health records through improved doctor-patient connections and secure data sharing.
Cox Edge brings computers closer to where data is created, streamlining access to large scans like x-rays to get them in providers' hands more quickly and easily.
Cox Supply Chain IoT provides peace of mind for hospitals' supply chain management by ensuring that materials are safe, temperature controlled and on-time—all before they even arrive at a hospital's doors.
Throughout the three-day event, Cox met with more than 300 healthcare customers, prospects and partners and even hosted an in-booth happy hour. The Cox Speakeasy greeted attendees with food, drinks and "a roaring good time" and allowed prospects to explore our solutions in a laidback, inviting environment.
"Cox is able to be your trusted advisor when it comes to being able to help you with a connected environment," said Josh Sommer, vice president of Cox's New Growth and Development division. "[Cox]  allow[s] you to focus on the thing that matters, which is the patient experience and the outcomes you want to deliver."
When health is at hand, creating more meaningful moments of human connection through technology is critical. So next time you think Cox Communications, don't forget to think "healthcare."