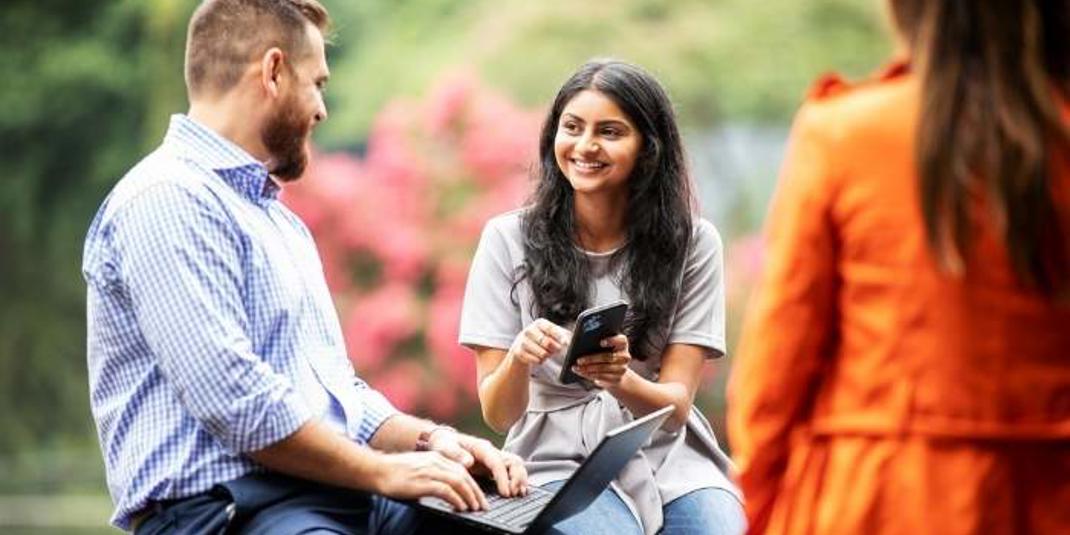 You've got career questions – and we've got answers. In this article, Joe Tsutsumishita from Cox's Talent Acquisition team shares his advice for creating a resume that captures a recruiter's attention.
Job opportunities are plentiful right now – and so are jobseekers. In this exciting hiring market, it's more important than ever to make your resume stand out from the rest.
A quick Google search yields lots of (sometimes conflicting) advice on how to make your resume pop. So we asked Joe Tsutsumishita, Senior Recruiter at Cox, to share his advice. After all, he looks at resumes every day and is truly an expert on the subject!
Joe is based in Omaha, NE and has been working at Cox for eight years. He specializes in recruiting people for residential sales roles at Cox Communications, like account executives, territory sales representatives, retail sales associates and more.
"I love making offers to candidates," Joe said. "You're helping someone make a significant career and even life change."
Ready to overhaul your resume? Here are Joe's tips.
When you pick up a candidate's resume, what are some of the first things you look for?
Joe: I first scan for relevant roles and how much time they have been in those roles. I'm basically checking for candidates who meet minimum qualifications – we have to rigorously adhere to those requirements. In other words, if the minimum requirements state "Five years in sales, operations and/or marketing," my first pass on a resume is making sure that the resume meets that experience and potentially education requirements.
Let's say a candidate does meet that "first pass." What are the things on a resume that impress you and make you seriously consider the candidate?
Joe: I look for attention to detail; and by that, I don't just mean grammar and spelling. Rather, I'm looking at the details they choose to include in a resume that makes it relevant to the role they are applying to. The candidate doesn't have to list every experience, since some might not be relevant. If they include a section with non-related work experience with companies, titles and dates, it helps me fill in the gaps.
What are the most important sections of a resume to you? And does it matter how the sections are ordered within the document?
Joe: Again, I prioritize work experience and time in those roles. For me, that's what helps me decide whether to keep looking at the resume. It's the gatekeeper.
In your opinion, should candidates try to create a resume that's colorful and eye-catching? Or should they keep it simple and subdued?
Joe: It can vary by role. For example, if you're applying for a marketing or graphic design role, I wouldn't mind if there was some color. It's just about focusing in on the role you're going for. Also, it's worth noting that white space makes things a little easier to read.
What are some common resume mistakes you've seen in the past?
Joe: One common mistake is downloading a template resume and forgetting to make edits to parts of it. I see a lot of resumes with 'canned' objectives or summaries. Another mistake is being too conversational when highlighting tasks and achievements. Resumes with long paragraphs are hard to get through. I recommend using bullet points when possible. Misspellings happen a lot, too.
What other advice would you give to someone who is sharpening their resume right now?
Joe: I recommend creating a base resume and adjusting it based on the role you're applying to. Recruiters review a very high volume of resumes, so clutter and non-relevant experiences don't help your case. Be mindful of the details that are specific to the job you want, and make sure to highlight those responsibilities and achievements.
Summary:
Make sure you meet the minimum requirements of the role you're pursuing, and that your resume clearly reflects your relevant experience.
Create a base resume and customize it for different jobs.
Don't be afraid to beautify your resume if you feel it fits the tone of the role.
Use caution when using a resume template. Triple-check to make sure all the fields have been updated.
Use bullet points instead of long paragraphs.
And don't forget: spell-check is your friend.
Ready to apply for a job at Cox? See openings here!