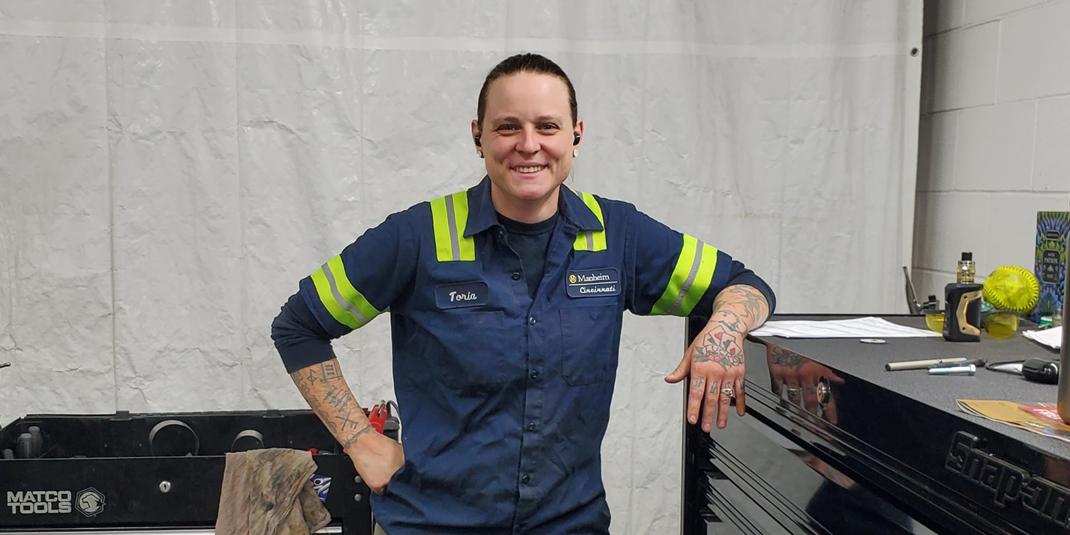 A mechanic, a tattoo artist and a Navy veteran walk into a bar. Plot twist: they're all Victoria ("Toria") Brueggeman. This auto enthusiast has talents aplenty and we're thrilled to have her on our team!
"You could be the sweetest peach on the tree," Victoria ("Toria") Brueggeman said. "But not everybody likes peaches."
Toria is a mechanic for Manheim (a Cox Automotive company) in Cincinnati, OH, and the whimsical peach phrase illustrates what she believes is the biggest lesson she's learned in her life: not everyone has to like you in order for you to like yourself, be a good person and do your job well.
It's not a combative stance at all. Toria simply understands that if someone disagrees with you, it doesn't necessarily mean that either of you are wrong.
That lesson has served her very well so far across a wide variety of talents and hobbies. She enjoys brewing beer, smoking meats and tattooing in her free time. She's also an avid video game fan, and particularly enjoys virtual reality (VR).
"I am actually a really big nerd," she said.
Toria began her career with the United States Navy; after her service, she worked for several years with a major motor oil company. During that time, she realized she also loved working on cars and wanted to develop her skills in that area. She decided to take advantage of the G.I. Bill that was available to her as a veteran and returned to school.
But she was one of many people affected in the middle of their studies when the COVID-19 pandemic struck.
"My schooling went from face-to-face to being at home on the computer all day," she recalled. "Which sounds fun in theory, but when you're talking about higher education on a computer without labs or the libraries and different resources, it just brought me down a bit and I just felt like going back to work was a better option for me. So I put some feelers out and I came across Manheim Portland."
Toria has been with the company for about a year and a half now, relocating from Oregon to Ohio to join the retail team at Manheim Cincinnati.
"I'm directly responsible for inspecting these vehicles and seeing what they need to be able to flip them and market them as an almost-brand-new used car," she explained. "It's pretty exciting, actually. There's definitely a level of satisfaction that comes with looking at a car that's kind of rough around the edges and then putting that work into it and seeing it come out practically perfect and ready for re-sale."
Toria is also a member of several of Cox's Employee Resource Groups (ERGs), including Salute, which supports veterans and military families. She loves the opportunities available to Cox employees, and the culture of diversity the company fosters.
She particularly loves her leaders at the company. Toria noted that her managers have been supportive in giving her space to process her mother's breast cancer diagnosis and allowing time to care for her. They've also actively championed her career development, never hesitating to provide her with any level of training she wants.
"One of the biggest reasons that I'm extremely committed to this job is because of management," she said. "I've never seen a job with management that goes so above and beyond for their employees."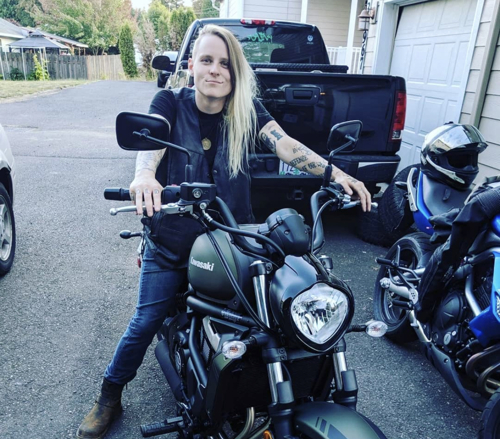 Toria's plans for the future include becoming a master mechanic, and then a leader herself, hoping to pay forward what has been done for her.
"I would like to see myself in a supervisory position with the mechanic garage," she said. "I think I always want to be a 'wrencher,' because I like working on cars a lot, but I would like to see myself highly certified and still working here."
Toria added one final note during her interview for this story:
"This is the best job I've had in probably my entire life. So for whatever that's worth, I'd like that to be known!"
We've got you covered, Toria!
Interested in a career at Cox? Browse open positions here.