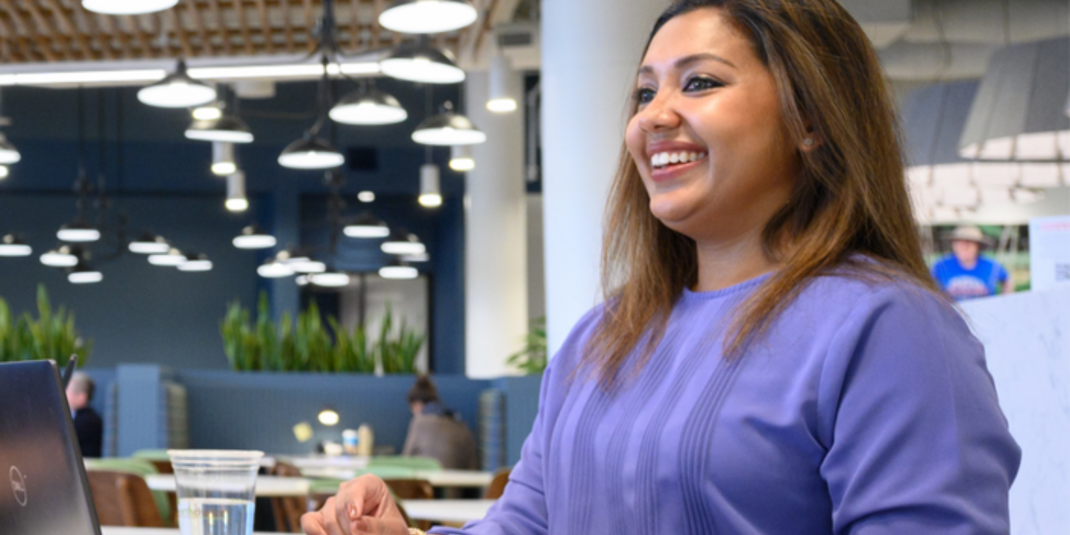 Afsheen Mozammel is Manager of Engineering Enablement at Cox Communications. Keep reading to learn about her experiences behind the code at Cox.
There's a stereotype about technology being an introverted profession.
As an artistic thinker and a self-professed social butterfly, Afsheen Mozammel is quick to negate any misconceptions about tech being an isolating field of work. It's not uncommon to find her serving as a mentor, acting as a mentee or simply building relationships with peers and leaders.
"I like to connect with people," Afsheen said. "That's my thing. I'm very social."
Connections are particularly important for Afsheen's role as Manager of Engineering Enablement at Cox Communications – a fully remote role that is part of Cox's Business Process Optimizations team. Afsheen's group supports workflows of different technologies (including WATTS, OPTIX, EPS, JIRA, iGrafx and Visio) to ensure efficiency and visibility for Cox's Field Engineer & Operations teams. In other words, Afsheen and her team use a data-driven approach to connect the dots between how a team operates and the impact it has.
"My team is always trying to find a way to get things done in a better and efficient manner without reinventing the wheel," Afsheen said.
For example, one initative is an end-to-end engineering capability roadmap, where Afsheen's team is exploring how to give Cox's executive leaders a single source of truth for status, progress and collaboration opportunities among different engineering departments to minimize duplicate efforts and maximize efficiency.
Another example is a "proestimation" for time study. Afsheen and team used a data-driven approach to prioritize work based on business impact analysis, improving efficiency by 53%.
The only woman in the room
Afsheen, who was born in Dubai and raised in Bangladesh, pursued a tech career after getting her undergrad degree in business. After getting her master's in industrial engineering, she worked for several different companies and often experienced a cutthroat, male-dominated and predominantly white environment.
"I was used to being the only woman in the room, let alone the only person of color in the room," Afsheen said. "But if you asked me how I felt, I would say that I always felt like I was special. Because there was something about me that got me in that room."
Afsheen began to crave a warmer atmosphere – literally. After 13 or 14 years of Midwest winters, she began to turn her attention toward a milder climate. Atlanta struck her as a good option, especially since her sister already lived there. Afsheen said that Cox – a values-driven tech company – appealed to her.
Afsheen was hired as an engineering manager at Cox and began to build a diverse team of tech experts. Having experienced a lack of diversity and inclusion at previous companies, Afsheen has made it a personal mission to be a champion for inclusion at Cox, getting involved with various inclusion efforts and serving as part of Cox's ID&E ambassador program.
A clear vision
Afsheen's life goal is "to impact people's life in a positive way."
"That's my life's work; my vision is to impact people whether I'm there or not," Afsheen said. "Everything I do is a subset of that."
Whether she's leading her team on a new project, serving as a mentor for a fellow Cox employee or participating in inclusion efforts, Afsheen is encouraged to know that Cox's vision is so well aligned with her own.
"[Working at Cox] is one of the best career moves I've ever made," she said. "This is the first time I've worked with so many women in technology and the people here are so friendly. It feels like home."
Interested in a tech job at Cox? We're hiring! Click here to see open positions.