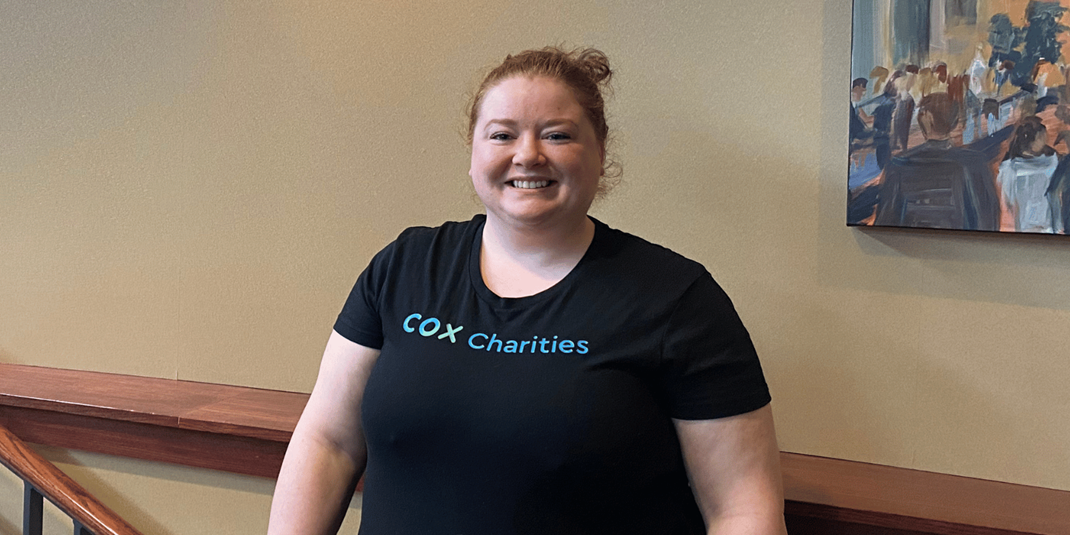 Kelsey Porter will be the first to tell you that she's not the same person she was when she first joined Cox Communications as a 20-something-year-old. Here's how a career can grow with you and enhance your life. 
It's natural for people to reach a point where they outgrow their jobs and start craving new opportunities. The great thing about working at Cox is that there's always plenty of room to evolve in your career.
Just ask Kelsey Porter of Omaha, NE, who joined Cox Communications when she was fresh out of school in her early twenties. As Kelsey has progressed into each new stage of life — meeting her husband in her late twenties and now starting a family in her thirties — her career at Cox has matured right alongside her.
"I've grown up at Cox and it's interesting to see how your career changes and your life changes with it," she says. "I've noticed how Cox and the people around me have supported me through different phases."
Here's how she has embraced each new era in life and at work.
A career made for the long haul
Kelsey first heard about Cox in 2011 through former colleagues who'd gotten jobs the company.
"They said, 'You need to apply; it's amazing to work here,'" she recalls. "It blossomed from there."
After getting her feet wet in customer support with Cox's residential services team, Kelsey was looking for a change of pace. She applied for a new role with Cox Business (part of the Cox family of brands) and transitioned into a new part of the company.
Today, Kelsey works remotely as a sales support specialist for Cox Business — her fifth role in the 12 years she's been at the company. She's also gone back to school to get a bachelor's in business leadership and management to continue her career growth.
"I want to build up my skills as far as being a people advocate and do what I can to pull the best out of people."
Building a balanced life
As a soon-to-be new mom, as well as a caregiver to elderly parents, Kelsey says that the flexibility and support she has at Cox have been invaluable.
"It's just nice to have people who genuinely care about you," she says. "It's a good feeling to know that when you have stuff going on in your life, your team is there to help you."
Outside of her day-to-day responsibilities, Kelsey is also involved in Empow[HER], the peer-led women's employee resource group (ERG) at Cox. One initiative that Kelsey is passionate about is partnering with Cox's internal teams to find ways to offer mobile mammograms alongside other routine health testing for employees on-site.
"That's not an appointment that you look forward to," she says. "If it's a one-stop shop, you can get everything done and not have to worry about it."
This initiative is near and dear to Kelsey, who's already a fan of Cox's health and wellness perks: from the everyday, such as free access to virtual fitness classes with FitnessOnDemand, to the life-changing, like fertility treatments.
"I know that the company has done its research and is investing in these products and services to make sure that we get the best — and I know that support is not going to go away."