Trevor Nimmons' passion for serving his community came to fruition while working in sales at Cox, where he helps several nonprofit clients. Here's the secret to his career success.
Career paths can take you through a lot of exciting twists and turns, and sometimes lead you somewhere completely unexpected. That's how Trevor Nimmons ventured into sales as a pre-law student.

After working at AT&T and Verizon while he completed his coursework at the University of Nevada, Las Vegas, Trevor took on an account management position at Cox Communications.

"It started as a way to pay for my education, but I found success in telecom as I learned more about the business," he said. "When I graduated, I was looking for a new challenge and Cox has a very big presence for us here in Las Vegas."

Almost two years into his Cox career, Trevor is now a client relationship executive at Cox Business (part of the Cox family of businesses), where he found his groove partnering with customers to help with their business needs. He's also making plans to continue to law school while growing his career at Cox.

Here, Trevor shares his advice on how to build meaningful client relationships that'll last beyond a single sales cycle.


Looking beyond the transaction
As someone who's worked in different types of sales roles, Trevor says that you need a completely different mindset when you're working with existing clients rather than prospective customers.

"You need to get to know them and their businesses and really understand what they're trying to do in the community," he said. "If you approach this job with a transactional mindset, you will get a sale that one time and then run out of people to sell things to."

Instead of calling clients with a specific agenda in mind or a product list to sell, Trevor likes to approach each client conversation as a moment of real human connection — asking thoughtful questions and being an active listener.
"When you reach out to people with no goal other than to make contact with them and hear about their experience, they will appreciate you, open up to you and welcome you into their business," he said.
Through those real conversations, Trevor not only establishes a long-term connection with his clients but has also been able to identify solutions to problems they need help with.
"And because you brought it up in such a way where you're genuinely trying to make their life better, they're actually going to be very interested in what you have to say," he said.
Sales for social good
Growing up, Trevor and his family were deeply involved in humanitarian causes: he and his brother were UNICEF ambassadors, and his mom was a speaker at the United Nations. During college, when he was working full-time while attending school, Trevor took on an active role at an on-campus nonprofit, Camp Kesem, which helps children who are coping with their parents' cancer diagnosis.

Trevor says his experience with Camp Kesem, where he was responsible for many fundraising and outreach efforts, helped him become a better salesperson and allowed him to see the impact of the money he was raising: every several hundred dollars raised meant that one more child could attend camp that year.

"There is some salesmanship to fundraising because a lot of times you are essentially going to businesses and asking for money," he said. "While I was a college student, I would host these meetings to talk about the nonprofit and our work in the community and then leave with grant money."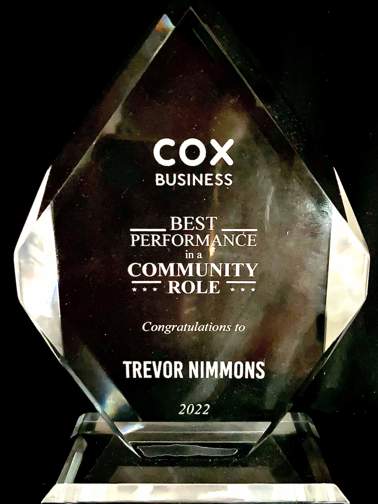 An award Trevor received for his impact in the local community.


Nowadays, Trevor's interests pair well with his day-to-day responsibilities at Cox, where a lot of his clients are local nonprofit customers in Las Vegas.

"It's very nice to partner with these nonprofits and see how we can help them with their technology needs," he said. "That way, we're directly helping them help the community."