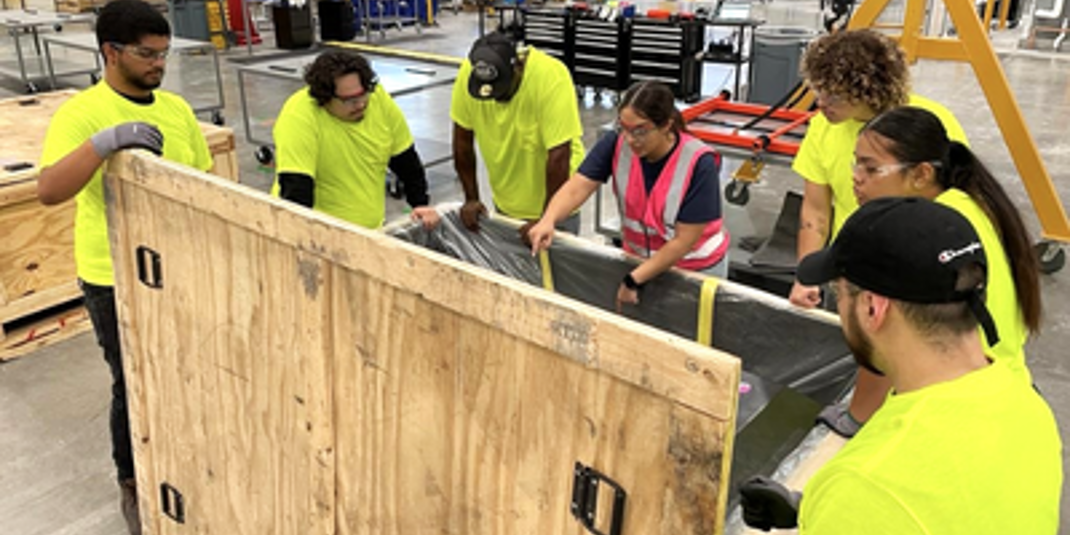 Venezuela native, sustainability advocate and mechanical engineer Valeria Hernandez is a model of perseverance, ambition and taking charge of your dreams. Still early in her career, Valeria is already making her mark in Cox Automotive's EV Battery Solutions with her passion for solving today's problems to build a brighter future for the next generation. Read about her inspiring journey, early career advice, the power of family and more in the Q&A below.
Tell us about yourself! Where did you grow up? Can you tell us about your education and notable experiences?
I grew up in Cabimas, Venezuela, where I lived until I was 16 years old. My interest in engineering and problem solving began at an early age. For example, when I was little, I would take apart my toys and try to put them back together. I had an innate aptitude for math, and electrical science is something that was fun and interesting to me. Looking back, I believe the environment I grew up in helped shape my passion for STEM. My grandparents owned a water pump company (where they recycled a lot of materials used) and my dad was a mechanic who worked on an oil rig. I was surrounded by people who were interested in innovating and early adopters of sustainable practices!
After graduating from high school, I came to the United States to live with my Aunt Katy and Uncle Gary and gained a student visa to pursue my engineering degree. They made it possible for me to go to school at Oklahoma City Community College (OCCC). In fall of 2019, I graduated with my associate's degree in science. It was so valuable to get hands-on experience with engineering coursework – I even got to build a tiny robot using hydrogen tanks! I am currently unable to continue with the completion of my degree due to my political asylum status but hope to transfer to the University of Central Oklahoma (UCO) once my status changes.
What led you to Spiers New Technologies and the EV Battery Solutions team at Cox Automotive?
In addition to my knack for the STEM field, I have always been passionate about environmental sustainability and energy security. So, when I was given the opportunity in August 2021 to work with Spiers New Technologies – the number one company in the 4R industry (remanufacture/refurbish, repair, reuse, recycle) – I had to take the chance! I'm grateful to my fiancé, Ian, who also encouraged me to join the team.
My first role at SNT/Cox Automotive was in the call center, where I helped Sharon Roschal take orders from GM. From the beginning, Sharon took a sincere interest in my goals, skills and path ahead at the company. She proactively let the rest of the team know about my experience and vouched for me as someone who would be a great in an engineering role at the company. After about nine months on her team, I made the switch to my current role as a mechanical engineer. I am so grateful to Sharon for empowering me, and to my current manager, Scott Archer, for giving me such an incredible opportunity to do the engineering work I love!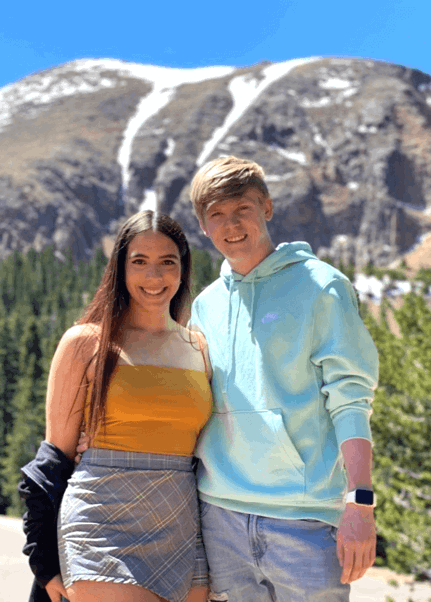 Valeria and her fiance, Ian.
What do you enjoy most about your job? Any memorable highlights and experiences?
My favorite part of my job is being on the production floor with the operators improving our current processes and troubleshooting any issues that come up. Making everyone's job easier is what I strive for! If I can do that, then it benefits everyone involved – our operators, management, and especially our customers.​​​​​​​
As for memorable highlights, helping set up EV Battery Solutions' Las Vegas facility with the process engineering team has been one of the best experiences of my life. The first time I went into the building it was empty. Little by little, everything started coming together – from setting up computers and equipment to training the operators. I enjoyed having an active role in training and was even able to rely on my native language to clarify certain technical details to Spanish speakers on our team and help them be successful. Now, our Las Vegas site is a fully operational building with amazing operators and management. It's special to have been part of a project from start to finish that is so important for the company.
What's it like being a female in an engineer role?
It can be challenging at times to be in the type of role mostly dominated by males, but overall, very rewarding! I feel proud to be in a position where I can make a positive impact. I am encouraged knowing that I'm able to bring new perspectives to projects and ways to solve problems. At SNT, my contributions have been appreciated by my colleagues and superiors. They see what skills I have, what I bring to the table and take the initiative to help me learn and grow. Sometimes I do feel like I have to work just a little harder to prove myself, but I think that is something that comes with being new to any position – especially being so young. That being said, working with a company that values diversity and inclusivity is something that is very important to me. Everyone has been so nice and encouraging from the beginning – I've never felt like my gender would hold me back in my career. I am thankful for the opportunities and lessons that I have learned from working here.
Who inspires you?
In the personal setting, my parents are definitely my biggest role models. They taught me that hard work and dedication pay off and showed me that you can do anything. They devoted themselves to our family and were willing to leave everything behind and start over from level zero in order to give us the best chance in life. Their sacrifices continue to push me to be the best version of myself every day and to give back.
In the professional setting, my manager Scott Archer has become my biggest mentor. He has been in the industry for quite some time, and every day he passes so much knowledge to me. As a young engineer, he's giving me all the tools and advice I need to become a better engineer. He'll often ask, "What would you do?" to give me the chance to actively problem solve and put for the best solution. I can see he wants me to learn and be successful in every aspect of my career – I am very fortunate to work with someone who truly cares about my growth and success.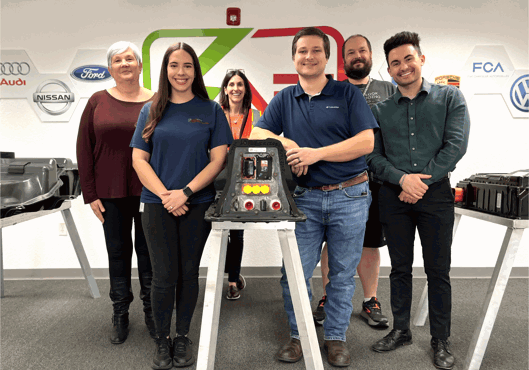 EV Battery Solutions team members from L-R:
Sharon Roschal, Valeria Hernandez, Lea Malloy, Scott Archer, Nick Mould and Bryce Cornet
You've been very successful early on in your career – what advice do you have for others that are new to the workforce or new to the type of role they are in?
​​​​Learn and master as many skills as you can. I like to think of myself as a sponge and soak up everything I possibly can. Secondly, push through it! Everyone will face challenges no matter their role or level in an organization. But, people do notice when you work hard and persevere to overcome them. How you handle those challenges will show how much you care about your job and the team around you. Finally, do not be discouraged if the first few jobs that you get aren't exactly what you thought they would be. Stay humble, and always take the opportunity to learn as much as you can from the role or situation you are in, as well as the team you're working with. It will prepare you for the next opportunity that comes along.
What are your career goals and aspirations?
I want to become a leader in my industry and make significant impact on the world through my work. I am working hard every day to expand my skills and learn from others to reach this goal. This might sound a bit cliché, but I do want to be a role model for girls and inspire them to pursue STEM careers if that's what they are interested in. I'd like to be an example of what they can accomplish if they just hold on to their dreams and don't give up – especially in difficult times.
What about your personal goals or "bucket list" items?
It's very important to me to able to support my family. I want to give back to my parents, grandparents and aunt and uncle. As I mentioned earlier, they've all sacrificed to ensure my siblings and I were able to pursue our dreams and live a better life than what we had to leave behind in Venezuela. They've done everything possible to help me be successful.
In terms of a bucket list, I'd love to travel the world! It would be amazing to meet people from all over, to truly experience other cultures. My manager, Scott, actually travels a lot and gives me tips on where to go and what to see.
Oh, and I can't forget about one very big thing coming up for Ian and me in April…our wedding!
What do you enjoy doing outside of work?
Watching shows and movies with Ian is like a second job! We enjoy anything fun and easy to watch with a happy ending…so we watch a fair amount of Disney. We also enjoy animation / adventure – Spirited Away is one of my favorites. It's just so beautiful.
I'm a really big family person, so I love just hanging out with them. We enjoy simple things like getting ice cream together – double scoop of chocolate from Braum's with the family is the best treat! We also like going out for boba tea (Asian tea with tapioca), specifically Boba Café in OKC.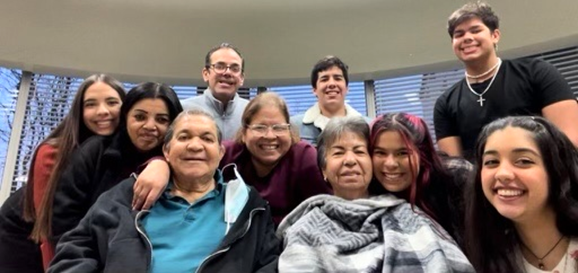 Valeria (left) with some of her extended family.
Your family sounds wonderful – can you tell us more about them?
I grew up in a household of nine (yes, nine!) – there was never a dull moment! There were my parents, Sandra and Roque, my grandparents, Mery and Hector, my aunt Gloria, and my siblings Brenda, David, Andres, and Maria. We've always been very close. I remember having the best holidays and birthdays growing up. I'm grateful to have had so many people who care about me in the same place – having that kind of loving support system has shaped me more than words can describe. It makes me want to have a big, loving family, too! We're all fortunate to be together in the United States now. My sister, Maria, is a preschool teacher in Chicago, and my sister Brenda is completing a pre-nursing program in Oklahoma City. My two younger brothers – David and Andres – are seniors in high school. David wants to be a mechanical engineer and Andres a doctor. We all shoot pretty high when it comes to our dreams and what we want to achieve!
My little family at home includes Ian and our cats, Magic and Salem, and our tiger salamander, Chimuelo.
It has been such a pleasure getting to know you! Anything else you'd like to share?
I've mentioned them several times during our conversation, but I just want to give one more big shout out to my incredible parents, Sandra and Roque, my grandparents Mery and Hector, my aunt Gloria, my Uncle Gary and Aunt Katy, my siblings Brenda, David, Andres, and Maria; and most importantly, my soon-to-be husband, Ian. They all have played a role in where I am today and are the reason why I keep going!