A rewarding sales job does exist — at Cox Automotive's Mobility Fleet Services team. Sales director Erik Peterson walks us through why his team's mission extends beyond revenue.
There's always a certain kind of adrenaline rush involved when you work in sales — but it's another feeling entirely to know that what you're selling makes a real impact.
That's how Erik Peterson thinks about his job as director of regional sales for Cox Automotive Mobility Fleet Services.
"It was such a breath of fresh air coming into this space, where you're able to build those relationships with real people that are on the ground that are just trying to get the job done," he said.
The Mobility Fleet Services team is responsible for the repair and maintenance of heavy-duty trucks and trailers; in other words, they're the people helping keep a critical piece of the supply chain infrastructure running smoothly.
"Customers need to make decisions very quickly when a truck is due for service or breaks down," Erik said. "We want to make sure those vehicles are safe because they're moving up and down the road hauling heavy materials next to you and I, our families and everybody else."
While field technicians are the ones accomplishing these important tasks on site, Erik and his field sales team are making sure customers know about Cox Automotive's mobility fleet services, including the essential safety checks involved when you operate a commercial truck or trailer.
For example, field technicians will "make sure that all the straps are in place, all the lights are working and checking the brakes," Erik explained. "Safety's a huge aspect of the service that we're delivering."
Here, Erik shares his journey as a sales pro and why joining Cox Automotive has been a highlight in his career.
Erik's career game plan and homecoming
As a former college athlete, Erik has always valued teamwork and leadership — and those are the qualities that he wanted to tap into when he launched his sales career.
"When I was doing my career planning, I thought that it would make me a better leader to live in a variety of places and build strong connections with people from different cultures," he said.
He did just that: Since graduating from college in Birmingham, AL in 2010, Erik has lived in New Jersey, Texas and Oklahoma. In 2020, Erik and his wife moved back home to Atlanta to be closer to family as they welcomed their first child.
Erik spending time with his daughter, Daisy (3) and son, Preston (8 months).
During that time, Erik started a new job in the automotive industry, which was all new to him. A few months in, he found his company would become a part of Cox Automotive. It's a day he'll never forget.
"I was just so excited to join the Cox family of businesses because as a native of Atlanta, I know what they stand for and the impact they have," Erik said. "They're one of the handful of brands that carry so much weight in our community."
Cox Automotive has lived up to Erik's expectations. He realized that everyone's enthusiasm for the work and the company was right on the mark.
"It's incredible how vocal and passionate and adamant people are about working here," he said. "And once you get inside, you understand that so much more because of the way the company treats and respects employees."
What it takes to succeed in sales at Cox Automotive
Just as Erik came into the auto industry later in his career, he says that salespeople don't need to have a background working with cars and fleets to thrive here (although it's certainly nice to have if you've got it).
"I did not know very much about cars and trucks when I came into this role, but I knew a lot about delivering great service," he said. "If you're able to build a relationship with these local decision makers and connect our solutions with their challenges, then you can have a lot of success."
There's a lot you can learn on the job, especially in field sales with Erik's team, where you're out there playing a more active role than making phone calls behind a desk all day.
When looking for sales candidates to join his team, Erik says organization and consistency (with a sense of urgency) are key. Unlike other sales jobs where you might only be prospecting and moving on once a client's onboarded, the mobility fleet services sales team nurtures those relationships in the long term.
"There's no obligation to use services; a client could be just bringing us on to be a backup service provider," Erik explained. "As a salesperson, you need to continue to check in — that's the type of consistency we must have when we're engaging with our customers so when that truck breaks down, you're the first person they think of to call."
And when that call does come in, Erik says that sales partners closely with operations to ensure service and repairs are carried out seamlessly to continue building trust with customers.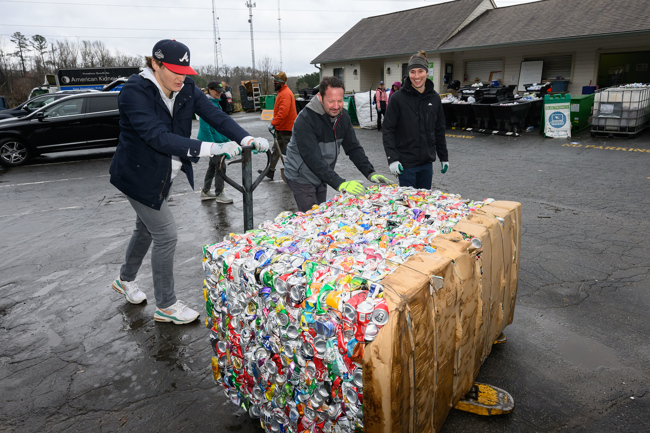 Erik volunteering at an Arbor Day community clean-up event.
While working in a field sales role does require a lot of time on your own, Erik touts the different resources and opportunities to foster community and connection with your peers, whether you're sharing leads and success stories within your team or meeting up for a organized by the company.
"As a people leader, I'm very excited to get people engaged and continue to hammer that message that it's about more than just your job."