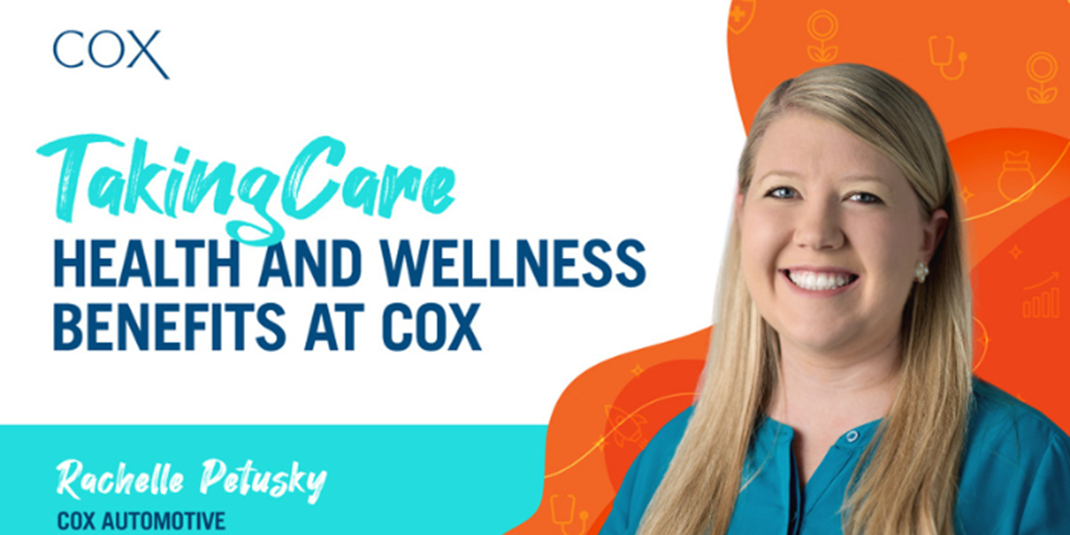 Rachelle Petusky is an Industry Intelligence Manager at Cox Automotive. As a wellness enthusiast and mother of two, having access to excellent, affordable healthcare is very important to Rachelle. At Cox, she's experienced perks that truly take care of employees.
It's safe to say that health has been top-of-mind for many Americans over the past 13 months. Rachelle Petusky – Industry Intelligence Manager at Cox Automotive in Atlanta, GA – is no different.
Rachelle said that in the turmoil of the pandemic, as well as the mild everyday chaos that comes with raising two small boys, she has peace of mind knowing that Cox's healthcare benefits have her family covered.
"If a medical emergency was to happen or something came up unexpectedly, I won't be as anxious about it because I have the healthcare coverage to manage it," Rachelle said.
Rachelle has worked in Research & Market Intelligence at Cox Automotive for almost 11 years. Having an inquisitive mind is central to her role in data storytelling and answering big business questions, so it's no surprise that she's done her own research into how Cox's medical benefits stack up against other companies.
"Cox has far and beyond one of the best healthcare benefits packages," Rachelle said, citing conversations she's had with friends who work at other organizations.
What specifically does Cox offer? It starts with a generous suite of healthcare benefits with various deductible options. Adding onto that are free in-network women's care, pharmacy benefits, telehealth offerings, FSA and HSA options, supplemental insurance, enhanced coverage for autism and developmental delays, coverage for gender confirmation surgery and more.
Cox also offers ongoing wellness benefits like free onsite health screenings and flu shots, programs to support weight loss and diabetes, counseling, healthy lifestyle coaching and free access to OpenFit and Headspace apps – the latter of which Rachelle found extremely beneficial during COVID-19.
"Working from home, I've needed a way to unwind at the end of the day and decompress," Rachelle said. "Headspace, particularly their relaxation and nighttime activities in the app, have been really helpful to help me reset and recharge ahead of the next day. That being offered as a benefit to us for free is huge."
Telehealth is another free benefit that Rachelle is particularly grateful for.
"I've had great experiences with it," she said. "The fact that we could see a doctor for non-emergency situations but still in real-time during the pandemic was great. I have two very active kids who get into a lot of things. Being able to pick up the phone, login, wait 5-10 minutes and get a diagnosis on the spot was very helpful. We've seen everything from a dermatologist to primary care, getting this concierge doctor experience from home. It's very nice that Cox waives the co-pay, so you're not worried about that either."
Pre-COVID, when her boys were babies and she frequently traveled for work, Rachelle took advantage of Cox's free access to Milk Stork. This is a service that allows traveling moms to send their milk home via FedEx overnight for free.
"I've been fortunate as a working mom who breastfed, being very supported by my managers and the company," Rachelle said. "It really reemphasized to me how Cox supports working moms and how they value the balance of being a present mom as well as an employee."
Aside from Cox's stated healthcare benefits, Rachelle said that an emphasis on wellness permeates the company and empowers employees to take care of themselves. Rachelle herself enjoys working out in group fitness classes and being part of an unofficial Cox Peloton group that schedules weekly rides.
"You're encouraged to block time to do a workout, to go on that walk on your lunch break, or whatever," Rachelle said. "You're very much encouraged to do whatever you need to feel good and stay healthy."