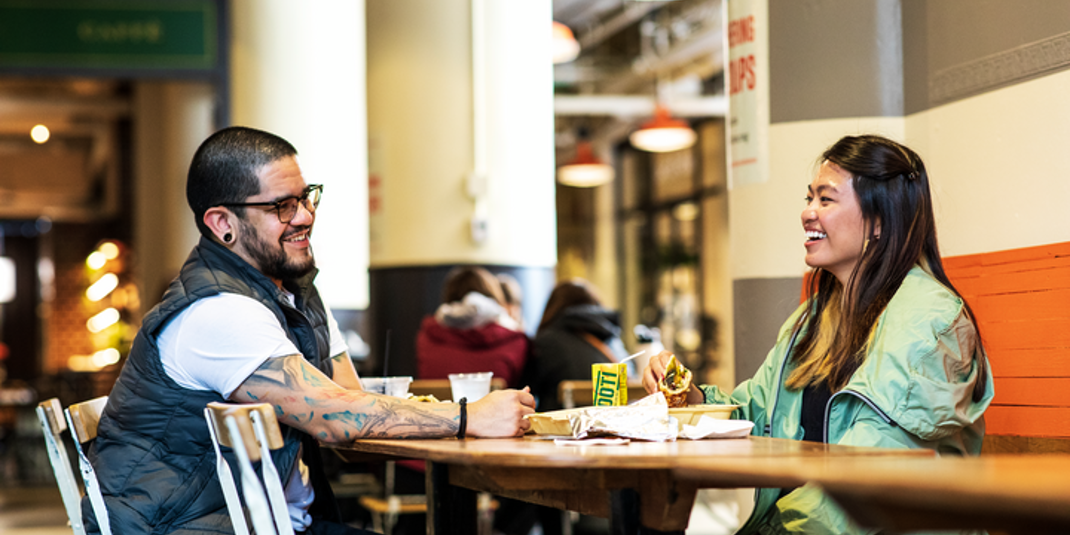 When we assess the opportunity to take a new role, we may initially overlook the people who you spend the most time with: your potential coworkers.
Think back to the jobs you left over the years. What was the hardest part? For me, it was saying goodbye to people who became such a large part of my life. It was knowing I'd never travel to visit clients with my work bestie. It was knowing that my counterpart and I would no longer get to share mom advice during our weekly coffee runs.
Taking my current role at Cox Automotive, I have met so many wonderful and diverse people. Diversity in the workplace is such an important piece. Having a diverse group of people coming together to collaborate makes such a large impact and is so valuable not only to the members, but to the business as a whole. I've already learned a lot from so many at Cox. I've learned about things that can be applied to my work here and how I view and approach my life outside of Cox. I began to wonder if and how my diverse colleagues were finding the same benefits as I was. 
Many of us know Cox has been recognized for being a top company in diversity and overall employee satisfaction. I have had the pleasure of working with many individuals with a variety of different backgrounds, ethnicities and cultures. Diversity and inclusion are something I value tremendously. I grew up in a very small rural town where diversity wasn't something discussed or seen. My career has allowed me to grow my understanding and appreciation for the diverse cultures and communities that exist. Representing, attracting and retaining diverse talent is one of my top priorities. It is critical that diverse individuals from varied backgrounds have representation and seats at the decision-making table. For our business, we know that diversity is what drives the best products. 
I decided to sit down with some of my Cox Automotive colleagues, learn their stories and share them on this blog. Stay tuned for part 2 of this series in the weeks ahead!
Spotlight on Arpit Gupta, Vice President of Product
Q. Can you tell me about your role at Cox Automotive?
I'm Vice President of Product for Kelley Blue Book and Autotrader. As a product leader, I'm always thinking about how to innovate and iterate new and existing ways of doing things to serve our customers best. That extends to culture– it's important to create a culture of openness and gratitude, where every person feels empowered to take chances, fails to succeed, and learns quickly together in order to move forward.
Q. Do you identify as being part of any specific community? Whether culturally, ethnically, or otherwise?
I was born in New Delhi, India, so my heritage is Indian.
Q. How does your identity shape how you approach to work?
Growing up in India – a largely collectivist culture – and studying and working in the US have helped me develop my leadership muscle to be empathetic and consensus-oriented in my approach to collaboration and decision-making, while keeping an innovative and results-driven mindset. It has shaped my product philosophy, too: that every person has something to contribute and, in every product, there is opportunity.   
Q. The way that inclusion and diversity are defined can vary slightly from person to person. How do you feel Cox approaches inclusion and diversity?   
To grow an inclusive culture, strategy should always be iterating and evolving with the support of different voices. Cox is continuously working to strengthen its diversity and inclusion efforts. Cox's ERGs, for example, create the space for teams to learn and celebrate the cultures and perspectives of their team members, to move the company forward.     
Spotlight on Shanice Stewart, Senior UX Researcher
Q. Can you tell me about your role at Cox Automotive?
I am a Senior User Experience Researcher on the Consumer Solutions Team. I focus on helping product managers and designers improve the audience experience of the Kelley Blue Book and Autotrader websites and apps by gathering feedback from our users to be incorporated it into the designs.
Q. Do you identify as being part of any specific community? Whether culturally, ethnically, or otherwise?
Yes. Culturally speaking, I am the first America-born generation of my Jamaican family. I absolutely love my heritage from the reggae and dancehall music to the delicious Jamaican food. More generally speaking, I identify as Black.
Q. How does your identity shape how you approach to work?
I'm a firm believer in showing up in my authentic true self in all spaces, which means the workplace as well. It's important to show others that you do not have to change who you are to excel in the workplace.
Q. What advice do you have for leaders who want to promote an inclusive culture?
Create and promote safe spaces for diverse groups. Spotlight each group and their strengths/accomplishments. Be sure to include these groups in internal mentorship and industry-recognized training programs to develop them in strategic and hands-on ways for excelling in their careers. It's a worthy investment overall for a company and its individuals, both financially and culturally. 
Learn more about inclusion at Cox here, and explore job opportunities here.