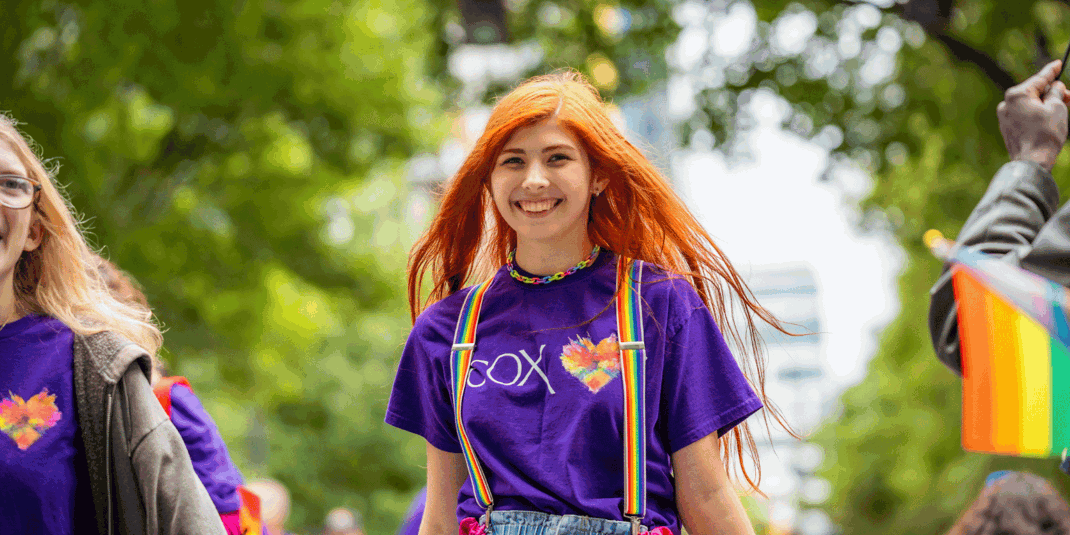 Employee resource groups, or ERGs, promote workplace inclusion and representation at Cox. They also help colleagues make connections and build community outside of their everyday workspaces. Here's how our Pride ERG makes Cox a better place to work.
Many of us tend to draw a line between our work and our personal lives. Yet, there are times when our circle of colleagues becomes the very group to lean on for connection and support.
Like when Ken Grandlund sought assistance for his family when his son began transitioning about seven years ago: Ken turned to Pride, Cox's LGBTQIA+ employee resource group. 
"When my son first came out, one of the first things I did was investigate what sort of benefits and resources we had within Cox," he said. "I reached out with a letter to leaders explaining who I was, what my challenge was and what benefits I was looking for, and that started a chain reaction."
Around the same time, Ken also joined Pride's local ambassadorship program in San Diego, CA. Since then, Ken has seen the ERG grow and evolved into a cross-divisional organization with members from different parts of Cox's family of businesses. Now, he's the co-chair of Cox Pride, co-chair of Cox's west region diversity council and a member of Cox's national diversity council. And this is on top of his day job as a senior internal communications specialist at Cox Communications.
"After we got the support we needed, it became incumbent on me to give back to those organizations that really helped my family and that kind of launched me into being more involved with inclusion, diversity and equity (ID&E), both inside Cox as a company and outside in the communities where I live, work and play," Ken said.
At Cox, we proudly offer an inclusive array of benefits for employees and their families, including coverage for gender confirmation surgery, adoption assistance and more. People like Ken, who champion a culture of advocacy and support, are a crucial element of creating an atmosphere of belonging.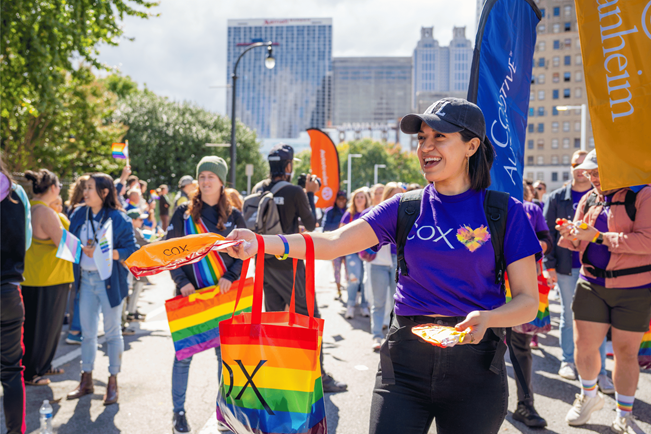 Representation and skill development
The Pride ERG unites all Cox employees, but it also has a regional impact. At a local level, Pride ERG ambassadors connect members to national and regional programs and events, from Pride Month activities to networking and volunteer opportunities. 
For Ken, becoming an ERG ambassador was a great first step in getting involved in the community and it led him to new leadership positions; overall, he says, it's a great way to make a difference while developing interpersonal skills that can help you get ahead in your career.
"Some great examples would be project planning, scheduling and hosting meetings, and putting together effective communications and outreach," he said. "Those are all soft skills people look for as you move to different roles or rise up as a leader."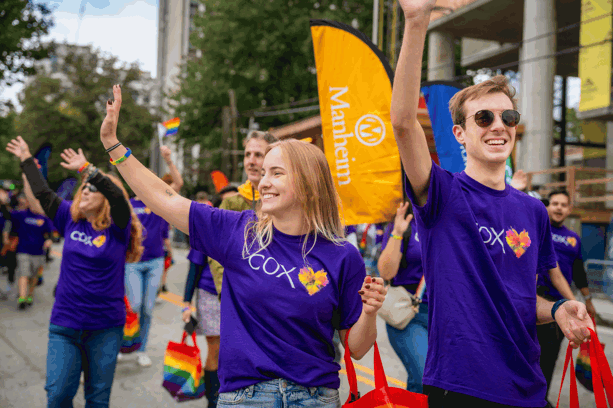 Education and allyship
Pride's mission is to promote understanding and advocacy while celebrating LGBTQIA+ employees and allies. With the rise of remote and hybrid work, Pride has pivoted to become a hub for educational resources and information within Cox. For example, the ERG helped develop a series of learning and development online courses focused on transitioning at work and building respectful workplaces for trans and non-binary employees. 
A newer initiative to elevate LGBTQIA+ voices year-round is by highlighting members in the community in collaboration with sibling ERGs during other key heritage months. And although Pride Month celebrations in June remains a cornerstone in event programming for the ERG, there are Pride parades happening in different cities throughout the year as well as other key dates — including Transgender Day of Remembrance, National Coming Out Day and World AIDS Day — to continue spreading awareness and promote better allyship.
"There's been a lot more noise in the outside world attacking the LGBTQ+ community, so it was partly our job to make sure that our members had a safe space within Cox that they may not have somewhere else and build that family feeling that we knew was missing in some of their worlds," Ken said.
This sense of comfort and safety at work is why many choose to build long-term careers at Cox, including Enyinnah Honorine, a manager who soon will be celebrating seven years at Cox Automotive.
"What I find so humbling as a queer woman of color is that I feel valued, respected and appreciated working with this company," Enyinnah said. "I see myself in other leadership roles and can provide that example to others as well."
As a recent hire, Joe Baker, a senior learning performance consultant at Cox Automotive, already feels like he can breathe a little easier and be himself at work.
"I am extremely grateful to have landed at an organization where I feel not just comfortable, but embraced," he said. "Where I can say 'my husband' without hesitation."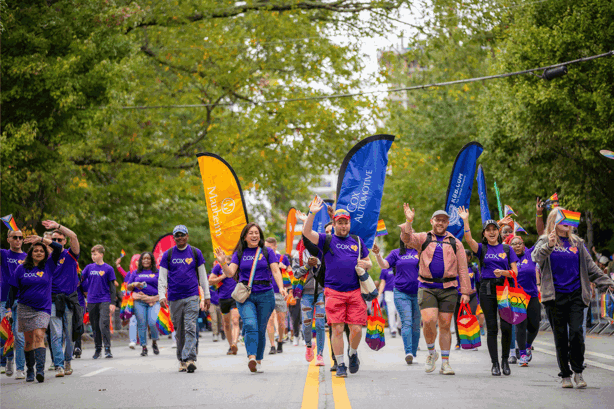 Inclusive, life-changing benefits
One of the ways that the Pride ERG continues to make an impact at Cox is through its advocacy of tangible resources, like benefits that account for the needs of the LGBTQIA+ community. 
In Joseph Oddo's case, Cox's adoption assistance benefits helped him and his husband start their family. 
"My husband and I are the proud parents of two teenagers, and Cox and the Pride ERG were with us every step of the way to help us on our journey of becoming dads," said Joseph, manager of Cox Business sales and Pride ERG co-chair.
While there's always progress to be made, the strides that Cox and the ERG have made are getting noticed by a new generation of employees, including Kira Steinberg, a project manager at Cox who was wowed when she added her spouse to her health insurance plan before they were married. She also appreciates that Cox offers gender affirming healthcare if they should need it.
"I feel so privileged to have entered the workforce at a time where I'm not worried about if I'll be safe at work; if I can talk about my partner; if my manner of dress or speech will make me an outsider," Kira said. "I feel so lucky today and everyday to grow up so affirmed in my identity and life choices in every realm of my life."
🏳️‍🌈 Pride ERG Fast facts:
Pride's mission and vision: Promoting, celebrating and advocating for LGBTQIA+ employees and allies, while fostering workspaces where all employees are welcomed, valued and supported as their authentic selves.
Who can join and participate: Everyone! Cox's Pride ERG welcomes all LGBTQIA+ employees and allies of the community, and offers opportunities for membership and leadership. Everyone is welcome to participate in Pride ERG events. Each employee can be as involved as they wish to be, whether they're taking small actions, such as adding their pronouns to their email signature or wearing rainbow-colored accessories, or taking on a larger role, like signing up to the Pride ambassador program.
How the group makes an impact at Cox: The ERG focuses on hosting events and leading conversations that empower members in the community and continue to build empathy and understanding in the workplace.