About Us
Want to join the team?
Cox supports and encourages employees to travel down more than one career path, anywhere in the company. Read our employee stories to see how they've taken advantage of the growth opportunities, benefits and community spirit only Cox can offer.
RACHEL NEGRETTI

Director of Brand – Cox Communications

As brand communications director for Cox Communications, Negretti and her group are building brands today that matter tomorrow. "My role is to unearth consumer insights and tell stories that define who we are and what we deliver in a meaningful way," says Negretti. "Whether it's about a TV experience shaped perfectly to you, like our Contour product, or Internet at the speed of GIG, that's going to change the way the world works. The brands we build and the campaigns we develop shape what we say to consumers and how we say it."

MICHAEL FOXWELL

Project Manager – Cox Communications

Through the encouragement of a mentor, Foxwell applied for and was hired into his current position in August 2014. Although Foxwell had no formal project management experience, his ability to bring his knowledge and customer service techniques to the table was valued by his hiring manager. He even recently obtained his project management certification. "You don't know where you could end up unless you step outside your comfort zone, take a risk and try new things."

JILL COHEN

Senior Meeting & Event Manager - Cox Enterprises

"I appreciate that Governor Cox's legacy and values are prevalent throughout the Cox culture today. After ten years with Cox, I'm still eager to learn more about what we can do to not only provide better services to our cable, media, and automotive customers, but also what we will do as a company to make our community a better place to live."

KARI COBHAM

Senior Manager of Digital Content - Cox Media Group

"I've worked in both print and TV newsrooms as a reporter and on digital teams for a decade, so I had a really good understanding of the challenges facing legacy media moving to digital first. My current job lets me take on more of a social strategy role and work directly with our TV stations. At Cox Media Group, I'm constantly awed by the ease at which we're able to collaborate on digital programs and social/digital content that's performing exceptionally well in our various markets, and how we share knowledge and successes."

MAJD SABOURA

Director of Operations – Cox Automotive

"Saboura has cultivated a global, people-oriented career. Saboura grew up in Jerusalem and moved to the U.S. when he was 16. He came to Cox in 2007 working for Autotrader's private seller division, and was then promoted to senior manager roles. While at Autotrader, Saboura immersed himself in a four-month goodwill tour to better understand the nuances of the larger dealer/seller world and possible business synergies. In April 2014, he moved to Manheim as Director of Operations for ExportTrader.com, where he connects international dealers with North American vehicle inventory. "

ELIZABETH FRIEDMAN

Project Manager I, LEAD Program at Cox Communications

"I am so thankful that my first job out of college has been with Cox. Being a part of this company has allowed me to have a career in different job fields and multiple industries. I constantly learn new parts of the business and I am so grateful that our company culture is one where everyone is friendly and helpful. As well, Cox provides so many different opportunities to grow outside of work too, and I'm a member of multiple Employee Resource Groups, the Cox Analyst Forum and the National Diversity Council. So, coming to work every day is fulfilling for me."
Giving Back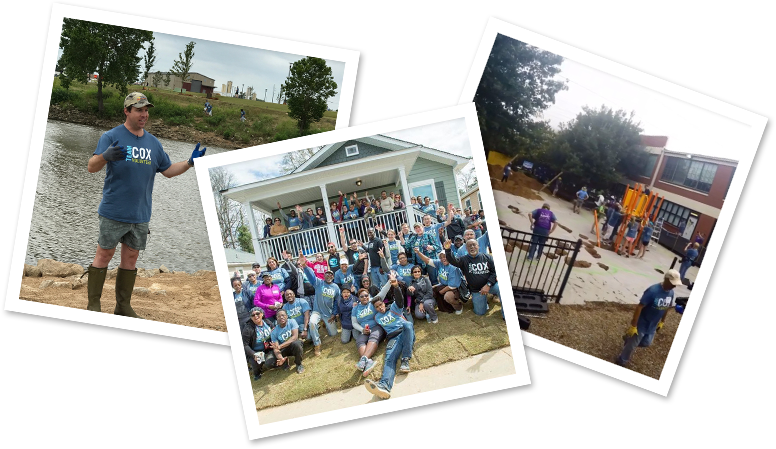 At the Cox companies, we encourage employee creativity, inclusion and calculated risk taking. We're dedicated to customers' and audiences' needs. We seize new business opportunities when the time is right. And, we do what's right for our communities, through sponsorships, donations, and volunteer activities.