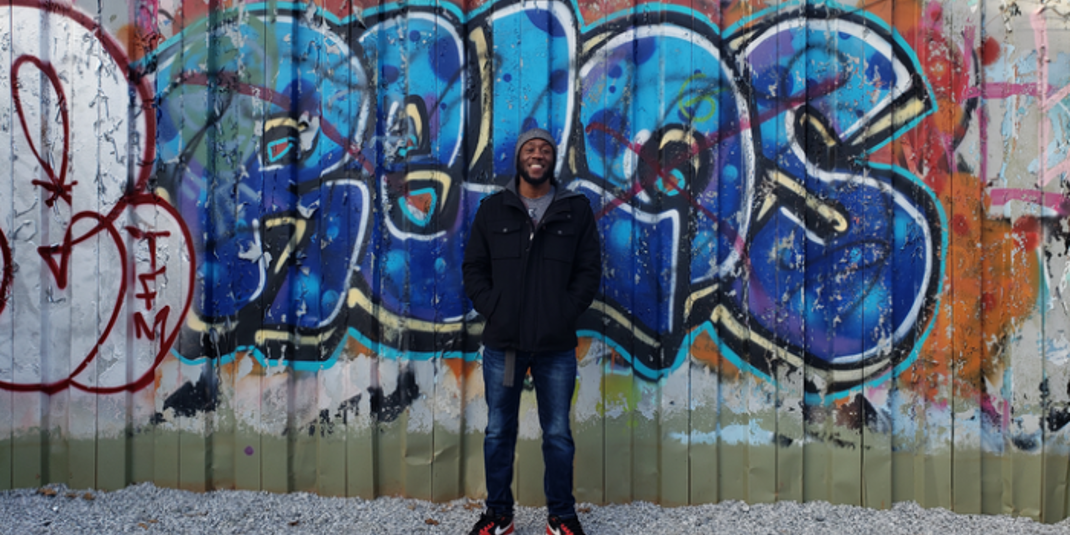 Diving into network engineering
Zeddikia Chisholm vividly remembers his unconventional experience of learning to swim.
On a trip to Guadalupe River in Texas, Zeddikia jumped from a swinging rope and plunged into the water below before making his way back to shore. After many more similar jumps, he was swimming with ease.
Zeddikia's approach to learning new things at Cox Communications is very similar.
"That's how I learn new skills: jump into the deep end and figure it out," he said. "From the moment I started as an intern at Cox, I would challenge myself with projects that required new proficiencies. My skills with R, Python, JavaScript and Tableau are all skills that I developed by stretching myself at Cox."
Zeddikia is now an Atlanta-based Network Engineer on Cox's Systems Engineering team. He previously held roles on Cox's Network Planning Automation (NPA) and Customer Premise Engineering teams.
"I'm an explorer at heart, so the opportunity to learn about different departments, leaders, places and people was priceless," Zeddikia said. "Anything that gives me opportunities to learn or experience something new is a win in my book."
This explorer at heart is currently learning SysML, a modeling language that supports the specification, analysis, design, verification and validation of a broad range of systems and systems-of-systems.
"It's a new thing for us, and I get to help lay the foundation of its implementation here at Cox," Zeddikia said. "I believe that my work on this current team shows that Cox is open to change and trying new ways of doing things."
Behind the code and making a difference
COVID-19 – aka "the vid" or "-rona," as he calls it – has impacted Zeddikia's work life in a number of ways. The most obvious, of course, is the fact that he has been working remotely for almost a year.
"Working from home has been a great time-saver and energy-saver, as I no longer waste my energy in Atlanta traffic before coming to work. The peace of mind that I can keep my family safe, and still do my job is great. I have an incredible amount of flexibility with the current environment and it has been a lifesaver as far as stress levels go."
But Zeddikia also felt empowered by the opportunity to participate in an important coronavirus project for Cox.
"Since the pandemic started, I've been working on the Executive COVID-19 Impact Report," he shared. "In short, we are looking at the effects of COVID-19 on our network. The increase in work-from-home, distance learning and other factors had initially strained our networks quite a bit. The congestion levels in many of our markets had risen to crazy high levels."
Zeddikia said that he was proud of the insights his team was able to provide because it helped the company respond proactively to the situation before it impacted customers.
"With our work on the Node Congestion Relief Analytics Team, we were recognized and awarded a Synergy Award. I was happy to receive my first award as a full-time employee and put it on the fireplace since I don't have an office desk these days!"
"Show me the data!"
Zeddikia explained that his team's inherent love of engineering and data analytics has created a culture that is very relaxed and focused on the end results.
"If I looked in my team members' closets, I would guess the first shirt I would see would say 'I Love Engineering' or 'Show me the Data,' Jerry Maguire," Zeddikia said. "I like that my team brings their passion to their work. It makes me happy to see this."
Zeddikia loves that the culture of Cox encourages technology employees to bring their full selves to work.
"The backgrounds of people in engineering alone are incredibly diverse," he said. "In engineering, I know people that have a background in music, psychology and other fields you wouldn't normally expect in a hardcore engineering environment. It is this diversity that has led to a lot of the fun I have talking with different people."
Zeddikia is among the employees with a cool assortment of hobbies and talents outside of work.
"I spend a lot of my free time creating websites, building things and designing things on my laser cutter," he said. "I spent 2020 learning construction skills because I've always wanted to, and I plan to continue in 2021. I also enjoy staying active. Just last week I signed up for my first Spartan Beast, a 21- kilometer 60-obstacle course race through the Nevada desert in November. I've done Spartan Supers (10 km, 25 obstacles) before, but this Beast is on another level. What could be more fun!"
Explore technology careers at Cox today! Click here.