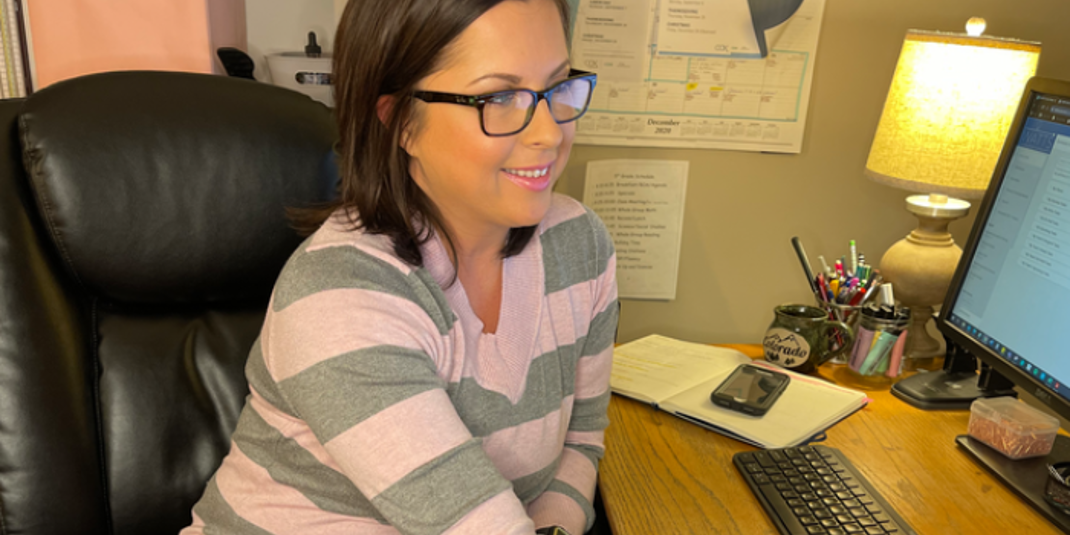 Authentically Jenny
You can easily catch glimpses of Jenny Clyne's creative personality in her work-from-home space.
A sewing project is tacked on a whiteboard, evidence of her passion for crafting. A big collection of books graces the shelf behind her, including many by her favorite author, Dean Koontz. Tucked away elsewhere are drafts of novels she's writing herself (she promises to remember us when she's a famous author). And she'll frequently rock a funky fashion accessory during the workday, like pink monster feet slippers.
Being empowered to bring her full self to work is one of the things Jenny loves about Cox.
"You are who you are, and Cox won't try to change that," she said. "That means a lot to me. I am who I am and not one person here has tried to tell me differently. And that's the first time I've experienced that."
Jenny said that when she began her Cox journey, she was first struck by the supportive people and leadership.
"Cox's culture is different than anything I've experienced," she said. "Here at Cox, there's a theme of family – meaning you're part of a gigantic family and everyone matters. And it's true. Everyone matters. I've met tons of people at Cox, and that's how it is. Everyone is part of something magnificent here."
Behind the code and finding room to thrive
Jenny is a Project Support Specialist with Cox Communications' Field Engineering and Operations group. Jenny, who lives in Wichita, KS, moved into this role three years ago after being a contractor for Cox. Her role requires a sharp eye for logistics and project management.
"I support the group of engineers that build Cox Communications' engineering work package," Jenny explained. "They look at the entire network to determine what pieces of equipment a customer needs. Our engineers get together and look at the map to see how the network is built and basically build a to-do list for our technicians: the equipment that's needed, what they need to build and where they need to install it."
Jenny's project oversight extends beyond Kansas to include cities in Nebraska, Arkansas and Oklahoma, requiring her to be nimble and communicative with her fellow tech employees. But that's a challenge Jenny welcomes, especially after a stagnant experience at a previous company.
"I felt like I had plateaued there," Jenny shared. "And I didn't like the culture and how they treated employees. You can't survive in that atmosphere – you don't have any room to grow."
For someone like Jenny, who is always on the lookout for a new adventure, the culture of Cox was a breath of fresh air.
"Cox is different from companies I worked for previously because it's an enterprise of learning," Jenny said. "They have a mindset of making YOU better. We aren't just achieving goals. We're here to make new ones. There's always room for improvement and asking 'what's next.'"
As an example, Jenny shared details about a big project she recently completed: helping transition the Field Engineering and Operations group to a new project platform.
"We were struggling with the old platform; it wasn't working right, and it was slowing us down," Jenny said. "This one speeds us up and helps us produce more information that we need to fulfill customer expectations."
It was a big undertaking, and Jenny was given the opportunity to train others, lend ideas and resolve issues – and eventually become the project's subject matter expert for Cox's central region.
"Working with this group really broadened my family at Cox. I learned so many different things and the rapport we all had with each other was a blessing."
Jenny's experience with this project gave her a renewed passion for her job in technology at Cox.
"I have an amazing group of people, an amazing team to back me up. It makes me want to push harder and go farther than I have in my life."
"Innovation itself"
Now that she's been with Cox for three years, Jenny said that she can't imagine working anywhere else: "Cox is stuck with me until I retire."
Jenny is especially encouraged by Cox's focus on emerging technologies and building a better future.
"Cox is innovation itself and is highly adaptive to the fluid changes of the world," she said. "We have a beautiful future ahead. We don't just see the horizon; we see past it to something that can and will be. And with all of us working together, we make it happen."
Explore technology careers at Cox today! Click here.