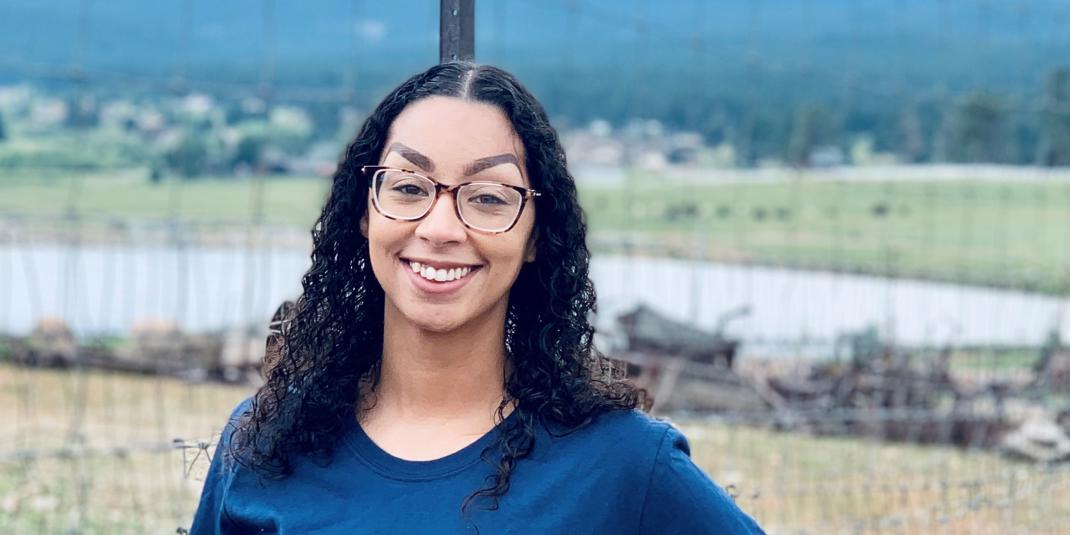 Helping people comes naturally for this customer care specialist.
A few years ago, Tianna Francis followed a link on social media to a story about a Cox employee. She was so inspired by it that she decided to apply for a job.
That's the kind of thing we love to hear!
Tianna is originally from Wichita, Kansas but spent considerable time in the Denver area while growing up. She's back home in Wichita now and will be celebrating her second anniversary with Cox Communications as a customer care specialist in November 2022.
"Growing up, I always had Cox as a service provider in my home," she said. "I've always known that it's a good company to work for."
After a stint as a retail service manager in the cosmetics industry, she wanted to pursue a career in dental hygiene and got a job at a dental office. It was a customer service/patient coordinator position that allowed her to help a lot of patients – and that's precisely what Tianna does best.
"I've always really enjoyed helping people," Tianna said. "That's just big for me. It comes naturally. I'm a big helper in my family; that's what I'm known for."
Tianna said that the old saying "do something you love and you'll never work a day in your life" rang true for her in that job. However, she eventually found herself transitioning careers again. Around that time, a Cox recruiter reached out.
"They said, 'hey, we came back across your application, and you sound like you'd be a great fit. Is there a time we can meet?'" Tianna said. "And we met and we kind of talked about what had changed in the past year, my background…I ended up really just being a good fit."
Customer service comes with its own unique set of challenges. But Tianna credits Cox with giving her the skills she needs to succeed.
"You need to approach every call with a positive attitude because that first impression is going to set the tone for the conversation," she said. "I think that's a big part of what I do every day. Just making sure that somebody feels heard. It's not just a singular person; it's the tools that Cox has given us as representatives to be able to better help them."
For Tianna, our commitment to inclusion and belonging is an important part of the Cox culture.
"Even being in a remote environment," she said, "Cox has been able to really implement so many tools making sure engagement is there on a daily basis. There's correspondence not only with your peers, but your leaders also encourage you. Yeah, it's remote. But I feel closer than ever to my peers."
Bigger career plans have been coming into focus lately for Tianna as well.
"Every chance I have with my supervisor," she said, "We always try and figure out where I'm at now, what my goal would be this month and what I could do to improve. Cox has a great mentorship program and I've been looking into getting a mentor. The main idea behind getting a mentor is to get somebody outside of your department, outside of your comfort zone. So that way you can identify strengths and weaknesses and get somebody else's insight."
When she's not at work, Tianna spends a lot of time with family. She has a daughter and twin nephews who have recently become interested in sports. She's also a gardener and is trying vegetables for the first time this year. She has an interesting aspiration to share a memory with her daughter as well:
"My goal would be this year, hopefully make it to a beach," she said. "I've never been and that would be something fun to share and bring to her. She just turned 8, so it's a good age for her to still be able to remember that memory."
What career advice would she share? Looking at both her past and future, Tianna advises against the fear of making mistakes on your way to achieving your goals.
"If you don't try, how are you going to know if you're able to achieve your goals?" she asked. "Cox is really big on pushing people. And that's part of one of my life values."
Tianna feels like she made the right choice with Cox, and we certainly agree. Here's to a lengthy career with us!
Interested in a customer care career at Cox? Browse open positions here.