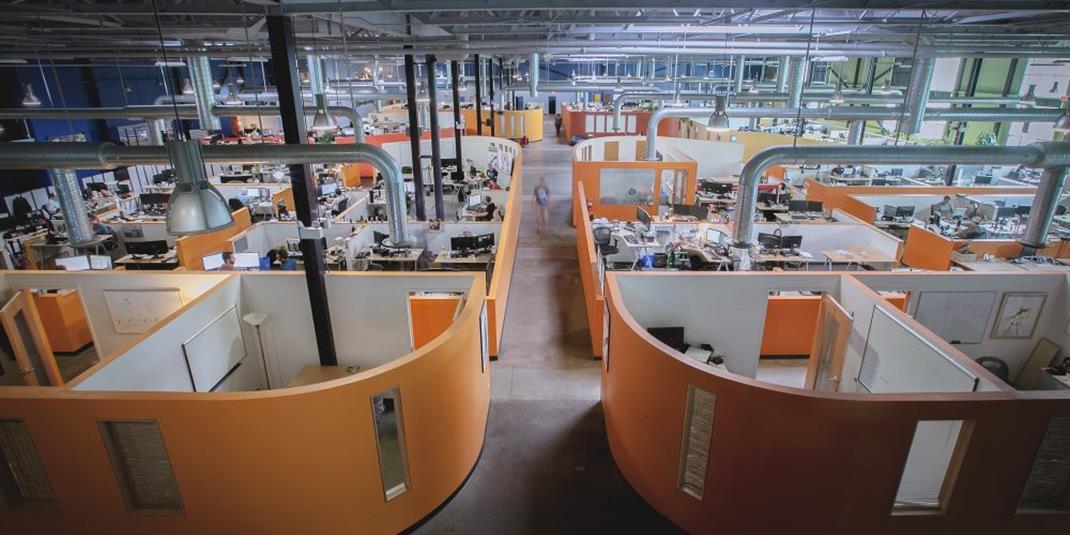 One of the hallmarks of Cox is a leadership team that helps develop an incredibly talented and diverse team, and always put their team members first.
Like many current Cox team members, my journey within the company has been winding and largely driven by new opportunities and empowering leaders. From working with dealerships to develop advertising strategy, to managing nationwide marketing campaigns, to my current role in Research & Market Intelligence, my story is representative of the opportunities afforded to many of my peers.
How my journey at Cox began
Fresh off a year of experience on the agency side of advertising, I had a chance to meet with a former co-worker that had been working at Dealer.com (part of the Cox Automotive family of businesses) as an advertising strategist. After a tour of the quirky and massive office in Burlington, VT, and meeting with a few of her team members, she had convinced me to apply to the Dealer.com advertising team. Cox places a significant amount of trust in current team members, and her referral helped me land a role supporting the largest enterprise dealer groups in the country. I was able to travel across the country to meet with our clients and develop advertising strategies to help grow their businesses. During this time, I developed lasting friendships and great professional connections that would go on to shape my career for years to come.
Climbing the career jungle gym
After working on the retail side of the automotive industry for several years, my manager at the time helped me explore new opportunities within the company. I finally applied for a role on the OEM advertising team, which would support some of the most prominent automotive brands in the country. I was the advertising consultant for first Subaru and then Volvo, building nationwide marketing campaigns for new model launches, sales events and philanthropic efforts. I was able to travel around the US, presenting at conferences, attending national training and sales meetings and working with advertising industry leaders.
My growth in the advertising consultant role was driven by leaders like Katrina Goldfried, Senior Manager of OEM Advertising Strategy, who constantly helped our team sharpen our skills as advertising subject matter experts, in skills like relationship building and challenger-based selling. In discussing the best ways to support her team, she said: "I truly believe we all work best under a leader that we feel is invested in helping us learn and grow." My connection with Katrina was bolstered by one other important connection, one that a number of people at Cox have likely experienced: we both briefly left Cox before returning. Our quick returns to Cox after stints outside the company reveal a simple but sometimes overlooked truth: that culture and people are what make a company great.
"As a leader who has left the company and returned, I understand the importance of knowing where the team feels their needs are met and where they feel room for growth," Katrina said. We both realized that working at Cox meant a steady career trajectory, fantastic team members and leaders that value our contributions.
I spent nearly three years working on the OEM advertising team before making another stop in my Cox journey, this time landing on the Research & Market Intelligence (R&MI) team. One of the biggest reasons I was interested in joining the R&MI team occurred during my final interview, which happened to be with Isabelle Helms, Vice President of R&MI. Despite the interview being conducted virtually, her enthusiasm and sincerity radiated through the conversation.
There are many teams to join at Cox if you're looking to develop new skills or build your network, but the biggest draw for me was a leader that was willing to put their team first, and constantly advocate for the work they do.  Isabelle recently told me that she believes "that the single biggest responsibility of leaders is to foster the development of our people. Providing opportunities for growth keeps people motivated and engaged, better prepares them for advancement and ultimately impact employee satisfaction and loyalty." In a little over a year on the R&MI team, I have built strong working relationships with other team members, greatly expanded my knowledge of the automotive industry, and felt supported the entire way.
"It all starts with a foundation of trust," Isabelle said. Trust ensures that we can have honest conversations with our leaders, who can in turn become your biggest advocate, either in your current role or in helping you develop your career on another team.
Start your journey at Cox
Joining Cox isn't just a chance to work for an industry leader alongside talented people, it's a chance to start a journey that will have you meet lifelong friends, mentors, and advocates. You will be able to grow your network, continue your education and refine your skillset, all with the support and encouragement of your leadership teams. Whether you're in-person or remote, client-facing or internal, consider joining a team that will guide you along your journey at Cox.
Interested in a career at Cox? Browse open positions here.