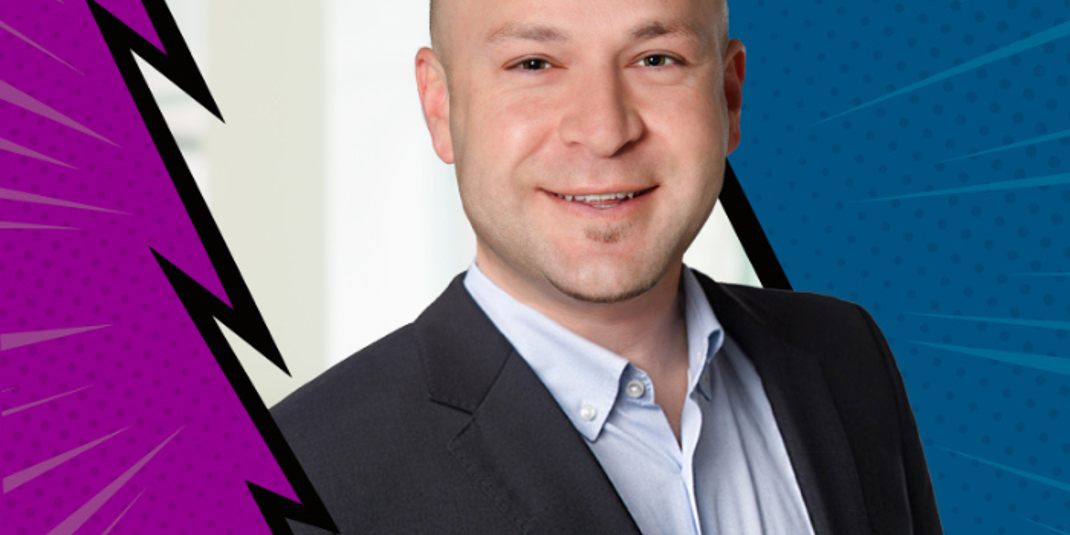 As a retail sales leader at Cox Communications, Farshid Maleki is responsible for inspiring and motivating his people to be the best they can be. Read his story below.
A motivational leader
Farshid Maleki could be a TED Talk speaker.
That's the kind of energy he has as a sales leader at Cox: an upbeat, gracious attitude that inspires others to unleash their potential.
"In sales, you can't be afraid," Farshid said. "You've got to do everything in your power to upscale yourself. Lean on others and hold yourself accountable to meeting your goals. If you challenge yourself to be a better version of yourself every day, you will flourish."
Farshid is Director of Retail Sales for Cox Communications West territory, leading retail stores in Arizona, Nevada and California. He oversees a total of 30 stores, 34 leaders and about 300 employees.
"We are responsible for achieving sales KPIs and retaining customers," he said. "We uphold customer experience standards and making them feel valued and heard, and that we're a place they can come back to. You've got to be sound with operational excellence. And because you represent Cox in that neighborhood, you're an ambassador of the company and the brand."
What does a day in the life look like for Farshid as he supervises 30 stores?
"My responsibility as an organizational leader is to make sure I'm aligned with our strategy –that the execution in our field is in line with the strategic asks that our business needs out of retail and my division," Farshid said. "And I work very closely with my store managers to determine what their pain points are. What do they need to be more successful? How can I remove hurdles for frontline employees? What can we do to provide even better customer experiences, and employee experiences?"
Farshid emphasized that as a leader, he tries to focus on the bigger picture of creating an excellent customer and employee experience.
"I don't sweat the small stuff," he said. "I focus on the big things that will position our employees, leaders and company for success and work hard on those things. I don't want to become uncalibrated from our real priorities: people, results, leading through change and investing in execution plans."
Put to the test
Farshid has been with Cox for 17 years, experiencing 11 different roles within the company. He said that one of the biggest catalysts for his growth as a leader was the COVID-19 pandemic.
"We went through this experience that none of us have ever gone through in our lives, and we had to learn how to push and lead in front and position people for success, as well as how to create comfort and security through tough times," Farshid said. "You have to care. I think sometimes that gets glossed over. But if you're authentic and you care about people and their health and their families, you're going to have the right effect on people and lead them with grace."
Farshid said that he aimed to role model how to care for people during a difficult time filled with unknowns.
"I mean, think back to March 2020 when we didn't know anything about what was going on," he said. "You have to make sure you're responsible to every one of your employees. Be there for them, admit what you don't know and make sure they're safe. As if the Cox culture and values weren't already clear before the pandemic, I think in the last 18 months it really shone with a never-ending commitment to employees' safety, health, mental state and wellbeing."
Maximizing the impact
Farshid was born in Iran and moved to the United States with his parents and older brother when he was five. He recalls the way his parents worked and sacrificed to give him and his brother a comfortable life, and that inspires him to give back and pay it forward.
"I'm committed to maximizing the impact I have on the people I lead and the people I'm around – whether it's coworkers or friends or family," he said. "I get one chance at life. I want to make sure I'm a good human. I try to do everything with intent and think about the impact I'm going to have on people."
Farshid also strives to cultivate a community of caring leaders – which, he remarked, is easy to do at Cox.
"I tend to surround myself and hire people who care," he said. "I try to be a student of the business and a student of leadership. I've been fortunate to be around some really great leaders, leaning on them and learning from them. They make up who I am. When you're leading large organizations, to ensure and foster a great environment, you've got to care for your people."
Interested in sales jobs at Cox? We're hiring!
Click here to see open positions.