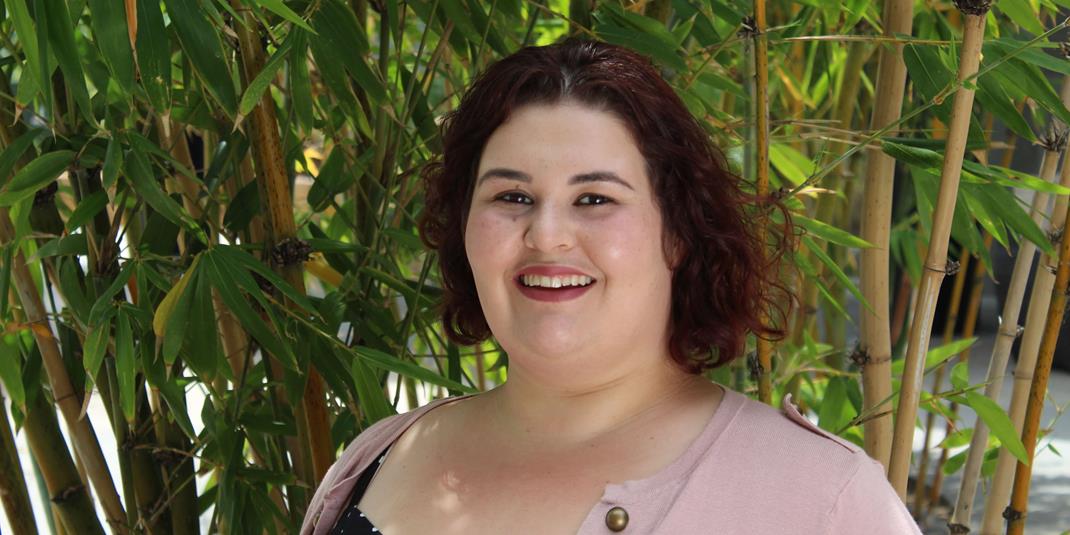 This marketing specialist's ideas certainly aren't half-baked. 
Lauren Wilkinson, a Cox Communications marketing specialist and devoted sports fan, was incredibly excited when we spoke. She's working on a campaign for the NFL in 2023, and currently putting together pricing and a PowerPoint deck for it. The melding of two of her great loves—sports and television—is just one of the reasons she loves working at Cox. 
"There's never a dull day," Lauren said. "I really get to put all my passion to good use and talk nonstop sports and TV."  
Lauren has been with Cox Communications for 7 years. She started out in sales and moved to marketing last year. She tells others that her job is all about putting commercials on TV, which is fortuitous, because she loves TV herself. 
"I get to spend all day researching what's on TV and what's coming up and sending that to our salespeople so they can sell the airtime and ads to their clients. Every day's different." 
Lauren's typical day involves working with the pricing team extrapolating data to see how well a program is doing. She works in "linear television," which is to say, regular broadcast TV. With all the streaming services out there, a big part of her job is figuring out how to entice a local client (a car dealership, plumber, HV/AC companies, etc.) to buy ad time.  
"I ask myself, 'How can I package this?'" she said. "How can I present it in a way that a gets our selling team confident in selling it out to a client. How do we get, say, a plumber to say, 'I need to advertise on television, and I need to do it through Cox,' and then how do we pair that with digital advertising?" 
The answer circled us back to sports. 
"We've got the Australian Open that's happening right now," Lauren said. "So, I would highlight that, or we've got NBA playoffs just around the corner. It's about getting them excited and reminding them that there are these great opportunities out there!" 
Much like Michael Jordan spinning through the air for a slam dunk, our conversation did a 360 when I asked Lauren about her life outside of Cox. 
"My dream has always been to own a bakery," she said. "That's one of my passions too, I've been cooking since I was a kid. I also really love baking. I'm actually known for it around the office. Pre-COVID, I would bring in different treats and kind of use everyone as guinea pigs when I'd try a new recipe. It's just something I've always been really passionate about." 
And what would the name of that bakery be, you might wonder? "The Buttered Spoon."
"I mean, you can't really bake without butter," Lauren said. "And you really can't do it without a spoon, either. I just thought it was such a cute, catchy name." 
For now, though, Lauren loves her current career path. 
"I've worked since I was 16 so I've had a lot of different jobs," she said. "I've never known a company that cares like Cox does. People don't really leave their roles at Cox because it's such a great company. It's my happy place – my zen, so to speak." 
By coincidence, Lauren and Elaine Luong – whom we recently spotlighted on the blog – are the best of friends in San Diego, CA. Lauren did not, however, follow K-Pop group BTS around the country (that will make more sense if you click here to read Elaine's story).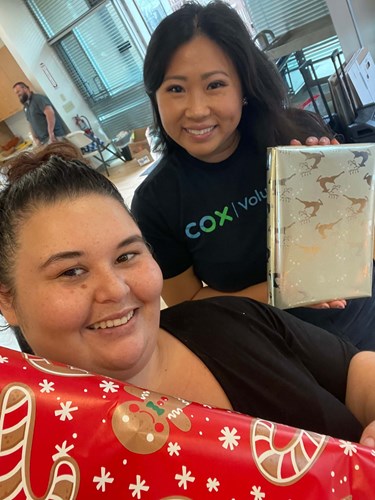 Lauren and Elaine at a Cox volunteer event.