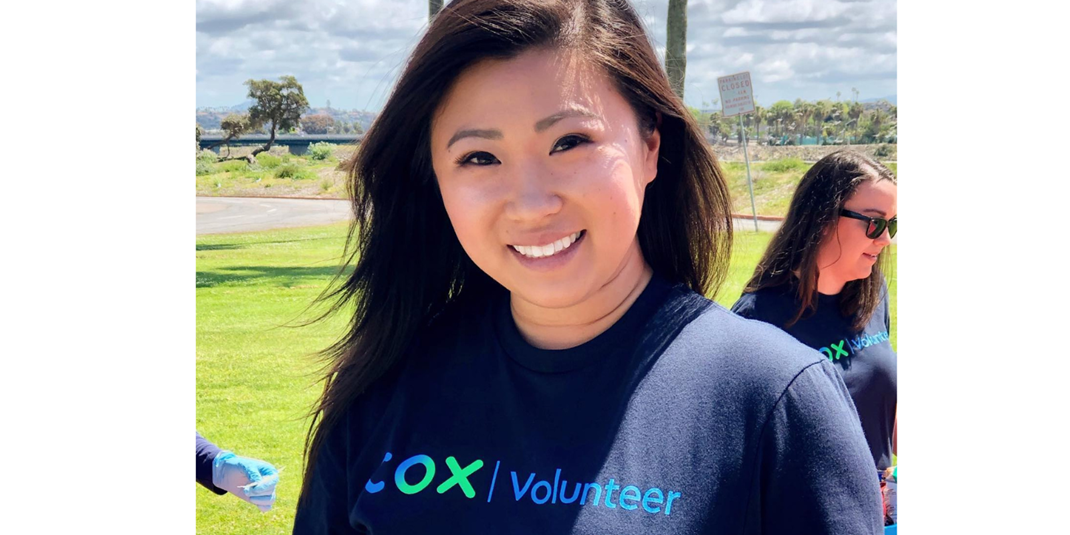 At Cox, we believe every perspective has value and deserves to be heard. Elaine Luong doesn't think her story is very interesting…but then tells us about nuances in radio and television marketing, what it's like following K-pop superstars on tour and wild experiences at San Diego Comic Con. Sorry Elaine…you're fascinating!
Shanon Weaver: Hi Elaine! You're in San Diego…how's the weather there right now?
Elaine Luong: Hi! I don't like answering that question for people that aren't from San Diego because it makes me sound very spoiled. I think anything under 68 is freezing. Today it's in the high 60s. So…cold.
SW: Well I'm in Austin, Texas where it's currently in the 80s. I could use some of that cold. Moving along, though, thanks for taking the time to speak with me today!
EL: Of course! I have to say, though, I got your email and was worried you'd sent it to the wrong person. I was like, "Why? Why do they want to talk to me?" I feel like I'm going to waste 30 minutes of your time.
SW: Trust me, a lot of people say that, and they're always wrong. I'm sure you're wrong too. Why don't you start by telling me about your journey with Cox?
EL: In May 2023, I will have been with Cox for five years. Before that, I was in radio for four years, after attending San Diego State. I thought cable and radio were similar mediums – then I went from three radio stations to 70 networks. Not too similar.
SW: What made you want to switch it up?
EL: I felt like I needed a shift in career. The work culture in radio was very male dominated. What I experienced was not what I wanted to be a part of. I made the pivot and I was just shocked when I got to Cox, because the culture here is just day and night compared to what I had experienced early on in my career. The culture here is so amazing and I think that's what drew me in and kept me here. It's been so different and great in all the most positive ways. The diversity, the inclusivity, seeing strong women in leadership positions…it's all just really exciting.
SW: Love to hear that! Now, can you take us through a typical day in your role?
EL: See, this is where I'm like, "Are you sure you meant to email me?" I'm just going to bore you for the next five minutes.
SW: I'll take my chances!
EL: Ok! I'm a senior sales support specialist for Cox Media [part of the Cox Communications family of businesses]. So, what happens is sales will pitch an order to the client, for example a Broadway company advertising shows that are coming into the San Diego market. And then my consultant will build an order, and we'll tell the client, "Hey we're going to put you on Disney. We're going to put you on ET. We want you on 'x' network, this is really going to sell your audience." And then we process the orders and, after the digital production team creates the spots and ads, we make sure they're running and have the correct copy, etc.
SW: Not boring at all. What's been your favorite experience at Cox so far?
EL: I am a huge advocate of volunteerism. I love volunteering. We have paid volunteer hours at Cox, so I don't even have to take time off or spend weekends volunteering.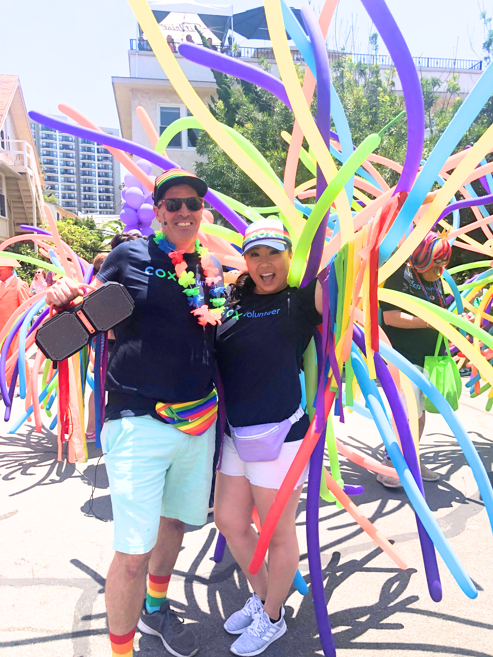 Elaine poses with her friend and colleague Ken Grandlund at San Diego's Pride Parade.
SW: What draws you to volunteerism?
EL: It's the idea of being a part of something bigger than yourself. That is the most exciting. Something that you realize will help generationally for someone or a group of people or a community within a school or within our military. So, I think just knowing that you're able to provide a service that will help someone better their life.
SW: So, what else do you like to do? Tell me about "civilian" Elaine.
EL: Well, I enjoy trivia. I like board games. I love going to concerts. I'm a big BTS fan. Do you know BTS?
SW: I mean, not personally…they're a K-Pop group, right?
EL: Yes. Well, BTS went on tour, and they did four days in Los Angeles and four days in Las Vegas and I went to all eight shows.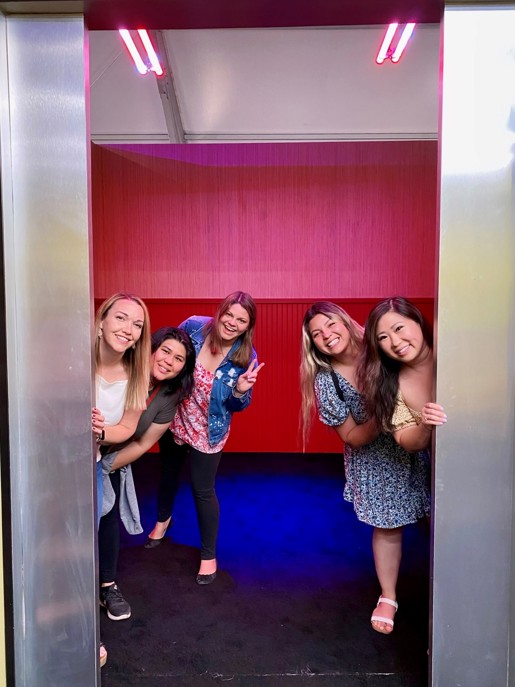 Elaine and her friends pose in an elevator inspired by BTS's music video "Butter."
SW: Wow!
EL: Oh, and I love San Diego Comic Con! I've gone every year since 2009. The culture of entertainment, movies, television, comics and books merges with intimate panels, meet-and-greets and on-site experiences. It's incredibly unique and exciting. I've met Rami Malek (Mr. Robot/Bohemian Rhapsody), Charlie Hunnam and Theo Rossi (Sons of Anarchy) and plenty of other incredible actors, artists and writers. I met Michael C. Hall (Dexter) in an elevator and ran into Dulé Hill (The West Wing, Psych) at a bar. My favorite panels this year were Amazon's The Lord of the Rings: The Rings of Power hosted by Stephen Colbert, HBO's House of the Dragon and the BRZRKR panel with Keanu Reeves. I mean, can he be any dreamier?
SW: So, Elaine…a career in radio and television marketing, lifelong volunteerism, basically stalking BTS and 13 trips to San Diego Comic Con. There is absolutely nothing boring about you.
EL: Well, thank you so much! I appreciate it.
SW: Thanks for your time! It was a pleasure meeting you.
EL: You too!