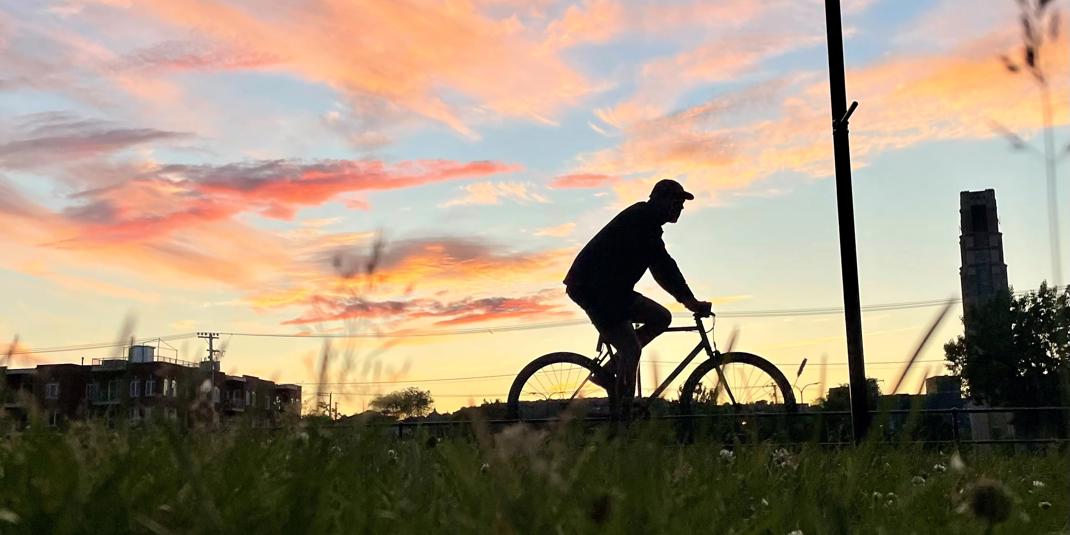 Joel Zinsou, a Cox Automotive Canada employee, speaks with us about his work, his travels and his life as the son of a United Nations diplomat. 
The city of Montreal, Quebec has more bike lanes than any other North American city. Joel Zinsou of Cox Automotive Canada has spent more than 100 hours cycling on them. 
"It's a very cathartic experience for me," he said. "I can even sort of meditate internally while I'm on those bike rides with my music and the beautiful scenery and all of the life around me." 
If you think that's interesting, we're just getting started. 
Joel (pronounced "jo-EL") is a native of Benin, the West African country between Nigeria and Togo. Aside from his time there, Joel also took residence in Germany and New York City before moving to his now-home in Montreal, Quebec. 
Why all the international travel? Joel is the son of Jean-Francis Zinsou, diplomat and former representative of the Republic of Benin to the United Nations. Joel admired his father greatly, and even worked with him once as a UN youth representative.  
"That was the honor of my life," Joel said. "I got to see my father speak on that stage." 
Joel considers NYC his home but is learning to love Montreal as well. He chose Quebec after his father retired because French is his first language, as it is the national language of Benin (itself once a French colony). He finished his master's degree in Industrial Relations in Quebec, and soon after started his career at Cox Automotive in June of 2021.  
He was originally brought on as an associate human resources business partner but was quickly promoted to HR business partner. 
"I mainly support the Manheim Montreal auction location," Joel said. "[I support] the leadership and the employees from an HR perspective. As far as day-to-day goes, it's mostly hiring, dealing with issues as they emerge and employee relations." 
He's working on a couple of big projects right now involving training and pay equity in Quebec. He heard of Cox's reputation of a great place to work before joining the company, then experienced it himself.  
"Communication is always very good," Joel commented. "People are very warm and welcoming. They do a good job here [in Canada] as well as in the states of putting their employees first. I'm glad to be able to contribute to that." 
Joel is modest about his rapid career growth at Cox.  
"I wasn't expecting a promotion so quickly, to be honest," Joel said. "It was an honor to know that the leadership had this level of trust in me. I made it known that I wanted to be with the company for a long while and commit myself and invest myself. There are great mentors within my team who are helping me continuously grow. It's exciting!" 
He's also recently found that he loves to dance and has spent quite a bit of time on dance floors with friends in Montreal.  
"It's such a lovely city to be in," Joel said. "It's very artistic, very colorful and full of life." 
Happy with both his great new home and his exciting future, Joel shared his advice to anyone considering a career with Cox: 
"There are all types of career opportunities at Cox. If you're genuine and passionate about what you do, you'll be in good company. If you want to grow and meet great people, you can find a home here at Cox." 
Interested in a career at Cox? Browse open positions here.