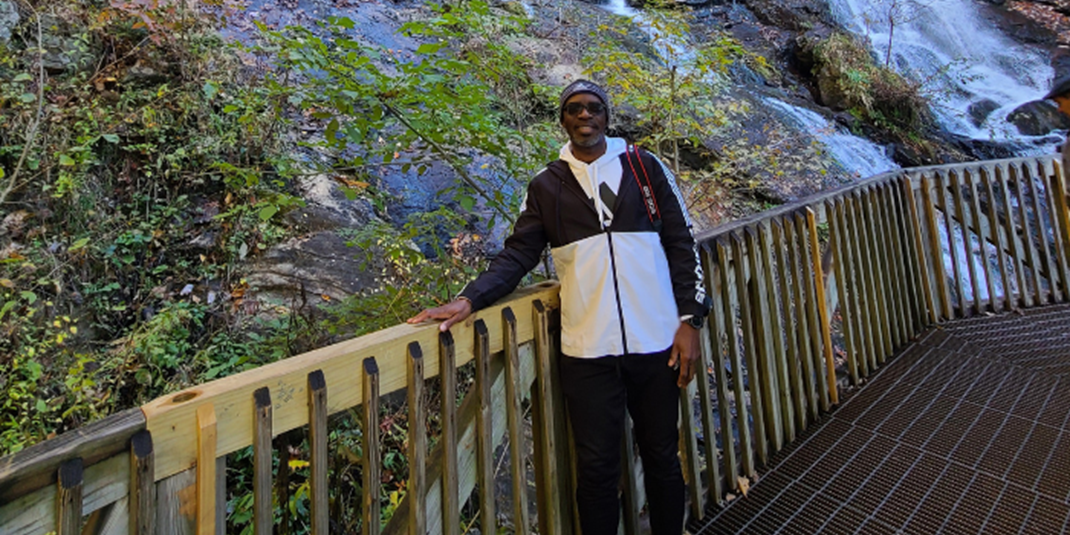 For Kalu Kalu – Senior Manager of Data Governance at Cox Communications – workaholic habits were hard to break. At Cox, he found the benefits and culture to support lasting work-life balance. Keep scrolling to read his story.
In Kalu Kalu's home country of Nigeria, soccer is the most popular sport.
Kalu, on the other hand, finds enjoyment in golf. He likes the calm, social nature of the game and it's his preferred method for relaxation.
"I've made a few friends in the golfing community here at work," said Kalu, Senior Manager of Data Governance at Cox Communications and a resident of Lawrenceville, GA. "We like to get together and play."
Just as golf itself takes practice, so did carving out time in his schedule for playing it. Kalu hasn't always been as intentional about work-life balance as he is now.
"One of the biggest lessons I've learned in my career is finding balance," Kalu said. "Many years ago, I was a workaholic. I enjoyed working, but I never found a balance between that and taking care of myself physically."
Kalu would learn that this kind of mindset has consequences. After being diagnosed with heart disease, he realized that he was prioritizing work over health. His doctor instructed him to make time for fitness and relaxation, which forced Kalu to slow down and examine how his time was divided. Fast-forward to present day: Kalu began his career at Cox as a full-time employee in 2019 and ever since, he's been mindful about taking time to unplug from work and be with his family.
"Having unlimited PTO is amazing," Kalu said. "So are Cox's flexible work policies. Even before COVID, I had a hybrid schedule: coming to work in-person three days a week and working two days at home."
Exercise is now a regular part of Kalu's life as well. When Cox's corporate offices are open and Kalu feels like working "in-person," he arrives to Cox's Atlanta headquarters early in the morning to use the campus' state-of-the-art fitness center and begins his day feeling energized. He says that he's seen tangible benefits from his more balanced lifestyle.
"I've found that balance between work, family and fitness and I feel more invigorated today than I've felt in years," he said. "My family life is better, my physical life is better and I'm more productive at work."
When he is on the clock, Kalu plays a crucial role within the Cox data ecosystem.
"Data is the lifeblood of any organization, so its governance is critical to the success of the business," Kalu explained. "[The data governance team] works with data owners to ensure the integrity, accuracy and timeliness of their data to enable good decision making, and to support good consumer experience. Additionally, we work with the privacy teams to ensure the privacy of consumer data, facilitating consumer trust and reducing user regrets and surprises. My boss often compares what we are to data to what a librarian is to books."
In his data governance role, ethics are top-of-mind in Kalu's everyday life. But he said that he's also been impressed with how ethics are emphasized at every level of the organization.
"Working at Cox, one of the things that fascinates me is the level of ethical practices," he said. "People are very ethical in the way we respect and accept each other, regardless of who you are. The company is deliberate in advancing diversity; and people are always encouraging others to grow and find their fit and be the best they can be."
Kalu, who has lived in the US since 1996, worked for many large Atlanta companies before putting down roots at Cox. To him, Cox's culture set it apart from the rest.
"I enjoy working with the people here and the culture feels different from what I was accustomed to in many other places where I had worked," Kalu said. "People appreciate your contributions and there's a collaborative atmosphere. I feel empowered and I know my voice is heard."
Ready to experience a better workplace culture?
Explore open positions at Cox here.