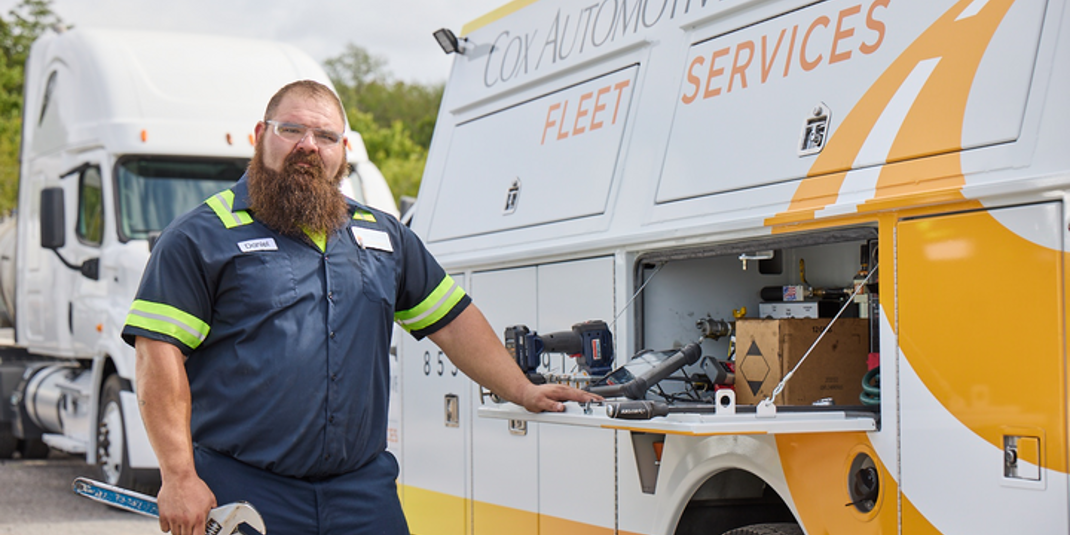 From a constant change of scenery to helping make real change in the world, our techs have plenty of reasons to love what they do.
Rudolph Christian Karl Diesel (no relation to Vin Diesel) was a German mechanical engineer who invented both the diesel engine and the fuel on which it runs in the late 1800s. Ever since, we've needed mechanics and technicians to keep those engines running in top form. And in today's world – where people and products are constantly on the move – we need great technicians now more than ever.  
Many of the current generation of elite diesel technicians work at Cox Automotive Mobility. We spoke to a few of them about the work they do and why they love it. Take a look at what they said, and then explore your own career as a vehicle technician with Cox! 
1. Location, location, location.
One of the most-loved aspects of being a mobile diesel tech is working somewhere new almost every day, be it a shop or a ship, a boulevard or a beach. Basically, your "office" is wherever the vehicle you're fixing stopped working. Who doesn't love a change of scenery now and then, right? A new adventure awaits each day!
"I love the surprising places this job will take you. I've been in coal mines, on airport tarmacs and many more places." -Ruben Rodriguez, Texas
2. Challenging yourself.
There's a fair amount of problem-solving involved in popping a hood and diagnosing an engine problem. There's also a bit of elbow-grease needed (those wrenches won't turn themselves)! If you're the type of person who loves a chance to work with your brain and body, testing the limits of both, this is just the career for you!
"It's a challenging job, both mentally and physically. I love putting my eyes on a truck, uncovering problems and figuring out a course of action to fix the issues." -Mason Bee, Ohio
3. Making a real difference.
One of our most important goals at Cox is leaving the world a better place than we found it. In the grand scheme of things, our mobile technicians play a key role in driving toward that goal. They keep important services running; and whether that's an emergency medical service vehicle or a truck that's shipping the baby formula, our techs love seeing the impact they have on peoples' lives.
"I love finding the problem and fixing it to make sure the person who has called us for help is able to get back on the road as quickly as possible," -Brandon Harden, Indiana
4. Working for leaders who care.
We're happy when our employees are happy, and we love that our employees feel respected and supported at Cox. We offer career development opportunities, great benefits, paid training (check out FleeTec Academy!) and much more.
"Cox does not hold anyone back that wants to better themselves." -Michael Quinn, Nebraska
"This company has taken the time and spent the money to send me to school. It really shows that Cox cares about their technicians." -Mason Bee, Ohio
5. Dollar-dollar bills, y'all!
We get it; talking money is a little awkward. Still, everyone needs to earn a decent living. At Cox, we're happy to compensate our technicians generously, provide great incentives and perks (ask how to get a $20,000 tool kit on us!) and even offer sign-on bonuses. Whether you've got a family or flying solo, you'll be taken care of at Cox.
"I love the money I make. I'm able to support my family and give them all that they deserve." -Ruben Rodriguez, Texas
This list really is the tip of the iceberg. We talked to techs who cited things like "friendly, compassionate coworkers" and "autonomy" as their favorite things about working at Cox. But by now, you probably get the picture: Cox is a place where you can achieve your dreams and live your best life.
We'd like to extend a big thank you to all our diesel techs out there making all the good happen, and we hope you'll consider a career with Cox!