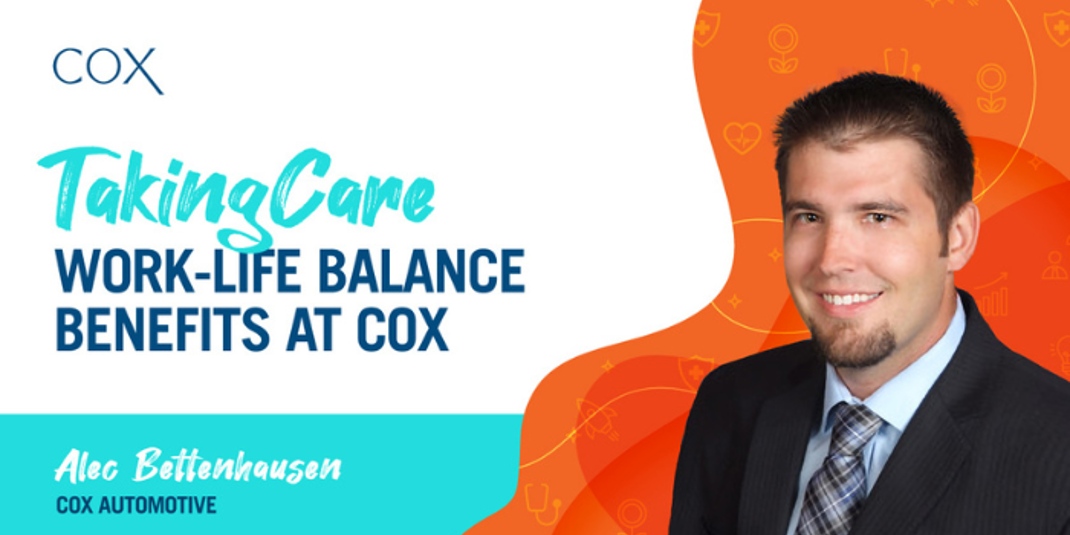 Alec Bettenhausen is a Senior Strategic Sales Manager at Cox Automotive. Two years ago, Alec made a life-changing decision: to step away from a career in his family's automotive dealership, which was taking a toll on his physical health, mental wellbeing and relationships. When he joined Cox, Alec discovered a culture where employees' time and personal lives are honored.
Alec Bettenhausen grew up in the family business: an automotive dealership in Chicago, IL.
He knew the dealership inside and out. He had been a janitor, an oil change tech, a service manager. He had been under cars in service bays and behind desks in the finance & insurance office. He loved the world of automotive – the beautiful mechanism of cars, the intricacies of dealership operations, the way he helped customers find freedom and mobility.
When his older sister declined the opportunity to run the dealership, Alec was next in line to inherit the title of General Manager. His family set him up for success, providing him with hands-on knowledge and enrollment in NADA (National Automobile Dealers Association) Academy.
But as much as Alec loved working in automotive, his job was having a deteriorating effect on him.
"I was putting work in front of everything else," Alec said. "I wasn't taking days off. I would go into work early, skipping the gym and breakfast. I wouldn't leave at my scheduled time. It was very taxing. And I was my own worst enemy – I was doing it to myself. It became unhealthy."
So unhealthy, in fact, that Alec ended up getting physically sick from the stress. Forced to step away from his work, he took two weeks off to detox.
"I spent a lot of that time with my wife to go over our priorities," Alec said. "She shared some of the things she was experiencing with me being overly committed at work, and I realized something had to change."
Alec was on the edge of burnout. He knew it was time to have a talk with his family.
"My family saw me struggling – we had to have a tough conversation about 'Is this really what's right for me?'," he said. "I never really saw that there was an alternative path to the dealership; I had to change my perspective and think about what I wanted most in life. I was aging myself, working myself to death."
He was presented with an ultimatum: be all in, or all out. He chose the latter.
Alec had a friend who worked at Cox Automotive who encouraged him to apply for an open position. Alec now works with dealerships in a new capacity: serving as a trusted advisor who knows their business needs firsthand.
"Cox has helped me understand the value of my time," Alec said. "I have new appreciation and respect for myself and a new kind of confidence and self-love. I get to enjoy my life while knowing I put in a solid day of work at day's end. I have the support of the company, which allows me personal time that I didn't value before."
Workaholic habits die hard, and Alec had a bit of culture shock upon arriving at Cox. In addition to a company environment that puts people first, Cox's tangible work-life balance policies – including unlimited PTO, flexible work schedules and paid volunteer hours – empower employees to prioritize their personal lives; and this was foreign to Alec. He learned to leave his work phone at home when going to dinner with his wife, to take vacations, to block time for creativity during the workday and to close his laptop at 5 o'clock.
"At Cox, you're fed a message from the top down that says it's good to have balance," Alec said. "It was a hard transition for me. But because of the support from the top, it made it easier for me to adapt. My blood pressure has gone down, my stress has decreased, my eating habits have normalized and my relationships with my wife and others have improved. I'm thankful for Cox."
Now, Alec wants to share his story and experiences with others who are desperate for work-life balance. Here's his advice:
"Are you enjoying life right now? Or are you telling yourself you're enjoying it? Because I was stuck in a route where I was always excited for 'tomorrow' – the idea of the future and where I'd eventually be. I kept looking forward to that. But it cost me a lot of relationship capital, time and stress. And it cost me a big part of myself. I will always recommend Cox – I can tell you that it's a night and day difference from when I didn't work at Cox to when I did."