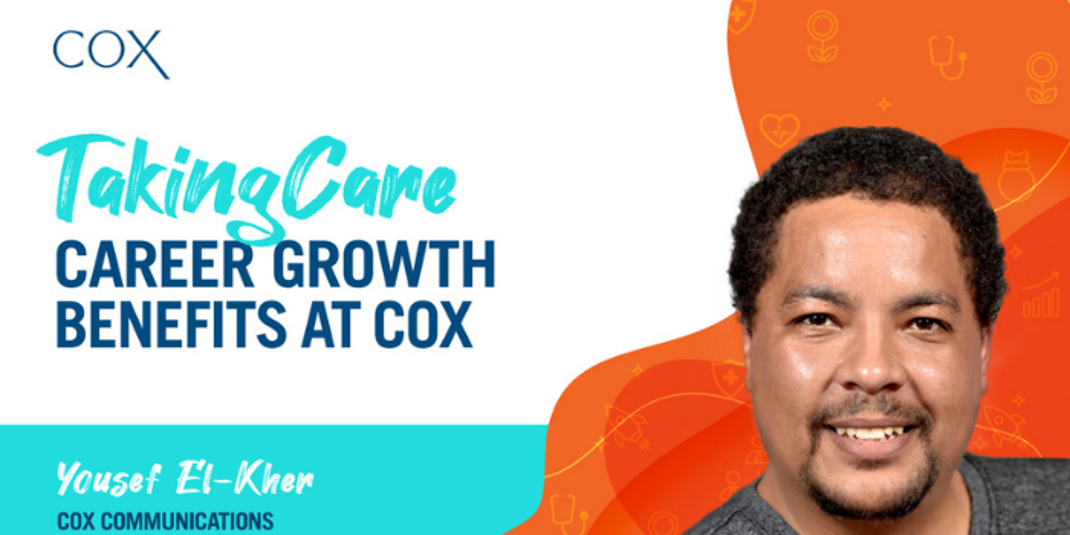 Yousef El-Kher is a Manager of Customer Experience at Cox Communications. In his 15 years at Cox, he's advanced from an agent in Cox's call center to creating and leading entire teams. His journey is an inspiring example of how Cox employees climb career jungle gyms, not corporate ladders.
When Yousef El-Kher applied to work at Cox 15 years ago, he wasn't looking for a long-term career. He was simply looking for a call center job that had good benefits.
Having heard good things about Cox's employee perks, he decided to give the company a try.
"Once I got here and realized the culture, the people and how employees were treated, I wanted to stay," Yousef said. "There's a drive to make yourself better, as well as the people around you and your community. That's uniquely different than any company I've seen."
Yousef is currently Manager of Customer Experience at Cox Communications in Phoenix, AZ. It's a role centered on improving customers' faith in Cox and preventing customers from going through negative journeys. He's passionate about this topic and it's been the focus of his career at Cox, but he's gotten to experience it in different roles as he moved from being a tier one call center agent to a role in customer advocacy to his current leadership position in customer experience.
"I knew where I wanted to be; I set a goal to make my way onto my current team," Yousef said. "The great thing about being here is, when you talk to your leader about your goals, you're not met with an attitude of 'well, I need you on my team.' It's 'how can I support you in your goals?'. My previous leader took the time to make sure this was in alignment with my career decisions. He supported me and drove me in the right direction."
Cox offers a variety of benefits to help employees grow professionally and personally. These include internal leadership programs, career progression plans, tuition reimbursement and thousands of free courses.
"I love having the ability to go out and pursue classes and improve whatever skill I need," Yousef said, adding that project management was a big growth area for him.
"I didn't understand how to manage a project before," he said. "It was easy for me to do my part but making all the parts come together is a different skill."
Yousef said he's also learned how to be a leader here. He said that in a previous role outside of Cox, leadership skills weren't cultivated, resulting in poor management habits.
"When I came here and was given the opportunity to lead, there was a support mechanism," Yousef said. "It wasn't a 'here are the keys, go drive the car' kind of thing. They instilled Cox values first; how we're inclusive and how we want to interact with people. I've learned to be a servant leader, not just a boss telling people to do things. I've had a lot of great leaders here who have shown me what that looks like."
Since then, Yousef has created and led teams, set up groups in Cox's customer service training programs and established special escalation training groups that still exist in some shape or function now.
"I take pride in that – knowing there's a little bit of a legacy left behind."
What's next for Yousef?
"There are a lot of developmental opportunities within my current area," he said. "I aspire to continue to grow here. I love to train, teach and motivate people; and wherever I go in Cox, I see myself in a role where I'm serving others and improving processes for our customers."