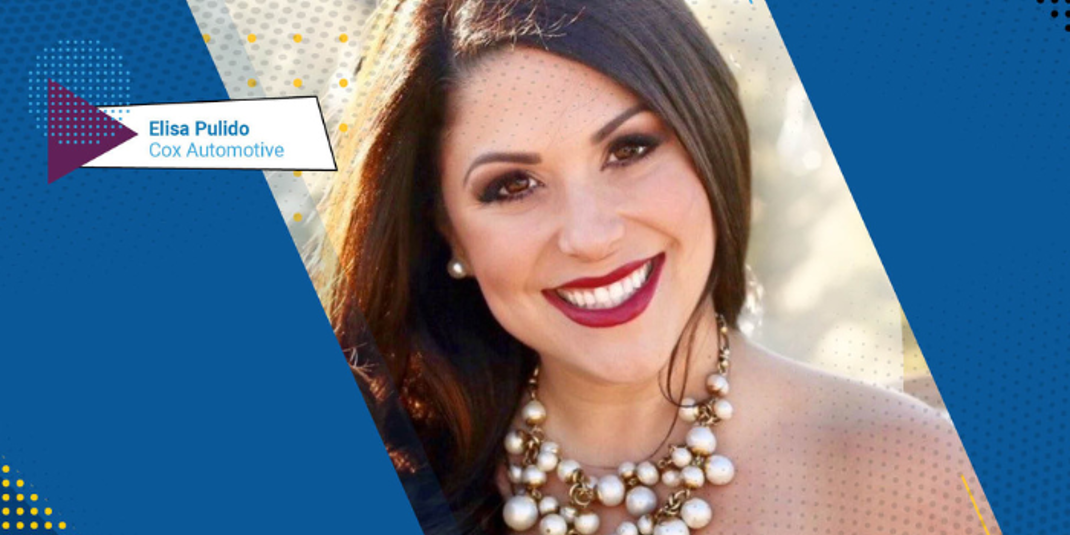 The moment you meet Elisa Pulido, you can sense that she is a born collaborator.
Elisa exudes a vibrant energy that not only suits her well for a career in sales, but also for working closely with teammates in order to stand out in the whirlwind of the automotive industry.
"That's one of the things I can tell Cox really cares about: teamwork matters," Elisa said. "The collaboration is real."
Elisa is a Senior Dealer Success Consultant at Cox Automotive, where she serves as a trusted partner and resource for automotive dealers. She specifically supports Cox's Autotrader brand, helping dealers find opportunities to engage car shoppers online.
"[We're] able to walk into a dealership and sit with a GM, a dealer principal, a digital marketing manager – whatever the case may be – and really help them," Elisa explained. "It's about providing a consultant-based opinion on a broad digital strategy; and helping them fine-tune their operations from inventory acquisition to pricing to merchandising. We help them not only become successful with Autotrader, but beyond."
Elisa's go-getter attitude has propelled her through a thriving career in sales, going from radio to pharmaceuticals to television to her current job at Cox Automotive.
"I was taught that if you do the right thing even when no one's looking, those types of qualities and actions will get you further and help you rise to the top," Elisa said. "Always be humble and try to be the hardest worker in the room. Do the right thing every day, and it compounds."
Elisa embodies this attitude outside of work, too. A fitness guru, she is passionate about building healthy habits with her husband and their five-year-old son, Liam. She is also a big fan of the Peloton community and loves the sisterhood she has found by connecting with other cyclists.
"When we do live rides together, it's not about who's the best or the fastest," Elisa said. "It's about carving out time for yourself. I love being part of a team and uplifting others. Being a part of a community seems to be a common theme for me," she added with a laugh.
Elisa knows that collaboration not only results in strong rapport with coworkers, but is also good for business.
"Handing off clients to other sales team members in different business units (BUs) was nerve-wracking in the beginning," she said. "Delegating has always been hard for me. And when we work cross-collaboratively across BUs, you're really talking about handing off a relationship. But last year, if you look at referral-based [sales], I was one of the top in different products because I realized that I could be confident in other teammates and build deeper relationships. Now, I always have someone in those BUs I can lean on. It's never a fight of 'let me be the hero.' It's true collaboration."
At Cox, Elisa has discovered that teamwork habits are by no means limited to coworkers in the same location.
"One of the things I was concerned about coming into this position is that everyone is in a different location," said Elisa, who is based in south Texas. "I was used to an office environment where everyone leaned on each other. I've been utterly shocked with the amount of collaboration that you can still have when you're 300 miles away from someone!"
Elisa added that especially now, in a virtual world, she feels more connected to her colleagues than ever.
"There's a true form of community across the nation," she said. "I know it's hard to believe, but it's true. Being able to know that everybody has your back and that you're all pushing for the same thing? Every step of my journey with Cox has been built on that."
Discover our pro-sales culture for yourself. Browse job opportunities here!