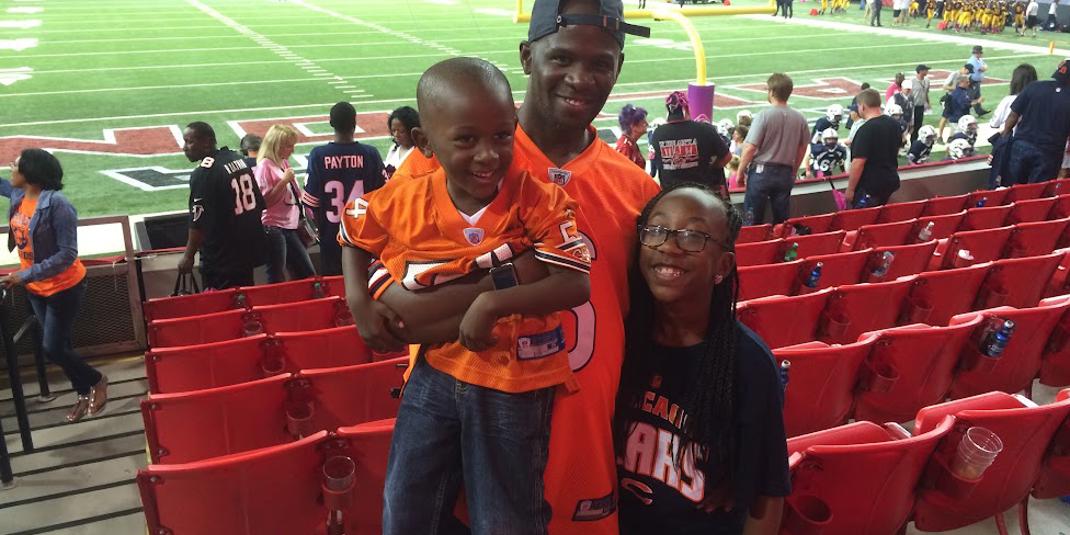 Brian May is a light sleeper. And in his role as Incident Manager for Corporate Platforms at Cox Automotive, he needs to be. 
Any time we experience an incident in one of our Enterprise Financial Platforms, Brian is on the call, leading the resolution with a smile on his face and determination in his voice. It doesn't matter if the call is at 9 pm on a Tuesday or 2am on a Sunday, Brian is quarterbacking the team until the problem is fixed. When he talks about the challenges of his position, Brian notes the complexity of understanding the myriad touchpoints of our corporate platforms and trying to predict the downstream business impact of any component failure, regardless of size. And when he talks about the most enjoyable part of his job, it is in finding that incident resolution, or as he puts it "de-escalating a stressful situation."
It's no surprise that Brian displays that same kind of resolve in his personal life. You see, Brian May is a Chicago Bears fan. A hardcore fan. Brian embodies the kind of passion for his team that many of his fellow sports fans understand all too well. He proudly displays his Bears swag around his desk. He wears his Bears gear to the office or on Teams calls. And he isn't shy to make and accept friendly wagers on his team with his co-workers. 
His wife understands his passion as well; taking great care to give Brian plenty of space on NFL Sundays. His mother, a retired nurse back home in Waukegan helped foster his passion. She's the one who engaged him with the Cub Scouts so many years ago which led to troop trips to Soldier Field and the start of his fandom. Later, when his passion became clear, his mother once saved up to take the family on a memorable trip to Ditka's, the swanky restaurant owned by the iconic Bears head coach. And it was Brian's mother who nursed Walter Payton, the legendary Bears runningback, in his final days back in 1999.
But it's not easy to be a Bears fan, especially in Atlanta. The Bears were world champions in 1985 and that year fielded what is universally considered the greatest defense in the history of the game. It was an incredible season that Brian recalls reverently from his youth when he was still living in the outskirts of Chicago. But that was 37 years ago and it's been a mostly bumpy road ever since. The Bears have only seven winning seasons in the 30 years since Brian moved to Atlanta. Without the support of fellow hearty Bears souls here, Brian has had to find ways of coping.
So how do you survive as a Bears fan in Atlanta?
Well first off, you find tickets and attend all seven of the games in which the Bears visited the hometown Falcons since 1993. Brian high-fived his friends when Brian Urlacher returned a fumble 90 yards for a TD en route to a Bears win in 2001. And he stoically withstood the grief from Falcons fans as he left the stadium after the dreaded "squib kick game" in 2008. That year the Falcons kicked the winning field goal as time expired following an ill-advised kickoff decision by former Bears coach Lovie Smith. Secondly, you find a way to watch every game on TV – which Brian has found a way to do.
Are there any similarities between being a Bears fan and a Cox Automotive Corporate Systems Support Manager?  Brian has been with Cox Auto for 15 years, but over the past four years since taking on the role as "Corporate Systems Incident Commander," he has seen massive shifts in the infrastructure and support process for the applications that he oversees. Not only have we moved from a private data center to a cloud infrastructure, but the primary support has moved from an external partner to an internal team of Cox Automotive employees. And with that shift has come a corresponding change in the attitude and culture of the team which provides that support. That team which once had to rely on someone else to navigate the technical issues, now enthusiastically tackles every aspect of production operations, and takes great pride in their continued improvement in operational stability.
Similarly, the Bears have undertaken a major overhaul. They brought in a new head coach last year who has infused intensity into the locker room and made personnel changes which will set the foundation for years to come. The improvements are clearly on the way as the Bears look to build around a new attitude. Brian just hopes that the results in Chicago mirror the same success he has enjoyed here at Cox Automotive.
Interested in a career at Cox? Browse open positions here.