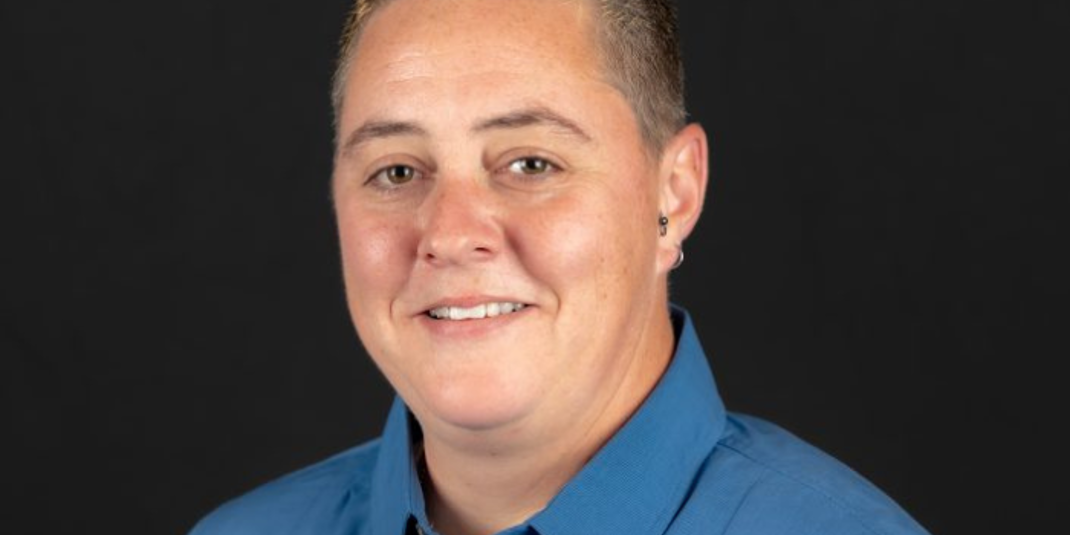 Jillian Perry works in field operations for Cox Communications in the northern Virginia ("NOVA") area. She's known for going above and beyond to support her team and her community. Keep reading to learn how Jillian leads by example at Cox.
Lending leadership advice
Jillian Perry's official job title is Field Operations Supervisor at Cox Communications, but she's also something of a librarian.
Because she's passionate about leadership and helping people learn career skills, Jillian has turned her desk into a mini library where her team members can stop by to "check out" professional development books. The Fred Factor: How Passion in Your Work and Life Can Turn the Ordinary into the Extraordinary by Mark Sanborn, The Five Dysfunctions of a Team by Patrick Lencioni and similar books sit on her desk, ready for the taking.
Jillian asks the borrowers to sign the back of the books before they return them – a cool memento of all the people who are learning together.
"I have some people on my team who are aspiring to leadership, and some of my peers are sending people my way because of how passionate I am about growing your career," Jillian said. "As a leader, my job is to make sure I move as many barriers as possible and help my people get where they want to go. People invested in me – that's why I try not to let off the gas pedal when working with other people."
Jillian has been part of the Cox family for 16 years. Her career has spanned sales support, order management, field services and included a stretch of time in Rhode Island, where she met her wife. Now, Jillian oversees a team of technical and customer service experts in the Northern Virginia area. Her daughter is a Cox employee as well, working in territory sales.
"It's a people-first culture," Jillian said. "We take care of each other; we know what's going on in each other's lives. We're a really diverse workforce here in NOVA and I'm thankful every day that I'm in this role."
Taking the bull by the horns
Jillian's career movement is thanks in part to her bold personality and her willingness to speak up for new opportunities. As a self-described "take the bull by the horns" personality, Jillian felt empowered to connect with leaders in the company to discuss professional development and increasing opportunities for field technicians' career growth.
"I have a tendency to take things on my own without being prodded to do so, so I started reaching out to directors and VPs and setting up one-on-ones," Jillian said. "It really speaks to the leadership here. When I would reach out to these leaders, it would be a conversation where I could share ideas and benefit from their knowledge. I plan to continue that pattern."
Jillian recommends a similar course of action for anyone looking to grow their network and their career.
"Start small. Find a leader in your group to set up a one-on-one with," she said. "Get to know them and their career growth. Then branch outside of your organization and start getting your name recognized."
Being the change
Jillian said she is inspired by Ghandi's well-known maxim "be the change you want to see in the world."
Her enthusiasm for making a difference began at a young age – she became involved with social activism at age 12, joining an organization called Unity in the Community to combat racism and discrimination in Prince William, VA. Today, much of her free time is spent in various volunteer activities, including being on the board of her synagogue and serving on the citizens' advisory committee for the Prince William County Police Department.
Both in her field operations job at Cox, her role as a career development mentor and a volunteer in the community, Jillian is a firm believer in stepping up to help others.
"Anything I can do that will make a difference for somebody else, is something I want to do."
Explore a career at Cox for yourself. We're hiring!
Click here to view open positions.