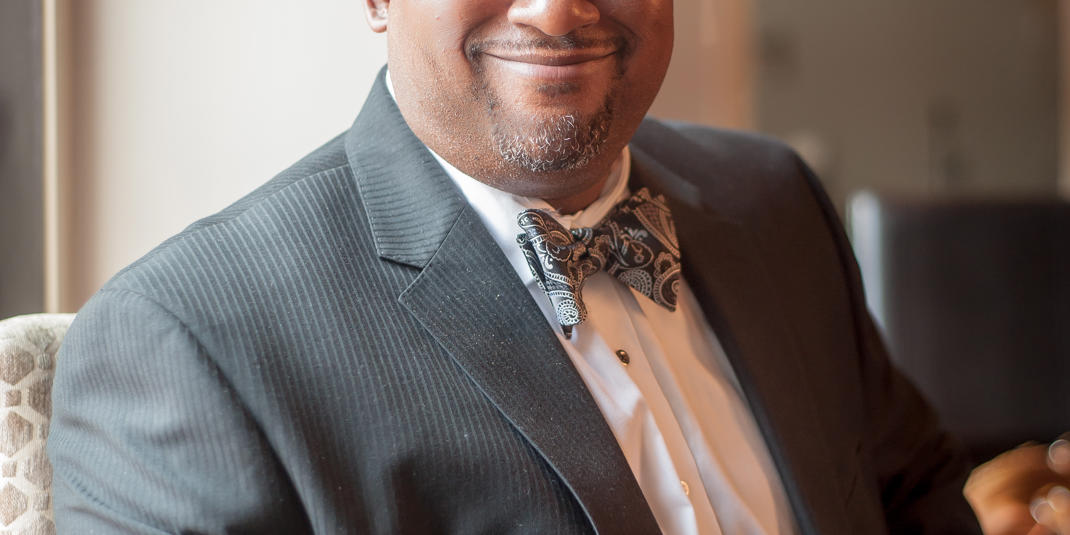 The answer: Colby Williams! This Marine-turned-manager has seen and done a lot of amazing things over the years.
Colby Williams' first day of work at Cox was on Halloween of 2005. This seems fitting, as he's worn a lot of different costumes with us since then.
Originally from Huntsville, AL, Colby wanted to go to work in a big city. He found his big city in Atlanta.
"I knew Cox was a Fortune 500 company," he said. "I knew they were a big thing in Atlanta, but I didn't actually realize the magnitude of everything that they accomplished."
What magnitude does he mean? Well, Cox Enterprises is a family-owned, global company with more than 40,000 employees, $20 billion in revenue and a strong foothold in the automotive and communications industries, as well as emerging ventures like cleantech and healthcare. As part of Cox Enterprises, Cox Communications is the largest private broadband company in America. We get some things done, for sure.
Colby began his journey with Cox as a security engineer, working on firewalls, threat assessments and the like. After three years, he switched to voiceover IP and was a voice engineer for the next four years. Following that, he moved to the automotive side of the business as a senior network engineer for Manheim.
"At the time it wasn't [part of] Cox Automotive yet," Colby explained.
Not long after Manheim joined the Cox Automotive family of brands, Colby went back to Cox Communications and served as a senior project manager.
Now, as a sales engineer manager, he supports Cox's residential operations.
If that weren't enough, Colby also spent eight years in the Marine Corps reserve before joining us at Cox.
"When you leave the military and come into a corporate environment, things are different," Colby said. "You know in the military, you're always like, 'snap, snap, snap. I got to be there.' Everything has to be in place. I have to move. But then when you work with civilians or in a corporate environment, they're not that pressed, if that makes sense. And it's not a detriment, it's just a different environment."
His military service fit well with his favorite part of Cox culture – our employee resource groups (ERGs). He's even served as a recruiter for SALUTE, Cox's veterans ERG. 
"I love the employee resource groups that we have," Colby said. "It's an amazing outlet to not only volunteer your time but represent your company too."
Colby loves Cox's support of employees, which expands far beyond ERGs.
"In my career here since 2005, I've worked in about four or five different groups," Colby recalled, "being able to keep my skill set sharp and work on different technologies. So Cox is one of those companies where you don't get pigeonholed into one row. Another great thing is that Cox has that internal training. And the way they support us improving ourselves is just amazing."
Outside of work, Colby is just as multifaceted. When the COVID-19 pandemic hit and many in America started reading more or learning to bake bread to keep themselves occupied, Colby discovered aquaponics instead. In a nutshell, aquaponics is a system of soil fertilization that mimics a natural eco-system in which nitrates and bacteria from fish habitats help plants grow.
"I've got four tanks around my house now, full of fish," he said. "I've never had to change my fish water."
Newly married as well, Colby loves to travel with his wife. They're both big fans of history, and one of their favorite experiences was a trip to Africa in which they followed the "great migration": a 1,200-mile animal migration starting in the Serengeti in Tanzania and ending in Kenya's Maasai Mara game reserve.
"The landscape…now you watch National Geographic and you see the landscape of Africa and think 'oh man, they produce that'," Colby said. "Well, no...all of the Serengeti has that same landscape there. It's amazing."
Colby has advice for all current and future employees:
"Slow down. Champion others to be better. Understand positive workflow."
We celebrate Colby for all of his work with the company and salute his service!
Learn about our support for veterans and military families here.
Interested in a career at Cox? Browse open positions here.