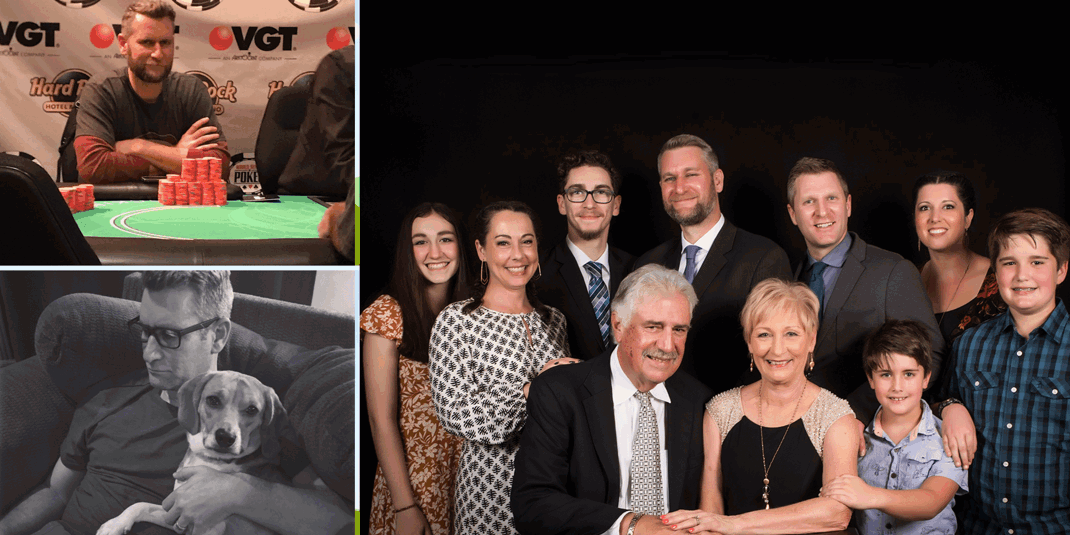 Mike, a sales employee at Cox Communications, isn't just a poker pro and a media maven. He's also an empathetic listener who is gifted at building relationships. Keep reading to learn about his career journey at Cox.
Mike Berger is something of a poker expert.
He's had a seat at poker tables across the US, from the west coast to his home in Oklahoma, and has played with many, many people – including movie stars, mayors, business owners and professional athletes.
What does he love most about poker? Applying advanced game theory and reveling in the competitiveness of the game (no surprise there – he's in sales!).
"Poker is a much deeper game than many understand, with math and strategy being very complex to compete at a high level," Mike said. "The days of old men in smoke-filled rooms playing poker have changed to intelligent men and women skilled in math and advanced strategy taking over. Optimal strategies are always changing and with technology, the game and those who successfully play are far more advanced now than even five to ten years ago."
As a Media Consultant II at Cox Media – a Cox Communications company – Mike can certainly attest to ever-changing technology. Much of his job revolves around building trust with clients and helping them keep up with the pace of innovation. With Mike's help, businesses are able to get their messages in front of a targeted audience via multi-platform campaigns. Mike works in sales, but he sees his job as much more than that.
"Reacting quickly to client needs and putting thought into the recommendations I provide allows me to earn trust and create partnerships, versus just selling advertising," he said.
Building relationships is key to Mike's success
Like many people at Cox, Mike learned about the company by way of current employees. While working as a National/Major Senior Account Executive for a newspaper, Mike's accounts included Cox Communications' residential and business services.
"I built relationships with Cox employees, which eventually helped lead me to my career with Cox Media," Mike said. "John Odgers from Cox Business, Sonya Bell, who is now on the residential side, and Carrie Holland all spoke very highly of their experience working for Cox and formed a good impression in my mind. John always encouraged me to at least look at opportunities at Cox if I ever decided to look at new opportunities. These Cox employees became friends and started me on the path to Cox."
Mike said that the culture of the company was something that John, Sonya and Carrie referenced frequently.
"The culture was something my friends at Cox talked about constantly and was one of the main reasons I interviewed," he said. "Once I started working for Cox Media, I immediately knew what they meant about the culture and how well the employees were treated. Media sales and all sales can be tough and having a good positive work environment where everyone feels included is huge! Everyone was fantastic in welcoming me to the team from the existing sellers to the support staff and leadership team. I'm proud to work for a company that is so invested in diversity and inclusion and doesn't just talk about it but lives it!"
Mike added that he feels supported in his career ambitions: "My manager Pieter has helped to keep me on track of my lofty goals with Cox Media and feel like I have a bright future."
Reading people and leading with empathy
His penchant for poker aside, Mike is a deeply honest and empathetic person who enjoys learning about different perspectives.
"I care deeply about the wellbeing of the people around me and their happiness can outshine the importance of my own," Mike said. "I try to acknowledge my own faults and mistakes and be open to change by trying to understand different points of view regardless of if I agree or not."
And in sales and poker alike, Mike has learned that it's important to be present and stay humble.
"Always studying and analyzing your play and learning from your mistakes correlates poker success to business and life success."
Interested in sales jobs at Cox? We're hiring!
Click here to see open positions.