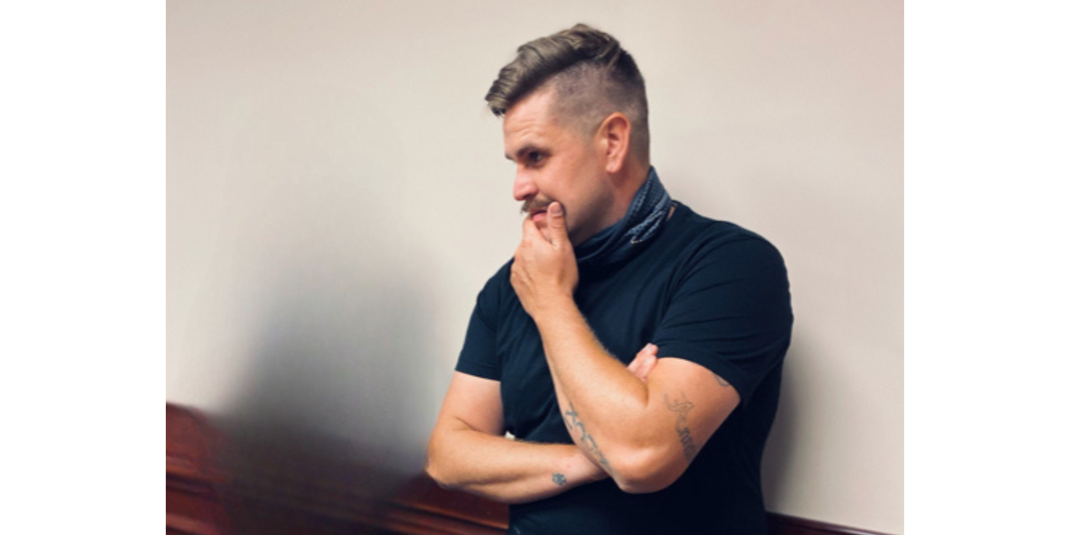 With a pedigree like this, we expect a great story, and Samuel doesn't disappoint. This intriguing Cox Communications employee shares a bit of his life and work ethic with us. 
"I always introduce myself as Samuel, but I'll answer to Sam," said...Samuel.
"Coupled with your English accent," I said, "Samuel sounds kind of regal, you know?"
"It's funny you mention that," he said. "Because I actually am a lord."
"Oh, we're definitely coming back to that," I said after a distinct pause.
Samuel Barnett started training at Cox Communications in October of 2021, but came to the United States in 2009 from his native England to coach for Major League Soccer (MLS). He'd played soccer – or football, as they call it, but let's not have that debate now – at a high level overseas but lost all his contracts after a terrible car accident. Even after physical rehabilitation, Samuel's playing days were over.
Fortunately, the MLS had a program that hired English players who still had a lot of knowledge to share. These players would coach and host camps and clinics across the U.S. to promote the sport of soccer. They accepted Samuel in a heartbeat, and his first stop was Wetumpka, Alabama.
Samuel eventually ended up coaching for MLS teams the New York Red Bulls and the New England Revolution, sharing his experience and love of the sport. But he retired from coaching this year to focus on his family and his career at Cox.
"I've got two young kids," Samuel said. "And with their schedules, I was starting to miss their sporting events because I was coaching."
A dedicated family man, Samuel makes his wife and children a priority, which is why he loves Cox's flexible scheduling. It allows him all the time he needs to be a good husband and father.
Just don't ask him if he's seen Ted Lasso.
"Oh, all the customers ask," Samuel said. "But yeah, I haven't watched it."
Samuel is an inbound sales representative, which means he takes inbound calls from potential customers who either need new products and services or want to change them. He believes that he and his coworkers are helping reinvent the traditional idea of a 'call center' by always bringing an empathetic viewpoint to customer care.
"These are real people calling in with stories and issues…some good, some bad. You're there to lend an ear and find a solution. Being honest, listening and having a conversation with the customer is the best sales technique."
Samuel finds his job to be rewarding in various ways. With his schedule, he has Friday through Sunday off, which gives him ample balance between his work life and his family life. But according to Samuel, the best part of his job at Cox is getting to help people.
"I want to lean on that a lot here," he said, "Because you can truly help people so much. I've had customers crying to me. I've had them praise me. I can take something away from every customer."
Samuel focuses on customer service first and sales second, and traits like that can go a long way. He feels there are many behaviors that can lead to a successful sales career.
"I think being able to hold a conversation is key," he said. "And I'm not afraid to ask questions. You also must be very open-minded and willing to learn and embrace the culture."
Speaking of culture, though this may be a stretch…let's revisit that whole lord thing. While that title may conjure images of medieval England's lords and ladies, or even a more recent trip to Downton Abbey, Samuel is rather cavalier about the whole thing (as a lord would be, right?).
"I was just born into it," Samuel said. "These days it basically means you own a parcel of land somewhere in, say, England or Scotland. You know you can buy a lordship now? My family took their land and literally made tiny little cubes so they could sell portions of it off. You've probably seen commercials on social media for this type of thing."
Whether it's as a leader or listener, Lord Samuel believes in being himself and looking toward the future. And the future he sees with Cox Communications is bright.
He really should check out Ted Lasso, though.