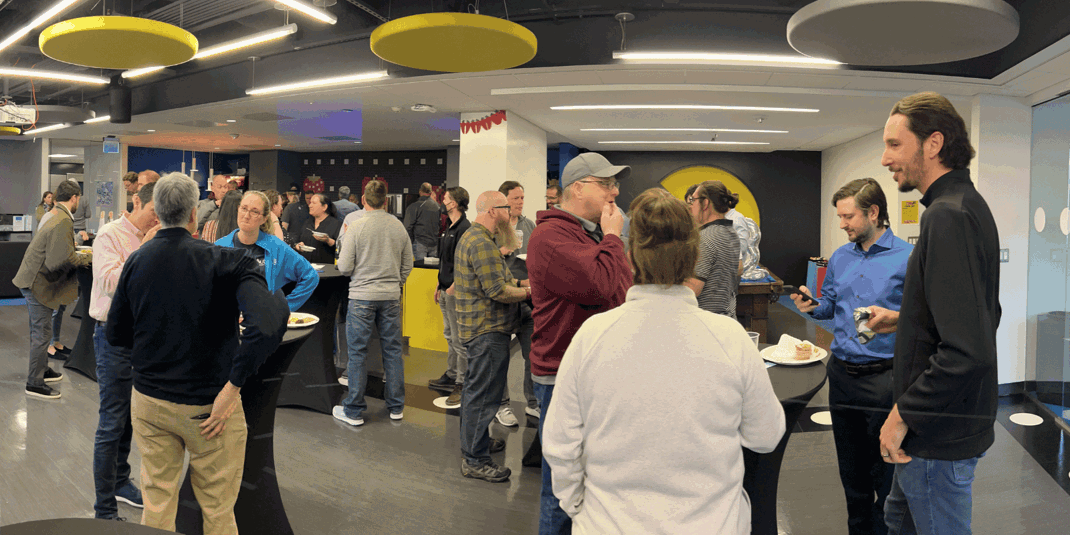 Cox Automotive's campus in the Lone Star State capital blends company values and local vibes in a recipe for success. 
Welcome to the inaugural entry of our new series highlighting Cox locations across the nation. We're crisscrossing the country this year, visiting various Cox workspaces and sharing the unique stories of our people.
The first stop for this project isn't really a "stop" at all. It's my adopted hometown of Austin, in which I've hung my proverbial hat for the lion's share of my life.



Welcome to Austin, TX!
Ah, Austin! The ATX. Bat City. Live music capital of the world. Our city slogan is "Keep Austin Weird," and we do our best to do so. Portland, OR has also adopted a similar slogan, but the fact that we had it first is a hill every Austinite is prepared to die on.

Austin is known for many things – not just Willie Nelson and breakfast tacos. It's home to a variety of music, art and film festivals, such as SXSW, Austin City Limits and FronteraFest. It's a hub of both art and technology in central Texas, with a thriving film and theatre scene, and office and factory locations for some of the world's largest corporations. And of course, a Cox Automotive workspace!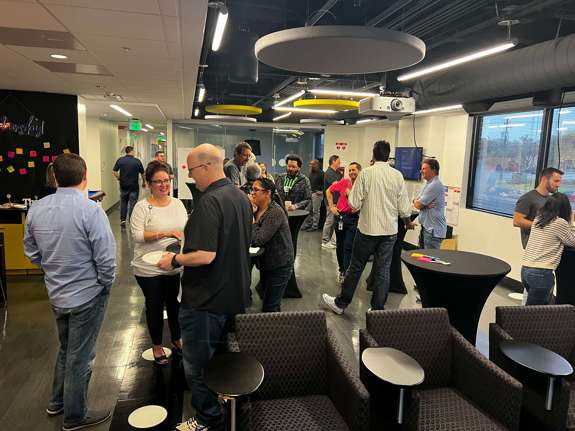 Autos in Austin
Cox Automotive has a campus in northwest Austin, with employees focused on providing auto dealerships with cutting-edge inventory management software. The high-tech campus is part of a larger, multi-use office complex (coincidentally named "Campus"), and is filled with technologists, product engineers, software engineers and more.
Many Cox employees use our flexible work options, operating in a hybrid or remote capacity based on personal preferences and team needs. A campus like Cox Automotive Austin ensures that when employees do choose to come to the office, they have a fun and collaborative space to gather.

I had the pleasure of meeting David Rice on my first day, who gave me a tour of the facilities. David is Senior Vice President of Product & Engineering for Cox Automotive, and though he's a Dallas-area native, he's been in Austin since 1993 – six years longer than me! David was happy to show me around, as he had a hand in the campus design and décor.

"When we were in the initial stages of designing the office, I thought a lot about how and why I got into technology," David said. "And I realized it was because of a love of technology that often manifested in video games."

That love is seen throughout the Austin site. Each public area and every conference room features a classic video game theme, such as Tetris, Final Fantasy, Duck Hunt, Super Mario Bros. and Legend of Zelda. One long corridor has a giant Pac-Man painted on the entrance, his mouth open and ready to chow down on the "snack pellets" (yes, I looked it up) that dot the side in a line that extends far into the office space.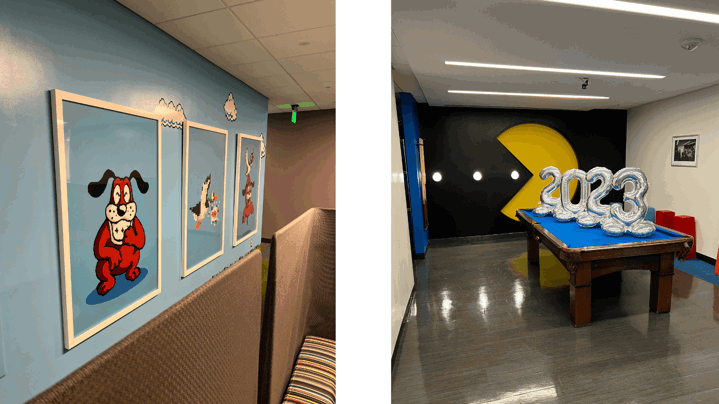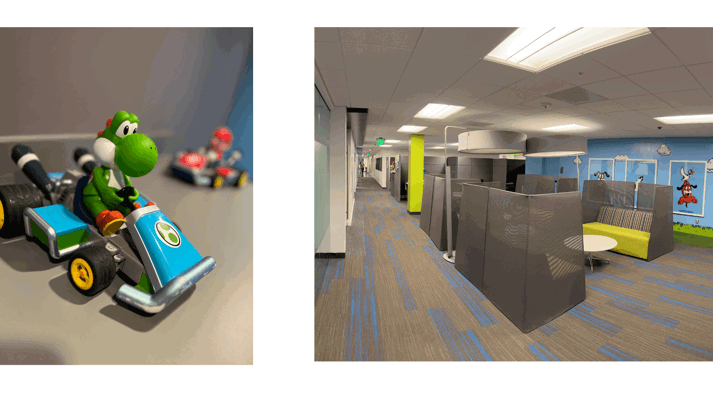 The entire office is customizable, and all the desks convert from sitting to standing. They're also mobile, which allows employees to move their desks anywhere in the office for a huddle or other collaborative work. Meeting rooms are designed with the future in mind, and most are modular with planned subdivision capabilities. Essentially, it can easily transform from open concept to a team room work area, which David prefers.

Additionally, nearly every surface of the office is writable – for those spur-of-the-moment ideas. Even things like lower light intensity for software engineers are in place. It's really no wonder the employees here are so happy at work.

And they really, really are. Manan Karia, a product director with more than four years at the company under his belt, explained why he loves working here so much.

"This is the first big company I've worked for where I didn't feel like a number," Manan said. "They talk the talk and walk the walk, and not many companies do that."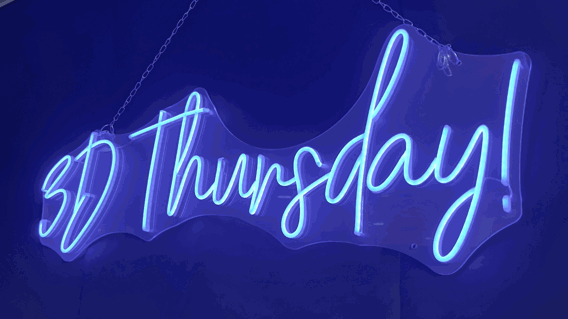 Cooking up a better future
On Thursdays, the office hosts "3D Thursdays," an event series that features a different program each week to bring employees together.

On my first day visiting the Austin office, this event was a good ol' fashioned chili cook-off. I was made an honorary judge, and after a brief discussion as to whether "real" chili could include beans (another hill on which most Texans are prepared to die), the winners were declared. Employees Omar Salinas, Zachariah Grummons, Dan Harrell and Spencer Means took home the top honors. Other events over the course of my visit were an employee appreciation breakfast and a scavenger hunt (won by the team of Aaron O'Connor, Andrew Vohl, Carlos Arellano, Collin Long, Hailey Faircloth and Randy Miller).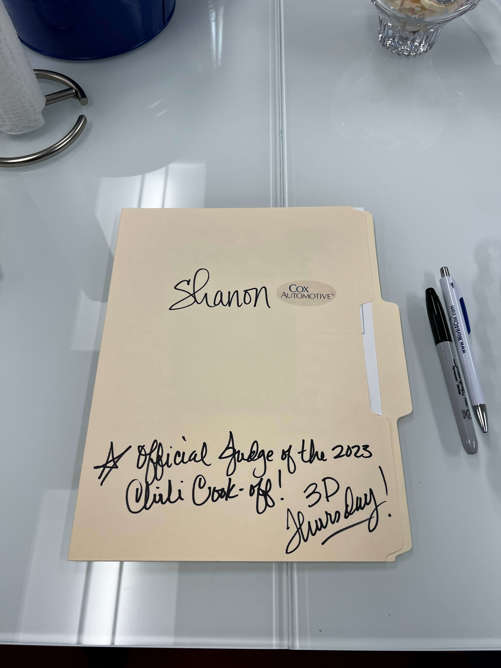 I received a warm welcome to the Austin campus as official judge of the long-awaited chili cook-off!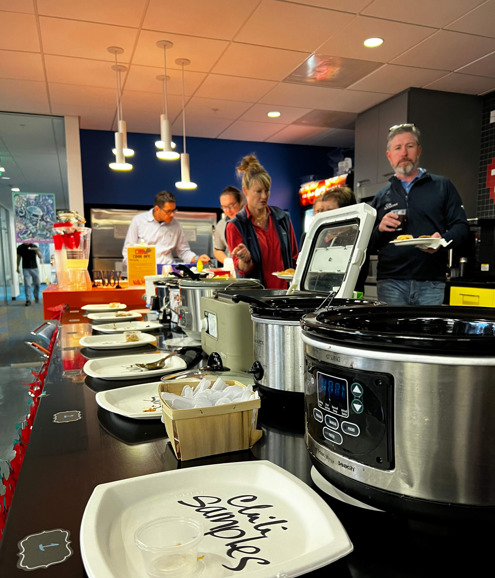 Speaking of cooking, no discussion about Austin is complete without mentioning the food, and that means tacos. A staple of the local diet, every Austinite has their own opinion on which is the best. The only thing we agree on, frankly, is that our tacos are better than San Antonio's, our neighbors 90 miles to the south (we'll ALL die on this hill).
Our Austin employees love grabbing tacos together, in spite of some personal disagreements on the best spot in the city. Software engineer Corey Dorner, who has been with Cox for about two years, shared his thoughts on his personal favorite, Tacos el Charly.
"They have the best tacos not just in Austin, but maybe anywhere," Corey said. "It's just a little food truck on North Lamar. You step up, order in Spanish, pay in cash and two minutes later you've got these incredible tacos. Highly recommended."
"I'm no expert in tacos," said Fernando Paz, AVP of Software Engineering. "But Lupe Tortilla has the best fajitas in Austin. Now, breakfast tacos are another story. They're all good. When I moved to Austin from south Florida, I didn't understand the breakfast taco. Until I had it. Then I wondered where it had been all my life and why they didn't have them in Miami."
Myself, I'm quite partial to Dos Batos in North Austin. Try the hybrid or the pirata if you're over that way.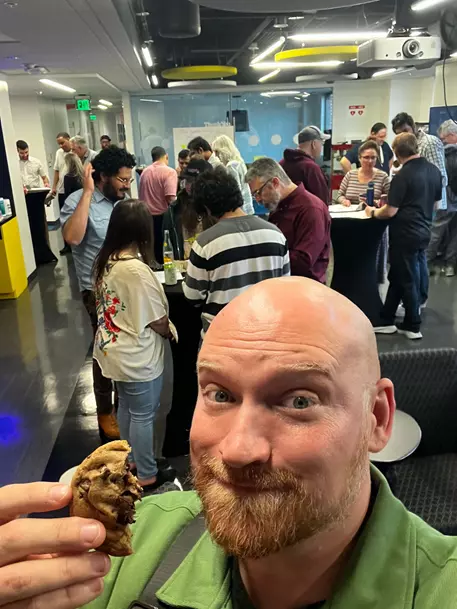 Keepin' it weird, keepin' it Cox
Suffice to say, our employees in Austin keep in step with the vibe of the city itself and manage to also live Cox values to their fullest. Jim Puckett, Lead Product Manager, and Carlos Liendo, Senior Manager of Software Engineering, chatted with me a bit about what they think makes Cox stand out as an employer.

"If someone is having a problem," Carlos said, "The conversation is always around how we can help them…it's about how we can support them."

"Cox leadership lives their values," Jim added.

Austin has changed a lot over the last couple of decades. It frequently makes lists of top places to live, and it's easy to see why. Equal parts nature, art, technology and culinary delight (TACOS!), the ATX is the city of Texas' future, and Cox is proud to be a part of it.