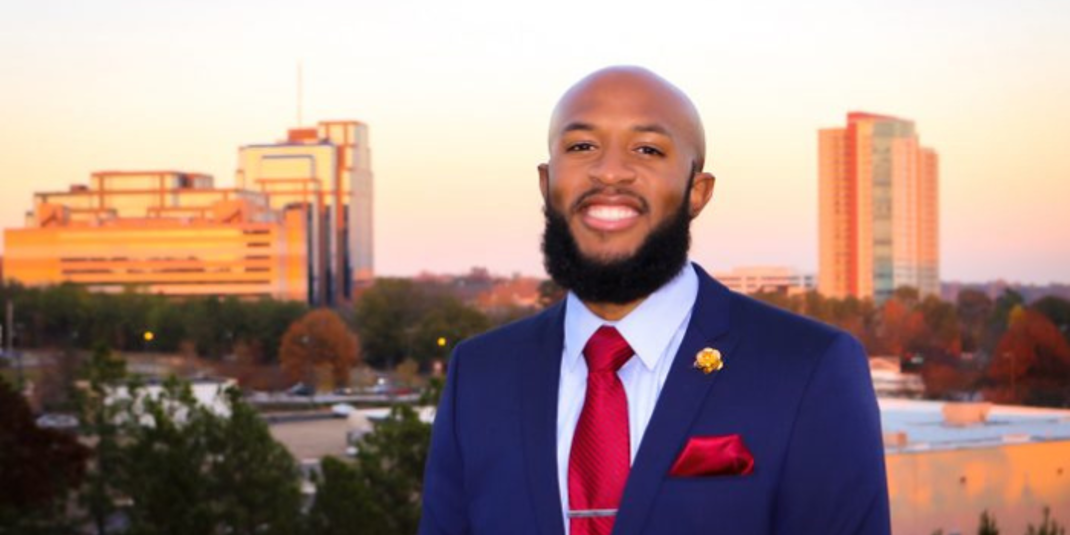 Working at Manheim – part of the Cox Automotive family of brands – Alan Campbell helps deliver an extraordinary experience to clients across the nation, living up to Manheim's mantra: "Our mission is yours." He's also the founder of a non-profit, an avid basketball fan and the subject of our latest "Questions With" employee interview series. Keep scrolling to see his conversation with Elizabeth Saulsbury from Cox's Employment Brand team.
Elizabeth: Hi Alan, and thanks for chatting with me! You and I are both in Atlanta and we are nearing the end of the workday here on the east coast. What are your plans after work today?
Alan: Hi Elizabeth! Well, let me see…I run a non-profit so I usually spend an hour on that after work, and then it's family time. We'll watch a show or movie together while we're cooking dinner so it'll be a nice relaxing evening.
E: Tell me about the non-profit. You've had some exciting stuff happening with that lately, I hear?
A: Yeah! It started out as a commemoration for my dad, giving away scholarships to graduating high school seniors. And since we started that in 2015, it has evolved into a mentoring program, and we're going to have our first cohort class in January 2022. It'll be virtual with Westlake High School in South Atlanta. We're going to teach them skills that they may not learn in school, like financial literacy, special STEM skills like coding, public speaking, mental health, imposter syndrome…just trying to equip them and prepare them for college. And at the end of the program, we're going to award them scholarships.
E: How wonderful! What's the name of your non-profit?
A: It's called the Nolij Foundation Inc. – the phonetic spelling of "knowledge."
E: Now, I'm told that you had an exciting run-in with Microsoft this week and that you're even the subject of an upcoming mini-documentary. Give me the details!
A: Yeah, so here's the story. Someone nominated me for a home office upgrade and a potential partnership with Microsoft for the mentoring program. I think it was my brother, but I won't know until the documentary is done. And I won! They came over to my home and gave me a suite of Microsoft products just to make me more efficient and productive and they filmed a mini-documentary about Nolij and even involved some of the students. So it's pretty cool.
E: That's incredible! What's your favorite product they gave you?
A: I would say the headphones, and also the Surface Pro X I'm using right now. It's pretty nifty.
E: You mentioned that after work is done, it's family time and TV time. Tell me a TV or movie character that you really relate to.
A: Oh my goodness…
E: Aha, I stumped you.
A: Well, I can actually start with my favorite movie, which is The Family Man with Nicholas Cage. I love Nicholas Cage and in the movie, his last name is Campbell as well. My original goal of trying to work on Wall Street is what he does, and there's a lot of symbolism in that movie that correlates with my life. And I would probably also have to say Jim from The Office.
E: A classic.
A: Yeah. My personality is like Jim's. I love that show; I've seen it a million times and Jim is that fun guy who can also get work done when he wants to, and that feels like me.
E: Speaking of the office…like many people, you've been working remotely since the start of the pandemic. Do you miss being in a physical office, or do you love working from home?
A: I think I'm in between. When it first started, I was like 'I love this' but as the months started to pass, I've had more trouble focusing. When my wife and son were home during the heat of the pandemic, and somebody would be watching TV or something and I'd be like "turn that down" or my son would be upstairs throwing a basketball against the wall or something…it was chaotic. Now, I've found an equal balance. So I guess the jury is out. I love being at home but I also love being around coworkers.
E: I feel the same way. How long have you lived in Atlanta, Alan?
A: Oh gosh…I've been here since 2008. I came up here after I graduated from Columbus State.
E: What's your favorite spot for pizza here?
A:You've got to go to Antico. I think the staple location is the one near Georgia Tech, but at any location, the pizza is incredible. My wife is half Italian so we found that place and fell in love with it.
E: As much as I love talking about pizza, it's time to switch gears a bit. What do you love most about working in the automotive side of Cox?
A: I would say the interactions with dealers. Working in automotive is much different than my background, which was with AT&T. You're around a lot of people, but working with dealers is such a specific thing. Learning about their businesses and how they're in the community…and how we can bring solutions from Manheim to them. It's challenging but fun, because every dealership is unique and works in different ways. I love hearing their stories.
E: There are lots of different businesses within the Cox ecosystem. What's one area of the company that you'd love to learn more about?
A: Because of my background, I'm very interested in what's going on with our media side of the business at Cox Communications. What they're doing with TV and mobile and retail. It would be interesting to learn more about that.
E: You've mentioned before that you love basketball and that it's a big part of your background. What's something that your upbringing in sports taught you that you think everyone should know?
A: I would say that a hard-fought lesson is that the best players have amnesia. What I mean by that is that when you make a bad play, you can't dwell on it. If you continue to linger on that bad play or bad game and beat yourself up about it, you won't be able to move forward. I try not to focus on the past, but on what I can change in the future.
E: One last question for you. What advice would you give to someone who's looking for a job at Cox?
A: If you want to work at Cox, be prepared to be in a different type of environment – and I mean that in a good way. I've been amazed by the culture here. I would advise anyone who wants to work here to expect something different. Don't come into the company trying to be a polished person – just come into the company trying to be your best self.
E: Thanks for the conversation today, Alan. It's been great getting to know you!
A: Likewise. Take care!