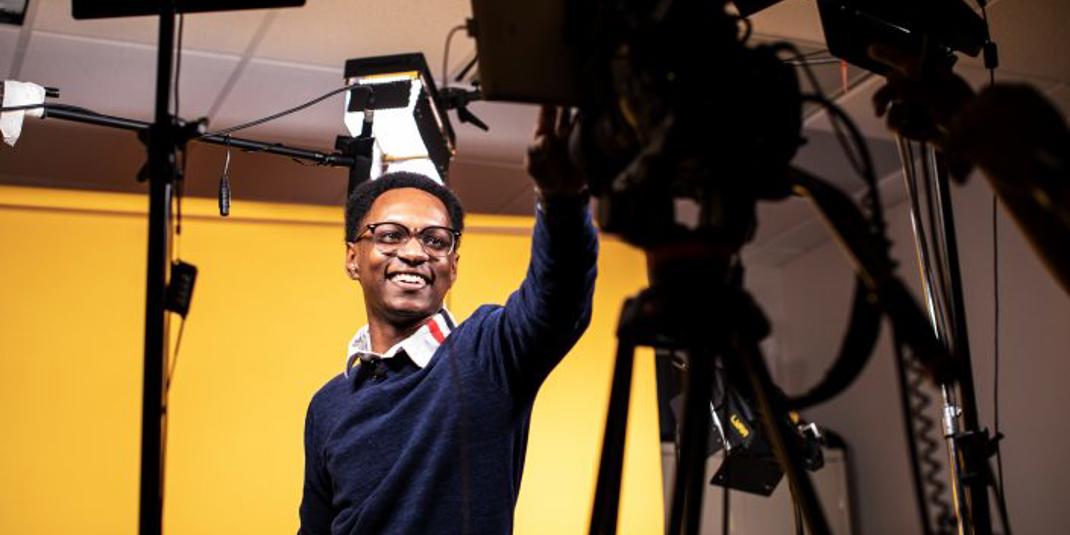 "If you've ever seen The Patriot Act on Netflix, my show is like that but more serious and with more journalistic rigor."
This is how Joseph Ferguson, social producer, describes the news video series, "AJC In Context," he creates for The Atlanta Journal-Constitution.
Joseph was immersed in the world of social media news reporting long before he joined the AJC. Throughout college and his post-grad career, he produced an online news show.
"I look at my position as an opportunity to bridge the gap between classical reporting and the things that are happening on the internet today. The YouTube audience skews younger, so part of my job is to figure out how to keep young people engaged. It's the AJC in a younger, cultural context – I take a story and put it in an easy digestible way of understanding. Yes, it's social media, but it's more about building community and trust, and giving already-great reporting a different coat of paint. I'm lucky that I have a job that I genuinely love to do. I wouldn't want to do anything else."
Joseph is just one of the many AJC journalists who have been flexing their communication muscles and keeping Atlanta and the entire state of Georgia informed during the COVID-19 crisis. They are providing an important public service to all members of our community – informing readers, holding public officials accountable, and providing in-depth coverage and resources to keep us safe.
Above all, Joseph just wants to help people feel engaged, informed and yes, entertained during the COVID-19 pandemic. "When people are engaged with content from a brand they trust, they're going to actively look for more. It's about the relationships and community more than raw news."
"All we want to do is reach the most people and do the best job, while incorporating some lighthearted things. This is what I can do to help change the world and to mold and shift the community, which is really cool to do in a city like Atlanta."
Mixing the business of reporting the news with the pleasure of social media has always been a passion of his. "I did a lot of Model UN in college, so I've always been interested in the news. Not to mention my comfort level with public speaking has always been a strong suit, despite my stutter. With my show, it's all about incorporating personality with actions to communicate that I'm a person too. A huge brand like the AJC can seem a bit unreachable. With me being fact-based and analytical, I can communicate how I would handle problems like any other person would. I give it a 'how will this affect me' lens when solving problems and communicating the news."
While social media can be produced from anywhere, Joseph says, he misses being in his studio working with his team one-on-one. But when it comes to his workflow and productivity, "There is such an influx of news on the medical, economic and most importantly life aspects of the situation, there are so many ways to parse this. I've upped my video production during this time, so I've become more productive in a weird way. It's like a fire hose of news and all I can do is share and curate this information and provide context for my viewers."
Interested in jobs at the Atlanta Journal Constitution?
Click here to see open positions.