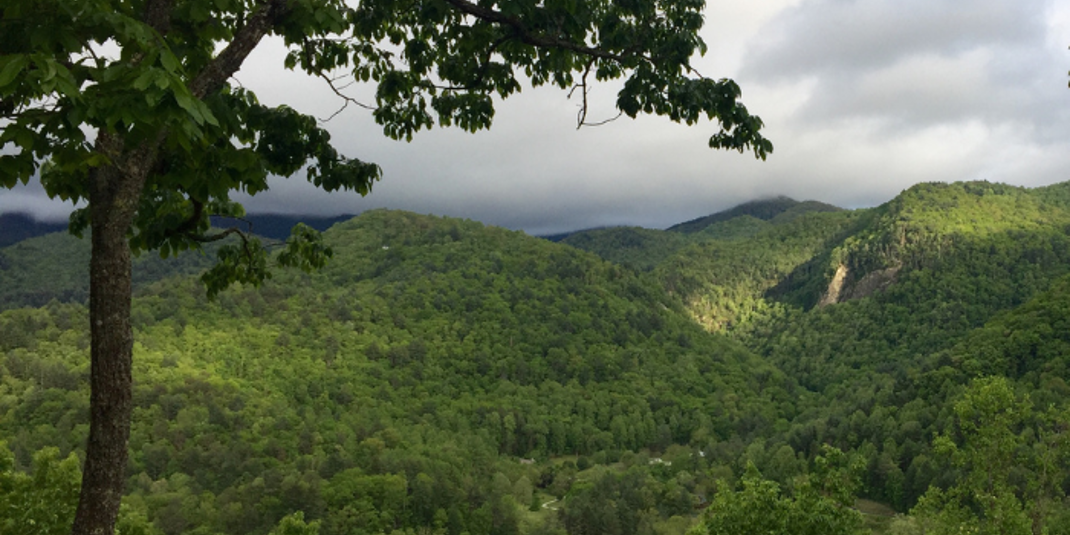 Bill Baker is Director of Relocation at Cox Enterprises. An employee for more than 25 years, he has a unique perspective on how the company has evolved – and where it's been unwavering. Keep reading to learn about Bill's journey at Cox.
Bill Baker lives and works from the top of a mountain in Highlands, NC.
His cabin overlooks a gorge with stunning views. From his remote retreat, he watches the seasons change and the sun move between summer and winter solstices. It's not uncommon for him to see single and double rainbows from his mountaintop, which has its own microclimate.
"I was socially distanced before it was cool," Bill remarked. He has a kind, personable demeanor that shines through even on a Microsoft Teams call and makes him a great fit for Cox's workplace culture.
Bill and his wife moved to the mountains seven years ago, and he's no stranger to relocation. In fact, it's his specialty. As Director of Relocation at Cox Enterprises, Bill manages the logistics of helping Cox employees – both new and current – move to new locations for work.
"I'm more than a relocation guy," Bill explained. "I'm a coach, a cheerleader and a counselor. I get candidates of all ages – new hires as well as those moved multiple times – and I always remind folks that 'no move is ever perfect.' I've done this long enough to know that I can always offer hope and encouragement to people."
Bill added that he manages approximately 250 moves a year. From Cox executives to people with special childcare, eldercare and medical needs, Bill has helped employees in all kinds of situations.
"When it comes down to the work I do, I look at the support in two ways. Every move is different, but each one has a financial dimension and an emotional dimension. The financial side is certainly important – understanding the cost of real estate and so on – but the greater side is the emotional one.  If you look at the top stressors in a person's life, moving is near the top of the list. I try to minimize the emotional stress of relocation. And it's one of the most gratifying jobs I've ever had."
Born and raised in southern Ohio, Bill heard the name Governor James Cox in history classes growing up. But it wasn't until he moved to Atlanta in the '90s that he made the connection with the company itself.
Bill was working in sales with an office furniture company that happened to be a vendor for Cox. When managing Cox's account as a supplier, Bill saw something different about the company.
"I recognized there was something special about Cox," Bill said. "They were about values; they were about more than dollar signs. People mattered there."
When a position in corporate services opened, Bill was offered the job. He was told that he'd be responsible for some administrative responsibilities, as well as managing operators, the mail center team and employee relocation. Bill learned that the latter meant that when executives were moving across the country, he'd be responsible for getting them there; and when employees joined the company or were being transferred, he'd help manage the details of their move and get them settled.
Bill had hesitations at the time, as this kind of work was "out of his wheelhouse."
"But [they] told me that I was qualified and that they'd train me; that they were looking for people who were willing to learn," Bill said. "I've gotten back more than I could have ever imagined."
What has he learned, looking back on more than 25 years at Cox?
"I was given an opportunity, I worked hard to focus on it and make the right decisions," Bill said. "I've been a benefactor of the fact that the company believes in people and invests in people and gives you a chance to grow and succeed. There's not a single thing I would do differently."
Ready to begin your career journey with Cox? We're hiring!
Click here to view open positions.