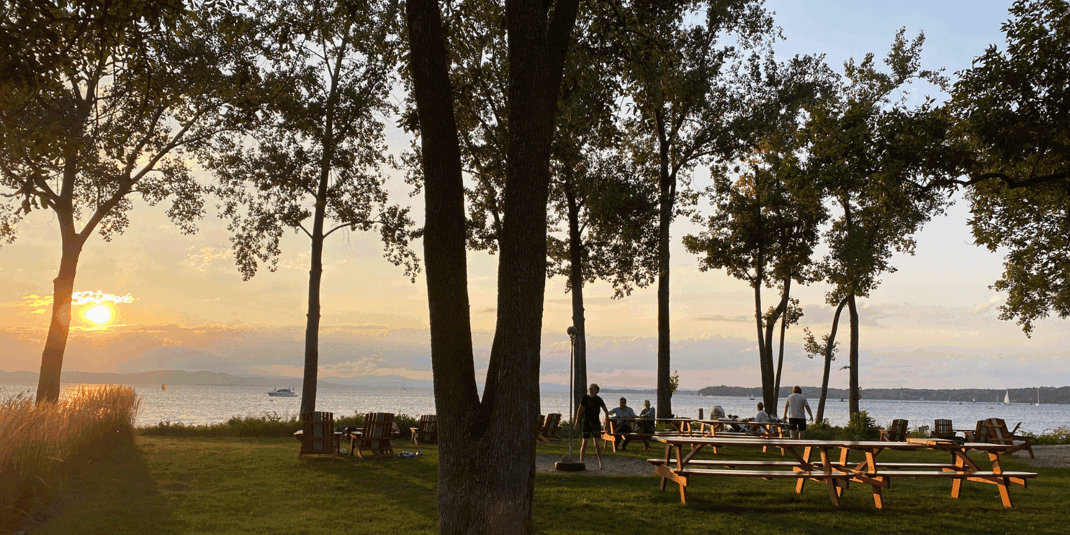 In this series, we're crisscrossing the country to tell the stories of our unique Cox locations. After visits out west in Austin, TX, and Omaha, NE, our next stop brings us to New England: specifically, Burlington, VT. 
It's hard not to bring up Vermont without conjuring up images of some of the main draws this area is known for: snow sports, leaf peeping, fresh maple syrup and top-notch IPAs. 
But after spending a few days in Burlington, I realized there's much more than these touristy highlights (although these are all fair reasons to visit). There's a real sense of community here — a small-town closeness in the context of a city — which makes for an idyllic place to live, work and play. 
"That's what I love about Burlington: though it's a slower pace of life, there's no shortage of things to do," said Kyle Ainley, a content and creative manager at Dealer.com (part of the Cox family of businesses). "It's like the littlest big city, all at the same time, and it feels like mine." 
I recently got to spend some time with our team at our Burlington office to learn what it's like to work there. Plus, I got the scoop on some of the best sights and bites around town.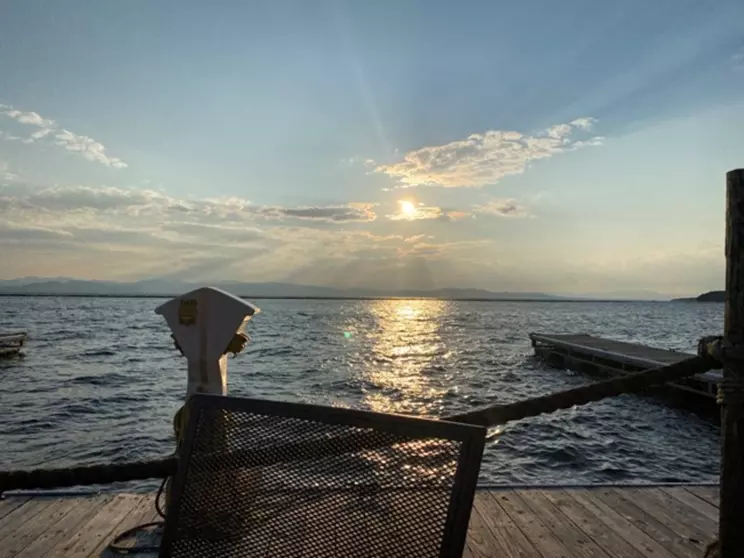 From local startup to major player
Dealer.com's origin story sounds like that of a Silicon Valley tech startup: five friends built the business from scratch during the dot-com boom in the late '90s. While many other internet businesses crashed and burned around that time, Dealer.com thrived and became a point of local pride. 
"Dealer.com was a very successful local business and it sold for a billion dollars as a Vermont startup, which is not inconsequential," said Steve Seremeth, one of the original team members who is now a senior software engineering manager at Cox Automotive.  
Many longtime employees like Steve have seen a lot of positives in the transition to becoming part of Cox Automotive in 2015. They say the change has brought in better resources, like the latest software tools, as well as opportunities to make an impact across many parts of the automotive industry beyond Dealer.com's original scope and mission. 
"Burlington is a very small community, so at one point, you either worked at the college, the hospital or Dealer.com and now there are all these opportunities to do things outside of just technology, but still work for a great company and live in the area," said Elizabeth Hecker, a senior manager of original equipment manufacturer (OEM) services. "We have a lot of cross-team collaboration — even if we're like O.G. Dealer.com, we're supporting a lot of different parts of Cox." 
Beyond collaboration, many others have made career moves into other parts of Cox. Case in point: my dear colleague and local host on this trip, Chisa Yarde, was once an SEO analyst for Cox Automotive and is now a recruitment marketing strategist at Cox Enterprises. Similarly, Gerry Cincotta experienced career growth to become a senior strategic execution director at Cox Automotive.  
"If it weren't for Cox, half of us wouldn't be here," he said. "It's been a great marriage."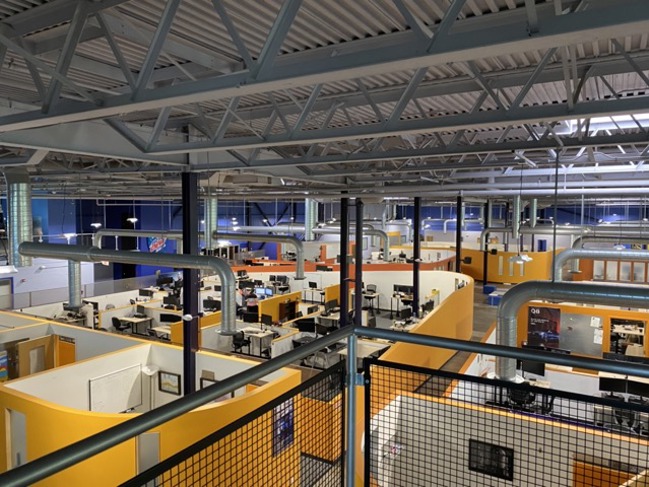 A colorful campus 
Chisa and Gerry joined me on my campus tour led by Heather Morris, a facilities coordinator who's an expert in all things related to Cox's Burlington presence.  
I was immediately taken aback by how bright and colorful the office is: I couldn't find a single white wall in this space, only bright hues all around me. But that's not all: the campus doubles as a gallery space, with a rotating art wall that highlights pieces from our very own Cox team members. 
"It's really great to spotlight our co-workers and allow them to expand into different avenues that don't have to do with work," Heather said.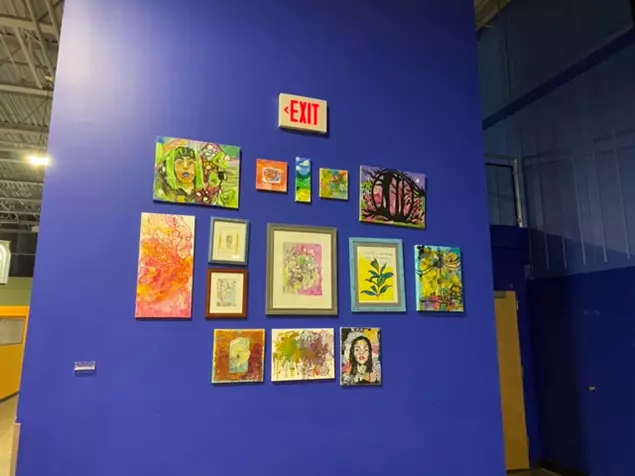 The campus has its own permanent art installation as well: a large-scale abstract mural featuring geometric patterns created by local artist Mary Lacy on a set of 32-foot silos. The project, titled "Inside Out," was commissioned to represent the connection between Cox and its surrounding community, and it was unveiled during the South End Arts + Business Association (SEABA) 2015 Art Hop.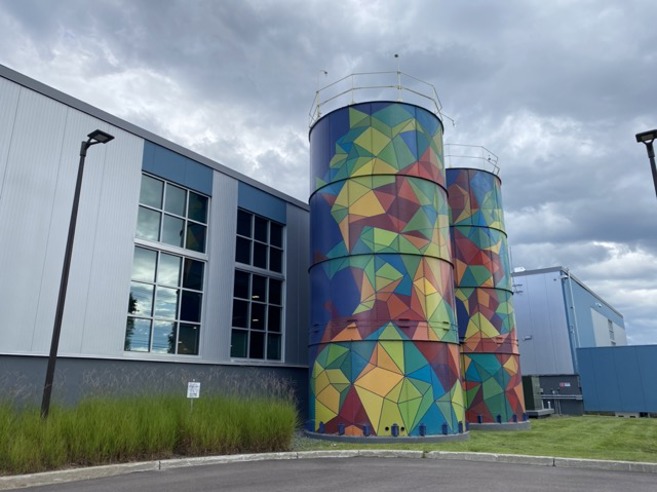 Another amazing benefit of working in this office is the fitness amenities, from a huge gym and indoor tennis court to an on-site Mind Body studio that offers free yoga, Pilates, meditation and CrossFit classes. I enjoyed a 20-minute meditation while I was there. 
Employees can also enjoy a unique wellness offering off campus at Beda Beeli: a free 15-minute chair massage every week. I went to see this for myself and had an appointment with Veda, a Swiss masseur everyone was raving about. Not to be dramatic, but I never thought a 15-minute chair massage could take me into another dimension…and this one did.
A [natural] foodie city
In Vermont, the concept of eating local isn't a trend; it's a longtime tradition. Agriculture is big in the area, which means there are lots of farm-to-table dining options, including at our very own Cox cafe, where everything from organic veggies to poultry to artisan tofu is produced. 
Many iconic local businesses tout partnering with local growers for sourcing their ingredients, including Pizza 44, a popular spot for team lunches; Lake Champlain Chocolates, known for its delectable gourmet truffles; and Citizen Cider, which is one of the largest cider suppliers on the east coast.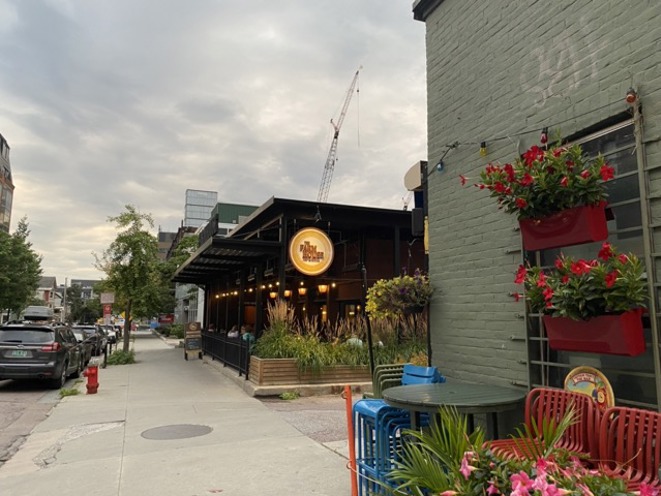 "Most of what I eat, I know where it came from; everything is just so local and clean," Elizabeth said. "My family loves to visit here just because of the local restaurants." 
It's no surprise that one of the community initiatives that's near and dear to this team is volunteering at a rooftop garden, where all the food cultivated is donated to a local food shelf. Heather, Chisa and I spent one morning volunteering at the garden, where we harvested green and red peppers; that afternoon, Heather and I delivered the fresh produce at the local food pantry.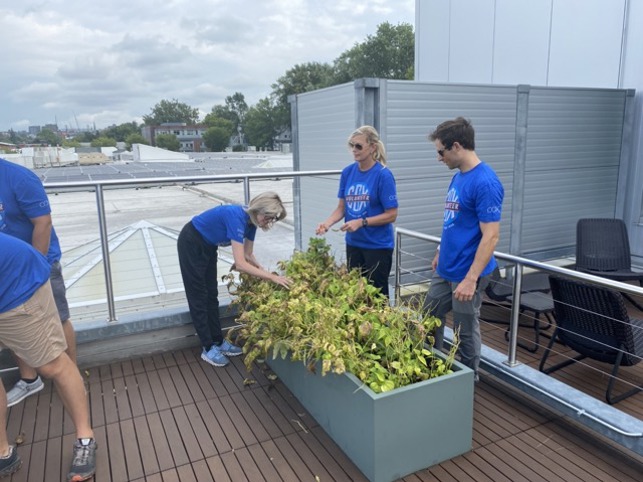 The sights of Burlington
I'd be remiss not to make note of one of Burlington's most beautiful sights: Lake Champlain. When I first arrived in Burlington, this was at the top of my must-see list. So, I grabbed dinner with Chisa and her wife, Jane, at Splash at the Boathouse, a restaurant on the pier overlooking Lake Champlain, which connects Vermont and New York with Canada. As I devoured my buttery lobster roll — when in New England, am I right? — we watched the sunset and the Spirit of Ethan Allen (named after one of the founders of Vermont) set sail on a scenic evening tour of the lake.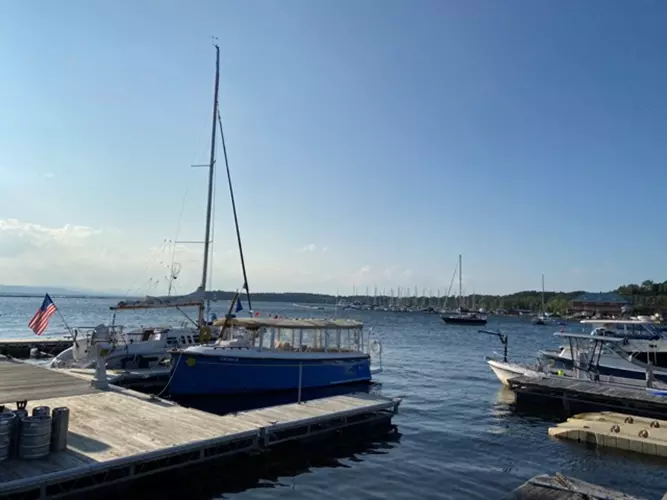 Later that night, we drove by some other spots in the city, including the Burlington Surf Club, which offers windsurfing lessons and paddleboards, among other sports. It's also fun to hang out and watch the people out on the water. We also passed by what is known as the world's tallest filing cabinet (a 38-foot structure), the Forever Young Treehouse at Oakledge Park, and the Burlington Greenway Bike/Walk Path, which extends eight miles and links many major parks and neighborhoods in Burlington.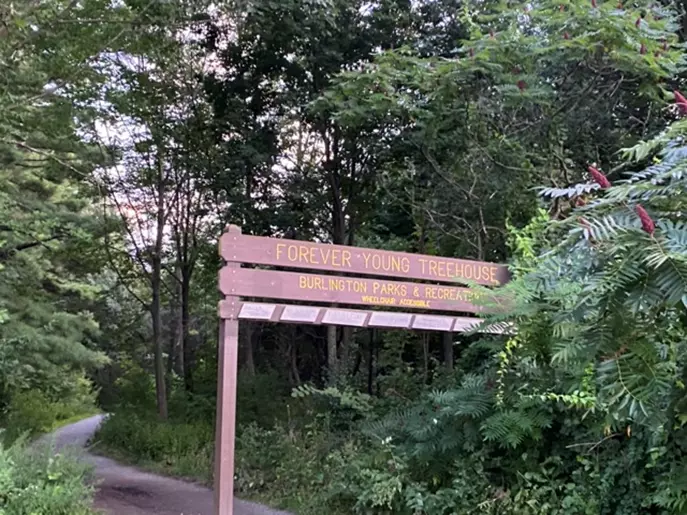 Another day, I passed by Church Street Marketplace, a car-free main street with all the shopping and eats one could ask for. I stopped at the beloved Ben and Jerry's scoop shop just off Church Street to see what all of the hype was about, and it did not disappoint. (Did you know that Ben and Jerry opened their first ice cream scoop shop in a renovated gas station right here in Burlington?)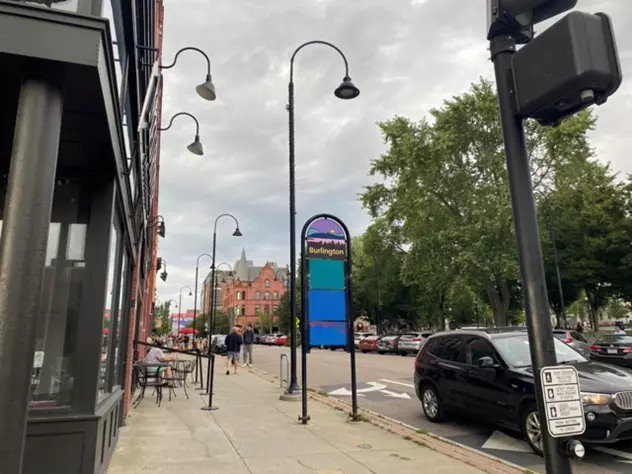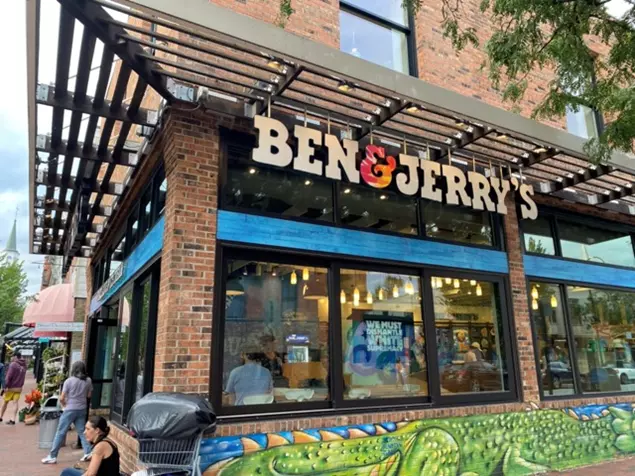 And what better way to wrap up my trip than with a visit to Lunaroma Aromatic Apothecary at Chisa's recommendation? I met the owner, Leyla, who's a certified aromatherapist, and I found the perfect travel-sized souvenir to take home with me: a roll-on perfume and essence oil. 
The allure of the Vermont lifestyle
A lot of people agree that there's just a different way of life here in Burlington that's far removed from your typical northeast hustle culture. In fact, many of the team members I spoke with during my visit weren't born and raised here — they discovered Burlington and decided to make it their new home. 
That's exactly what happened to Kyle, who's originally from Connecticut. Early in his career, when he was commuting to Manhattan for work, he took a summer off to spend time with a friend in Vermont. That decision changed everything.  
"I was supposed to come back to my job in September, and I just never went back," Kyle said. "This is where I want to be." 
Some of the biggest draws for locals and transplants alike are the opportunities to spend time in the great outdoors and lead a more active lifestyle, whether it's out on the lake, hiking and biking or taking up snow sports in the winter.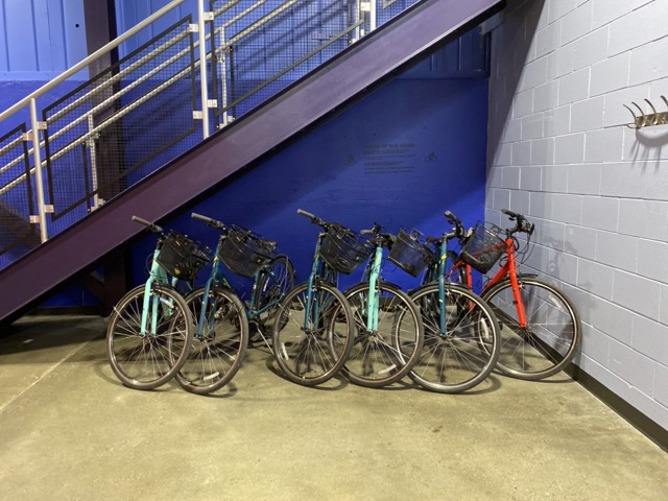 "My wife and I wanted to raise our kids here because the quality of life is so high," said Steve, who hails from the Boston area. "I can safely ride my bike to work, and if I want to go for a hike after work today, it's nearby." 
In Elizabeth's case, she's lived in many different cities, but Burlington is where she found a career path she loved, at Cox. And even though she's not a fan of the cold Vermont winters, there's no place she'd rather be. 
"I consciously chose to live here," she said. "And whenever I leave on a trip, I'm always so grateful to come home."